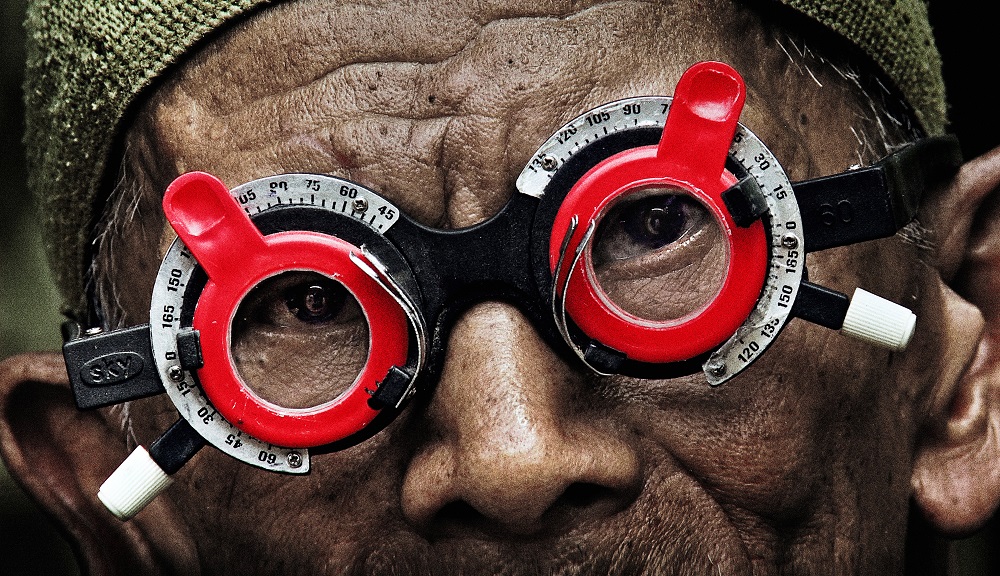 a SIFF 2015 review
Breathtaking Silence Confronts Evil Face-to-Face
The Look of Silence is director Joshua Oppenheimer's powerful companion piece to his Academy Award-nominated stunner The Act of Killing. If that latter film was a detached, clinical analysis of unimaginable evil put under the most devastatingly perceptive of microscopes, this latest endeavor is the cry to hold those killers responsible. It is a cold, chillingly uncomfortable lament, the whole thing nothing less than a courageous act of heroism on the part of the most unlikely of individuals intent on seeking justice for those who no longer can.
The film revolves around 44-year-old Indonesian Adi. A village optician who goes out of his way to care for his patients as well as his aging parents, he's haunted by the death of a brother, Ramli, he never got to know, his elder sibling murdered two years before he was even born. After being shown footage by Oppenheimer of the ongoing interviews he was conducting with those responsible for the 1965 genocide that ravaged his nation, the ocular physician goes in search of these men under the guise of giving eye exams, hoping to speak with them himself in order to extract something akin to acceptance of guilt.
The fact he is sitting with these men is courageous in and of itself, a fact underlined considering how worried his mother becomes knowing what it is her son has set out to do. More, Adi is able to extract additional bits of information from these monsters Oppenheimer originally did not, some making blasé confessions that they drank human blood and committed other unimaginable atrocities with the remains of their victims in a bizarre pursuit to retain some semblance of sanity. It's as contradictory, and as inflammatory, a series of statements as any a person is likely every to hear but the optician is able to get these human demons to admit them all the same, my mouth open in breathless awe listening to him do it.
I'm not sure the movie would work nearly as well as it does if The Act of Killing did not already exist, and I can't imagine what the impact would be upon a viewer that hadn't already sat down and experienced that 2012 stunner. Nonetheless, even with a few odd directorial choices here and there, The Look of Silence is astonishing, bringing the Indonesian story full circle in a way that is beyond belief. There's little else I can compare it to, and in the end all that's left is to urge viewers to give it a watch as soon as humanly possible.
Film Rating: 3½ (out of 4)