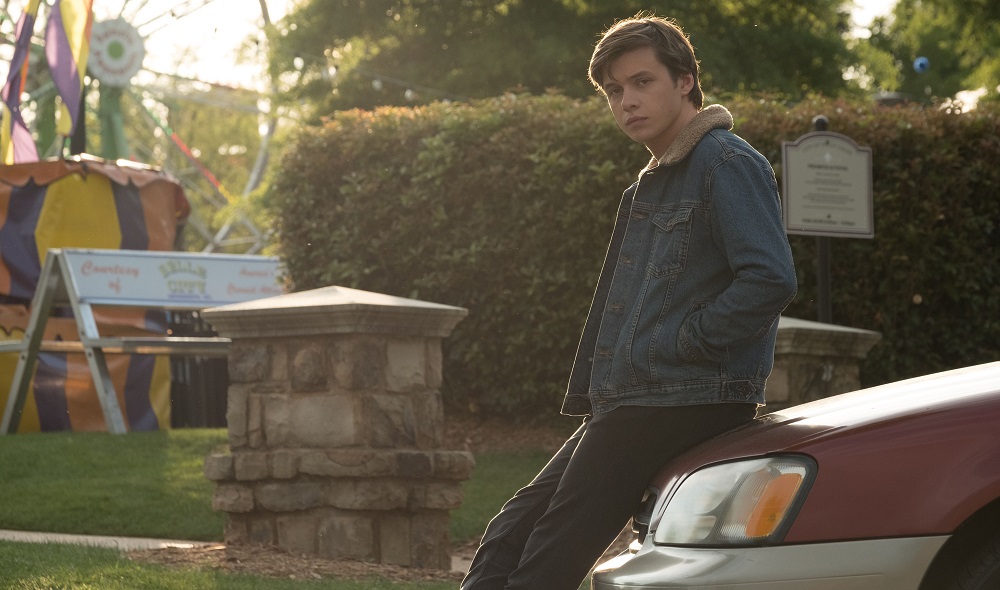 Matter-of-Fact Simon Easy to Love
Simon Spier (Nick Robinson) is gay. The popular 17-year-old hasn't come out to anyone, yet. He's not really worried what his best friends Leah (Katherine Langford) and Abby (Alexandra Shipp) will think; they will definitely support him. Same with his mother Emily (Jennifer Garner) and little sister Nora (Talitha Bateman); the two of them as progressively open-minded as they come. Heck, even his ultra-masculine father Jack (Josh Duhamel) will likely end up in his son's corner once the shock wears off, so in reality there's no reason for the teen not to be honest with everyone and let them know what's going on.
But Simon can't find the words to come out. Instead, he's struck up an anonymous online friendship with a fellow classmate, the two of them sharing intimate secrets about how they're struggling with their sexuality, what attracts them in another guy and what their dreams and aspirations are for their lives once they leave high school. One problem. Outsider Martin (Logan Miller), a stereotypically needy geek with few friends, has managed to read and copy all of the pair's emails and instant messages. He's going to release them on the Internet if Simon doesn't let him into his friend group. Worse, he wants him to set him up on a date with Abby even though she's got eyes for Nick (Jorge Lendeborg Jr.), a star football player who also has the hots for her as well. It's a mess, and Simon doesn't know what to do, the young man living a lie for so long he's practically forgotten what the truth still is.
Based on the best-selling book Simon vs. the Homo Sapiens Agenda by Becky Albertalli, director Greg Berlanti paints an appealing, life-affirming picture of friendship and family with the appealing coming out comedy-drama Love, Simon. Working from a pleasantly energetic script written by "This Is Us" impresarios Elizabeth Berger and Isaac Aptaker, Berlanti showcases a light, easygoing touch with the material that's far different than the in-your-face overwrought comedic and dramatic hijinks of his previous theatrical endeavors Life as We Know It and The Broken Hearts Club. This helps give the movie a deft, observational authenticity that's charming, making the routine over-familiarity of the central plot itself much easier to tolerate than it otherwise might have been.
Which is a good thing, because the main thrust of the narrative is a bit on the obnoxiously melodramatic side. The mystery about who Simon's online crush is just isn't interesting, while the blackmail subplot involving Martin goes uncomfortably off the rails the longer the film is forced to deal with it. But, somewhat strangely considering how important these two plot threads happen to be, these weaknesses don't significantly dilute the enjoyment factor. Berlanti manages to balance the weaker pieces of the narrative against the core tale of friendship, family and honesty with surprising aplomb, never allowing any of the subplots to overshadow those core thematic elements at any point.
It's that emphasis on the friendship between Simon, Emily, Nora and Nick that makes all of this work as well as it does. They're young people living in the now. Ideas of sexuality, race and gender, they mean precious little. It's who the person is that counts, the legitimacy of their words that matters most, and when that vanishes that's when trust begins to fade and uncertainty rears its ugly head. Simon's subterfuge in regards to being gay isn't the issue, it's the fact he allows someone else to manipulate him against his friends that is where the trouble lies, and watching this quartet having to navigate through all of the varying emotions that are born from this deception is what gives the story its dramatic urgency and zeal.
Even in today's open-minded high school world, there is still a layer of fantasy to this that's a little far-fetched, the universal social progressiveness of the entire student body not entirely realistic. But after decades upon decades of stories where the opposite wasn't just true but also infuriatingly the norm, it's nice to see one where the color of one's skin or the gender of who a person is attracted to is a superfluous thing almost no one cares about whatsoever. It's refreshing, and even if it isn't entirely realistic that does not make the depiction any less wonderful.
Granted, it also makes Simon's issues coming out even more unbelievable at various times. If everyone at his school could care less about any single person's sexuality (save for the requisite nincompoops who don't actually believe anything they're saying; they're just class clowns who want to make certain they're the center of attention at all times and no one else upstages them), if his family is going to be loving and supportive right from the moment he lets them know what is going on, then any dramatic weight that the young man's admission of his sexuality might normally provoke is diluted because of this. There is no real conflict, no true emotional imperative, and thus the drama normally associated with coming out is muted in a way that's mildly mundane.
Not to downplay Simon's decision or the pressure he is feeling as he figures out the best way to tell those he cares about what is going on with him and why he's been such an emotional wreck of late. Coming out is an individual tale that is unique to every single person, and the character in this story is no different. The threat of having someone else take that choice away from them, that they might announce a thing to the world that he's not ready to voice himself, that is something terrible and emotionally catastrophic, so on that front it is easy to understand why Simon makes many of the decisions that he does as they pertain to Martin's blackmail of him.
All of the young actors are superb, Robinson, Langford and Shipp in particular. They have an easy, naturalistic chemistry that is winning, watching them together about as pure a joy as any I've had sitting in a theatre so far this year. For Robinson, as good as he has been in the past in films as diverse as The Kings of Summer, Jurassic World and Everything, Everything, this is a star-making turn that should likely make him instantaneously a teen and young adult favorite. The complex emotional urgency he brings to his performance is winning, and as such spending time with Simon as he tries to figure out his next steps is a source of unabashed delight.
Thinking about Love, Simon, even the portions of it that don't necessarily work nearly as well for me as other aspects do, can't help but make me smile. Thanks to a dynamic, emotionally astute script from Berger and Aptaker, that coupled with Berlanti's unobtrusive direction helps make this movie an agreeable revelation I likely couldn't have resisted even if I had wanted to. This coming of age story of friendship, family, sexuality and romance is a merry one, and while its insights might not be new, the fact they're so matter-of-fact certainly is.
– Review reprinted courtesy of the SGN in Seattle
Film Rating: 3 (out of 4)