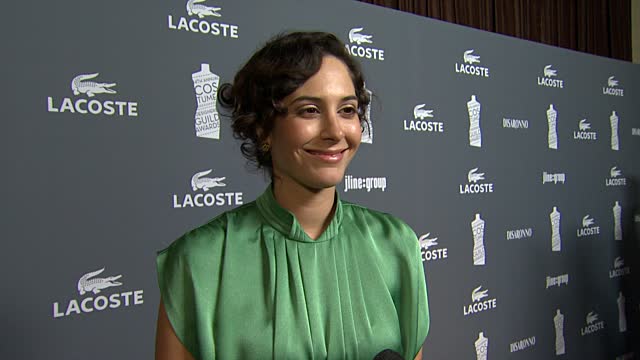 Making Characters Come Alive
Costume Designer Erin Benach Talks Loving, Jeff Nichols and the Power of First Impressions
A person would be forgiven for not knowing who Erin Benach is by name, but chances are many out there still know her work. The veteran costume designer has authored a number of signature looks for some incredibly familiar faces, most notably Ryan Gosling's, helping the actor craft a variety of characters in films as diverse as Half Nelson, Blue Valentine, The Place Beyond the Pines and Drive. She's teamed up with filmmakers Nicolas Winding Refn twice and designed costumes for all three of director Derek Cianfrance's most recent efforts. Other features Benach has lent her considerable talents to include The Lincoln Lawyer, Cold Souls and Gosling's directorial debut Lost River, all of them having a look and a feel suiting their respective worlds and narratives that are close to perfection.
I sat down with Benach to talk about her career, where she draws her inspiration from and what her working relationship is like with the various directors she has worked in tandem with. More specifically, we chatted about her authentic, ruggedly lived-in designs for Loving, the latest film from Jeff Nichols, her second in a row (after Midnight Special) with the acclaimed director. A docudrama chronicling the nine-year battle interracial couple Richard (Joel Edgerton) and Mildred Loving (Ruth Negga) fought against the state of Virginia to have their marriage legally recognized, the film a subtle, thought-provoking wonder filled with insights and overflowing in emotional truth. The graceful lived-in simplicity of Benach's costumes adds to the overall allure of the tale, the designer impact upon the proceedings not to be underestimated.
Sara Michelle Fetters: You've spent a lot of time working with Jeff Nichols. What's your relationship like? How do you communicate?
Erin Benach: It's certainly gotten to the point where it's very easy for us to discuss ideas with one another. I mean, [Jeff's] obviously been sitting with the material for a lot longer than I have by the time I start working, so he'll have already thought through a lot of the elements he wants to see represented in the picture before we even have our first conversation. Stuff like, on this movie, the seasons changing, that was an important element for the viewer to be able to see the passage of time, and Jeff wanted that represented in the costumes. He wanted sweaters and jackets. He wanted to make sure we could tell when they were hot, when the characters were sweaty. But he also wanted to make sure it wasn't overwhelming, that the clothes weren't dominating things. We had to find the appropriate balance.
I love working with Jeff because, he's not only good at what he does, he's fun to do it with. He just encourages everyone around him. He wants you to have your own ideas and add to the process. For me, I'm always trying to make things better. To have that room and space to do that with Jeff? That's just awesome.
Sara Michelle Fetters: Once you know you're going to be involved with a project, what do you do first? 
Erin Benach: Research. For sure. Every movie I've ever done is different. For Loving, we had so much historical imagery, we had the documentary, there was just so much rich material to sift through. At that point, I kind of knew I wanted to do a regional search of people who were in that location at that time, research the region. What did people living there look like? What did they wear? You find all of that by looking through images of the place and the people as they were during that time.
Sara Michelle Fetters: At what point then do you meet with the actors, in this case specifically Ruth and Joel, and get their input on things? Find out what it is about the character that they want to see and will make them comfortable?
Erin Benach: A lot of that happens during the first fitting. I offer up all of my ideas, show some of my research and some examples of my clothing there, and then they come back with things they've learned about the character and they thoughts they have had. It all comes together right there, at that point. Their bodies are in the clothing, they can see the supporting imagery, and it's all a major part of how will build the character up. A lot is revealed during the first fitting. It's always kind of amazing.
Sara Michelle Fetters: It's interesting to me, looking at the movies you have worked on and trying to grasp the time you must obviously have spent with Jeff, the time you spent with Derek Cianfrance and with Nicolas Winding Refn, each movie is so different and yet, at the same time, each world is so authentically realized. A big part of that is obviously the costuming. How do you job form one project to the next and manage to ground them like that? Manage to fit into the look and the aesthetic the filmmaker is going for in a way that augments want they want?
Erin Benach: That's kind of my favorite part about the job. I'm always jumping into different worlds, and I love doing that, immersing myself during a project into that world. I think why I've worked multiple times with some of those directors, though, is that I'm not trying to tell a costume story, I'm trying to help tell the story of the movie. My work is all about supporting the characters. I don't want the movie to be just about the clothing, it needs to be about the characters.
What I've always loved about watching movies is seeing everything connecting. There needs to be balance. Balance between the wardrobe, the production design, the art direction, the cinematography, the actors and the direction. When you have that, that's when you really believe. It's how you know when a movie is working because all of those varying facets all align.
Working with the other departments, you get to understand what the movie is really about emotionally; get a more solid grasp on the story as a whole. We all need to be on the same page. For me, I then need to find the right clothing to support all of that. That's my job.
Sara Michelle Fetters: How hard is it, and let's just look at your two most recent projects, Loving and The Light Between Oceans, to progress through multiple years? To show time passing in a naturalistic, authentic way?
Erin Benach: It's very hard. Can't lie. It's hard. You don't want to overwhelm things. You don't want the audience to be noticing the costume changes as they happen. You just have to subtly shift the fashion.
You know, neither of those stories were set in Paris in 1917 or in New York in 1957, so it isn't like fashion shifts happened rapidly. They had to be gradual. The waist slowly dropped down in The Light Between Oceans at the proper time, moving down and down to that appropriate flapper waist. But it had to happen gradually, because it's not like where those characters were was the center of the fashion world. That kind of thing happened slower and slower the further away from major cities you got.
For both movies, I mapped out the years. I wanted to know what the fashion of the time was but also what it would be based on where the characters in Loving or The Light Between Oceans were at any given moment. I had to really break it down. Here's 1957. Here's 1958. Here's what Richard Loving's jeans should look like in 1960. Here's what they should look like five years later. It's all mapped out. I have every scene in my head, if you can believe it, and I try to research what the characters would look like at any given moment so that the clothes gradually change at the same rate as the seasons do.
Sara Michelle Fetters: It's possible I read more into the movie than what was there, mainly because I just adored it so very much, but it occurred to me, in the case of Mildred Loving, as she evolves, as she becomes more positive that her and her husband's fight against Virginia is just, I felt like her clothes become bolder. That they take on more in the way of vibrancy and life at the same rate her confidence grows. Did that happen or am I just making it all up in my head? 
Erin Benach: Absolutely. You're spot-on. You're not making it up. You're just a really perceptive audience member. It's exactly right.
Early on, we had a lot of desaturated color pallets for Mildred. But, later on, when she goes to that first meeting with the lawyer? Ruth wanted the meeting. She set up the meeting. She makes Richard go to the meeting. Because she's now the one driving the action, I have her in that solid black sweater with that wonderful skirt because, for me, it was the moment when she was finally putting herself out there and I think we could all feel that emotionally. It was a big moment for Mildred, and the clothing needed to represent that, but in a way that didn't do it too loudly.
I also think, me being a woman? With two kids? I know what it was like to be 20. I knew what it was like to be 30. I now know what it is like to be 40. I think you become more confident in your life, in your decisions, and so I could connect with Mildred, I think, on that level and I sort of tried to bring that into the way she wore her clothing and the color choices she made.
Sara Michelle Fetters: Speaking of color choices, how much fun is it to go from films like Loving and The Light Between Oceans and then spin things completely on their head for a contemporary fashionista psychological freak-out like Refn's The Neon Demon? 
Erin Benach: It's crazy, right? Refn's a mad genius. When I get a script like that, and you get to truly create out of context like that, it can frankly be just an amazing experience. I felt like I was more painting a picture. Color becomes such a huge part of every decision. I mean, I think of every movie as a series of distilled images inside of the moving image, but, when you working with Nic, that's just taken to such an aggressive level it can really shock you if you're not prepared for it. It's all about that shine, that texture, that color. When you're given the world as your option? You go for it. You just have to.
Sara Michelle Fetters: But when you read through the script, and you come across something as insane as that climactic pool scene in The Neon Demon, how do you even process that? How do you start dreaming up haute couture costumes befitting the animalistic debauchery of what transpires?
Erin Benach: I love to remember my first reaction. I never read a script in portions. I read it all at once. Making sure I do that, it's the best advice I ever got when I was first starting out as a costume designer. I'm reading the movie as if I were watching it, so I'm always taking notes, because that first impression is so valuable. That first impression isn't always right, but there's always a lot of insight to be found when you go back and look at them. They offer up great starting points and even better ideas for going forward.
Sara Michelle Fetters: What inspires you? What keeps you going? 
Erin Benach: People. Characters. Psychology.
Sara Michelle Fetters: And what have you not done yet as a costume designer that you're aching to? What are you longing to explore? 
Erin Benach: I'm really excited to do realistic future. Science fiction, but real. Something like Children of Men. Something like Arrival. Future without it being a comic book Marvel serial. Even a new Star Trek. That would be cool. The future. But believable. Authentic. Something tangible that I could wrap my fingers around and make people think was real.
Sara Michelle Fetters: And if someone offered you a 17th century period piece or a Marvel movie, would you still get as excited? 
Erin Benach: Definitely. They would. They would indeed. It actually happened to me a couple years ago, and I dove in deep into the 16th century. Learned so much. It's all so cool.
But, it still has to be about the characters. I have to believe. If I believe, then I know I can make it happen. I can make that world live.
– Interview reprinted courtesy of the SGN in Seattle