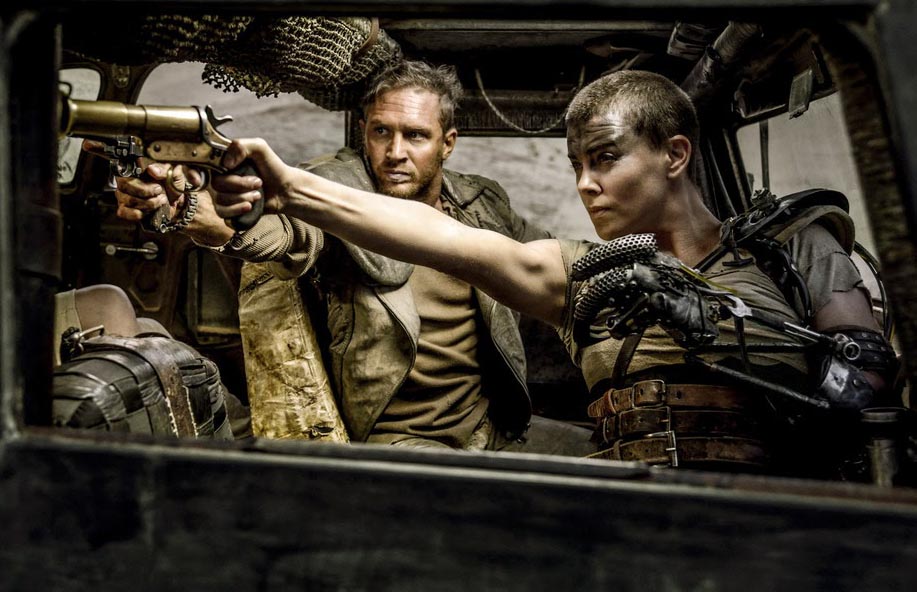 Max Returns with Furiously Brilliant Savagery
Max (Tom Hardy) wanders the apocalyptic wasteland alone, trying to do what he can to survive while ruminating on past failures and regrets. He is taken prisoner by the dictatorial Immortan Joe (Hugh Keays-Byrne), the disfigured madman lording it over a desert oasis creating a community of cutthroats and madmen while attempting to continue his bloodline using a quintet of beautiful young women as mothers for his progeny.
The trusted Imperator Furiosa (Charlize Theron) has stolen the Immortan's massive War Machine, a vehicular juggernaut used to transport water and gasoline across the desert. She has freed the Five Mothers, The Splendid Angharad (Rosie Huntington-Whiteley), Toast the Knowing (Zoë Kravitz), Capable (Riley Keough), The Dag (Abbey Lee) and Cheedo the Fragile (Courtney Eaton), hoping to whisk them away to freedom. But as capable as she is, as driven and as focused as this warrior might be, it soon becomes clear she cannot complete this task on her own. She's going to need help, and the only one willing to sit next to her is Max, this desperate loner who isn't above leaving those behind who cannot fend for themselves.
Mad Max: Fury Road shouldn't exist. Creator George Miller's return to the futuristic dystopian wasteland of Mad Max, The Road Warrior and Mad Max: Beyond Thunderdome was over 30 years in the making and included so many stops, starts, reboots and reimaginings the fact the sequel is now here is moderately flabbergasting. The reality it's this gosh darn magnificent even more so. Without a doubt, make no mistake, this is the best major studio blockbuster since The Bourne Ultimatum, probably since Avatar, maybe even since The Fugitive.
Mad Max: Fury Road is an ambitious, eye-popping spectacle of a world in constant chaos and the lengths those attempting to live within it will go to survive.
Even the cult fanatics who have watched The Road Warrior a billion times and can recite every line of dialogue from Beyond Thunderdome will not be prepared for what Miller and Fury Road have in store for them. There is no time to breathe. For a 120 straight minutes the film is in motion, propelling forward right from the jump, developing characters and their backstories as it goes along, trusting that the audience will be able to figure it all out without a lot in the way of handholding or expository silliness.
Not that Miller, working with co-writers Brendan McCarthy and Nick Lathouris (who was the Grease Rat in the original Mad Max), doesn't craft three-dimensional stories or tell a full-bodied, intricately layered story. Just the opposite. The difference is that he explores what is going on inside the world and who these characters are while things are in motion, allowing their actions and their decisions to define and shape them in ways nonessential bits of dialogue ever could. Everyone has their arc, all go on their journey, so when tragedy strikes or redemption is earned the overall emotional impact is staggering.
What's most interesting, and as good as Hardy is taking over the role that made Mel Gibson an international superstar way back in 1979, is that Max, for all his impact, for all his importance, is actually a secondary character. In many ways he is just here, the outsider allowing us an insight into this part of the world teetering out of control, along for a ride he hasn't the first clue where it will take him or what it will demand to survive. He is a steely, almost monolithic presence, a masculine bit of iron alongside which those looking for strength can latch on to in hopes of finding comfort and the inspiration to carry on.
No, the real star is Furiosa and Theron's jaw-dropping, absolute, all-encompassing immersion inside of her. She is the heart and the soul of the film, the true engine keeping things headed towards an unknowable destination. This is a warrior who has regret lurking within, hoping that by freeing the Five Mothers and leading them to safety she can find, not solace, but redemption. This is as complex a character – female or male – that has inhabited a big studio blockbuster in what feels like decades, the closest comparison I can make being Sigourney Weaver's Oscar-nominated work in Aliens.
Then there is the look and feel of the film itself. Veteran John Seale's (The English Patient, Witness) camerawork is a sea of light, shadow and color, the oppressive detail inhabiting the golds of the deserts, the blues of the sky and the greens of the scant few plants struggling to exist leaping off the screen. Jenny Beavan's (The King's Speech) costumes tell tales in and of themselves, while the film's overarching makeup design is an undeniable triumph. The score by Tom Holkenborg a.k.a. Junkie XL (Run All Night), is an immersive sonic landscape, the compulsive, almost assaultive rhythms becoming an essential ingredient as things move towards their climax.
Miller, working in tandem with editor Margaret Sixel (Babe: Pig in the City), is in absolute control of every moment, every frame, nothing happening that he does not intend. While none of this could have been created outside of the modern digital age, the fact the majority of what we see is practical, that the director is throwing vehicles around like iron-spiked bowling balls much as he did the first time around in 1979, is undeniably extraordinary. On top of that, the filmmaker's sheer cinematic acumen is astounding, and it's hard not to get the feeling that silent era greats like Buster Keaton and Harold Lloyd wouldn't look upon what Miller has accomplished and cheer.
I honestly don't know what general audiences will make of Mad Max: Fury Road. I do know that, if they choose to buy a ticket, they undoubtedly will not see anything else like it in all of 2015. Not so much a sequel as a reigniting of a franchise that's been sitting in neutral since 1985, at 70 years young Miller again has announced himself as one of the gutsiest, most aggressively innovative directors of, not just his generation, but quite possibly of all time, creating an adrenalized masterpiece in the process.
Review reprinted courtesy of the SGN in Seattle
Film Rating: 4 out of 4