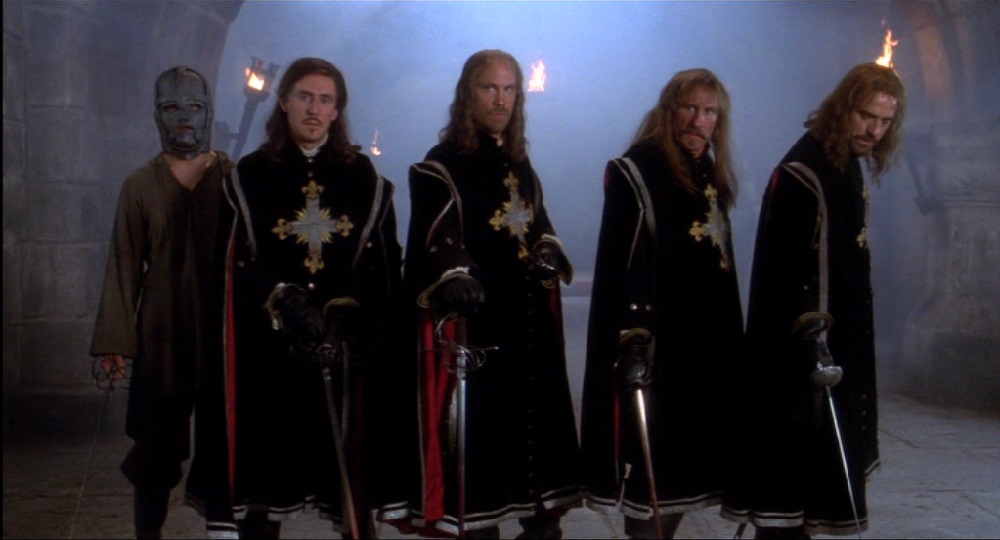 How does the Blu-ray/DVD Disc stack up? (all ratings out of 10.)
Movie
Video
Audio
Extras
Overall
SYNOPSIS
"Some of this is legend, but at least this much is fact – when rioting citizens of France destroyed the Bastille, they discovered within its records this mysterious entry: Prisoner # 64389000 – The Man in the Iron Mask…"
CRITIQUE
The novels of Alexandre Dumas have been adapted for movies, television and the stage countless times, these dramas of selfless adventure and romantic intrigue thrilling readers all over the world for well over a century now. Fresh off his success penning Braveheart for Mel Gibson, screenwriter Randall Wallace gave himself the task of penning a new version of The Man in the Iron Mask and was given the opportunity to make it his directorial debut. More, he managed to convince Jeremy Irons, John Malkovich, Gérard Depardieu and Gabriel Byrne to sign on as the aging musketeers Aramis, Athos, Porthos and D'Artagnan, while the original La Femme Nikita Anne Parillaud took on the role of King Louis XIV's distraught mother Queen Anne. Topping it off, Wallace got Leonardo DiCaprio, fresh off of filming the epic, unimaginably behind schedule and colossally expensive Titanic, to portray both King Louis and his doppelganger twin brother Phillippe, no one involved with the historical adventure's production ever imagining he was soon to become the biggest movie star in the entire world.
The core of the story more or less follows Dumas' original template, what with Louis XIV keeping his unknown brother Phillippe in custody locked in an iron mask so no one will know who he is and the famed Musketeers reuniting in order to free him and have this twin take over as King. But Wallace has considerably reworked the mechanics of it, bringing a plethora of new characters into the drama as well as supplying Aramis, Athos, Porthos and especially D'Artagnan a number of new psychological layers to explore. At the same time, it's still a piece of fictionalized history where daring-do and flashes of masterful swordplay are the name of the game, everything building to the requisite showdown between King Louis and the Musketeers where their bold stand against tyranny will hopefully inspire others to follow their heroic example.
Irons, Malkovich and Byrne come off best in all of this, which really isn't all that shocking, while Depardieu's comic relief is nowhere near as obnoxious or as annoying as it could have been in lesser hands. Peter Sarsgaard and Hugh Laurie make notable appearances in brief, if still key, supporting roles. Even better is the lovely French actress Judith Godrèche as the ill-fated Christine, the emotional depth she brings to her performance catching me frequently by surprise. I do wish that Wallace had given Parillaud more to do, the talented actress spending most of her time standing around teary-eyed looking distraught more than she gets the opportunity to do anything else. That said, she has a couple of bravura scenes with DiCaprio that are just spectacular, one in the throne room during a lavish party particularly so.
As for that Titanic heartthrob, while already an Academy Award nominee for his performance in 1993's What's Eating Gilbert Grape, it's still safe to say the actor still hadn't completely come into his own by the time this film when into production, at least as far as portraying villains were concerned. While there are moments where DiCaprio projects suitable menace and juvenile intensity as King Louis, more often than not his petulance doesn't feel entirely natural. He has trouble maintaining a convincingly threatening façade, and as such the character just isn't as despicable, or as scary, as he unquestionably supposed to be.
And yet, that's flipped on its head completely as it pertains to his work as Phillippe. This is the young actor at his absolute best. The innocence. The selflessness. The emotional wounds nakedly exhibited for all the world to see. All of that is on display. Better, it's coupled with a courageous strength that only grows in power and significance the more time the character spends with Aramis, Athos and Porthos, DiCaprio coming alive as the twin Phillippe in ways that triumphantly showcase just how complex and confident an actor he would quickly become in just a scant handful of years.
For my part, even with its hiccups I've always liked Wallace's take on The Man in the Iron Mask. Malkovich's performance in particular always gets to me, a moment near the midsection where Athos explains to Phillippe what it is they are all fighting for breaking my heart in two every time I watch it. As cheesy and as expected as it might be, I also adore the final confrontation in the bowels of the Bastille, watching the Musketeers charge against their adversaries even though they're outnumbered and outgunned making the romantic little kid inside of me want to stand up and cheer. Add in Nick Glennie-Smith's (The Rock) triumphant score, Anthony Pratt's (Hope and Glory) sumptuous production design and James Acheson's (The Last Emperor) gorgeous costumes, there's just too much great stuff here for this version of the Dumas story to be summarily dismissed, and I for one am happy to keep shouting its praises 20 years after its original release.
THE VIDEO
The Man in the Iron Mask is presented on a 50GB Blu-ray MPEG-4 AVC Video with a 1.85:1 1080p transfer.
THE AUDIO
This Blu-ray features an English DTS-HD Master Audio 5.1 soundtrack along with an English DTS-HD Master Audio 2.0 track and includes optional English subtitles.
THE EXTRAS
The majority of the extras from the previous Blu-ray release of the film are ported over to this Shout! Select 20th anniversary release. These include:
Audio Commentary by Writer/Director Randall Wallace
"Myth and the Musketeers" Featurette (7:34)
"Director's Take" Featurette (29:11)
Original 1998 Behind-the-Scenes Featurette (4:45)
Alternate Mask Prototypes (2:01)
Original Theatrical Trailer (3:04) 
New extras created specifically for this anniversary edition include:
Interview with Producer Paul Hitchcock (18:41)
Interview with Production Designer Anthony Pratt (8:09) 
Both of the new interviews are good, if exceedingly choppy as they're broken up into segments reflecting the question the subject was being asked during that moment. As such, there isn't a lot of flow to either of them, and they can be moderately difficult to watch because of that.
FINAL THOUGHTS
I've always liked Randall Wallace's The Man in the Iron Mask quite a bit. It's a solid dramatic adventure, and while the film admittedly takes gigantic liberties with Alexandre Dumas' enduring source material, I still feel like the writer/director did a nice job telling a compelling, character-driven story that's easy to become emotionally captivated by. Shout! Factory's new 4K scan for this 20th anniversary Blu-ray release is superb, and while there's not a lot in the way of new bonus material this release is still a huge improvement over all other previous releases.