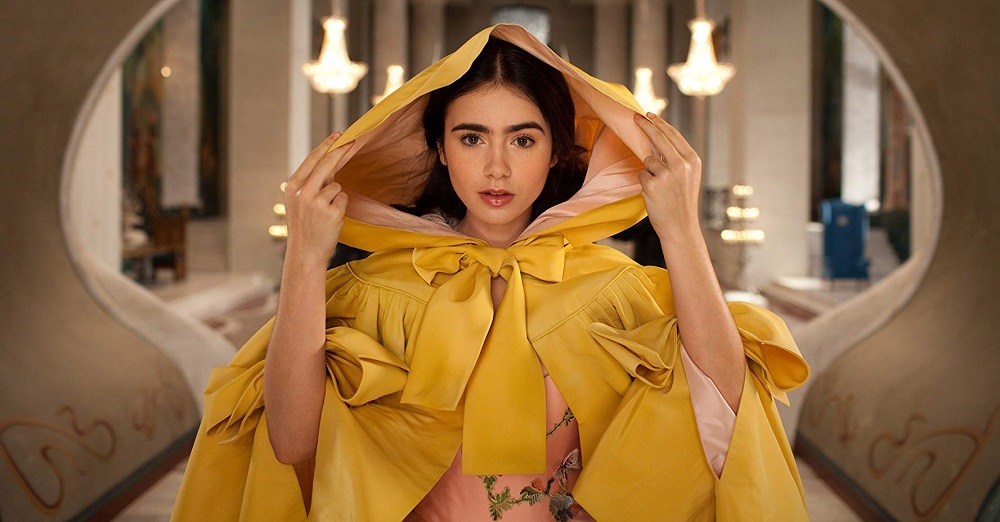 Visually Resplendent Mirror a Kid-Friendly Fairy Tale
I had no idea what to expect from Mirror Mirror. Director Tarsem (billed here as Tarsem Singh Dhandwar) is a visual wizard, his work on The Cell, The Fall and Immortals has made that abundantly clear. But tackling a Brothers Grimm classic and not going the gothic or action-adventure route (as this summer's Snow White and the Huntsman obviously has)? Keeping things not only kid-friendly but also giving the story a candy-coated multicolored coating that initially appears to be saccharine and filled with treacle? That just didn't seem to fit the filmmaker's cold-blooded unabashedly R-rated style, and call me skeptical but I had trouble believing he was the right man to pull something like this film off.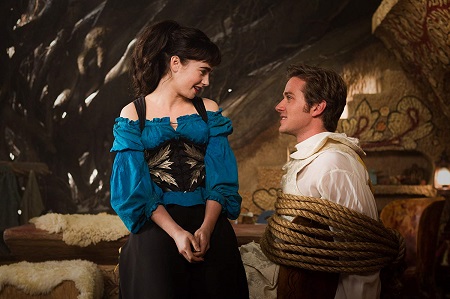 Yet he does pull it off. The movie is slight, wholeheartedly embraces its PG rating and doesn't aim particularly high. But it is also fun, enthusiastically acted by its solid all-star cast and filled with sights, sounds and costumes integral to Tarsem's signature style. It's Bollywood meets Hollywood (sans the musical numbers, at least until the end credits) and as much as that idea on might have initially terrified me in reality goodness knows if I didn't gleefully respond positively to all the giddy surrealistic delights this fluffy little frolic exuberantly offered up.
Julia Roberts is the Evil Queen, a woman so inherently vain she refuses to listen to her shimmering magic mirror of a conscience and wholeheartedly believes this feminist fairy tale is all about her and not her beautiful, free-spirited 18-year-old stepdaughter Snow White (Lily Collins). The Oscar-winning actress is having a blast in the part, sharing wicked one-liners with fellow costars Nathan Lane, Mare Winningham and Michael Lerner, while her lecherous advances to a clearly startled Armie Hammer (playing the handsome Prince) are nothing less than divine.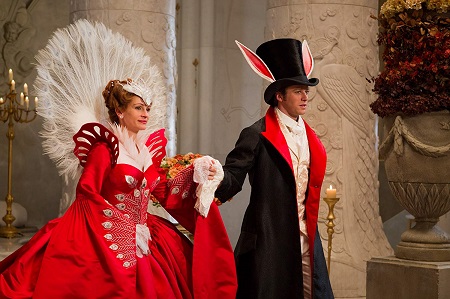 On the flipside, while undeniably gorgeous and radiating a serene wholesome sincerity perfect for the part, relative newcomer Collins (best known for playing Sandra Bullock's daughter in The Blind Side) doesn't quite have the confidence or the chutzpah to bring her sections of the film to the same effervescent life. Sure there are moments between her and Hammer that have an undeniable romantic sizzle, and a montage of her learning how to handle herself under the tutelage of her seven pint-sized guardians (energetically portrayed by Jordan Prentice, Mark Povinelli, Joe Gnoffo, Danny Woodburn, Sebastian Saraceno, Ronald Lee Clark and the scene-stealing Martin Klebba) is rather priceless. But on the whole whenever the movie drifts away from the Queen and focuses entirely upon Snow it does tend to drag, and that's a slightly annoying trait I couldn't help but take note of.
Still, Mirror Mirror is a hoot. It skews young, and while it won't bore parents or any of the older kids who choose to watch it will equally likely not delight them in the same way visually fantastical films like Nanny McPhee or Alfonso Cuarón's The Little Princess have in the past. But the late, great Eiko Ishioka's (Bram Stoker's Dracula) costumes are magnificent, while production designer Tom Foden (Matchstick Men) and his crackerjack team have simply outdone themselves with their imaginative designs. Tarsem directs with confidence, and while the movie isn't the magical ride it maybe could have been to say I left the theatre with a spring to my step and feeling happily ever after was a real possibility wouldn't be too far off the mark.
Film Rating: 2½ (out of 4)