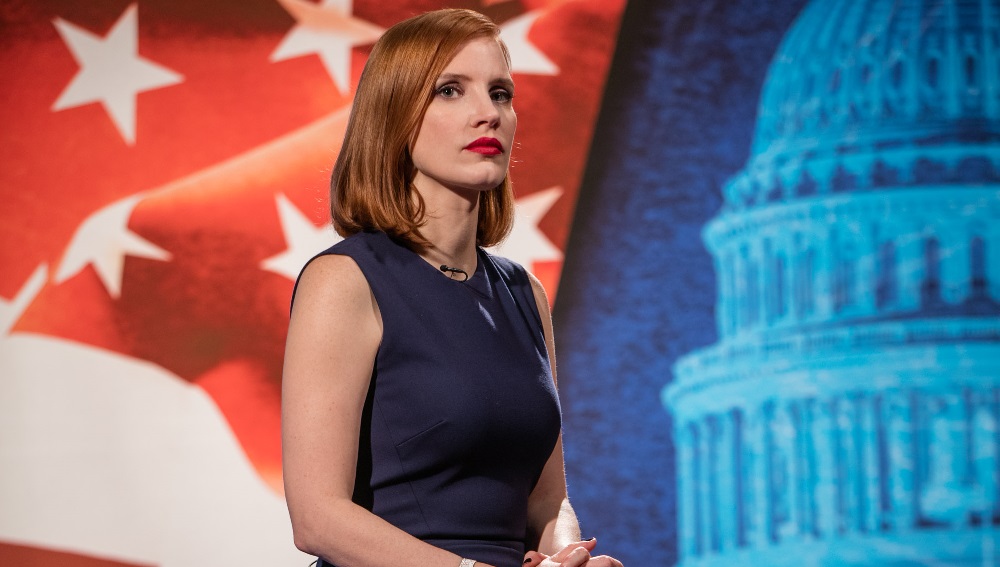 Miss Sloane a Gripping Political Thriller
Elizabeth Sloane (Jessica Chastain) does not lose. She's one of Washington, DC's most powerful lobbyists, working for a prestigious firm under the guidance of the legendary George Dupont (Sam Waterston). He's taught his protégé well, revealing pretty much all his tricks, Miss Sloane inventing a number of new ones herself as she does whatever it takes to make sure the will of her clients is heard in every corner and backroom of Capitol Hill.
But when the gun lobby comes calling to make sure new legislation never sees the light of day, Miss Sloane surprisingly refuses to assist them in their cause. Instead, for reasons entirely her own, she leaves Dupont to run off and join an upstart firm headed by Rodolfo Schmidt (Mark Strong). They're working the opposite side of the case and Miss Sloane wants to lead that charge. Taking his team in hand, she starts instructing these well-meaning neophytes in how to do battle in the down and dirty world of American politics, putting all she holds dear in jeopardy and risking past indiscretions are thrust into the light of day by going against the gun lobby.
If nothing else, Miss Sloane couldn't be getting a more timely release. The political thriller is hitting theatres after a string of mass shootings have left people shocked and stunned leading to countless arguments about gun restrictions yet have also produced exactly zero new laws on the issue to make their way through Congress. It also comes in the wake of one of the more controversial and contentious Presidential election in U.S. history, one of the central issues heard over and over during the campaign being the power of lobbyists and how best to curb their influence.
As such, Oscar-winning director John Madden (Shakespeare in Love) and first-time screenwriter Jonathan Perera have set themselves an incredibly high bar to leap over, assembling a cast of Hollywood character actor, both veteran and newbie, heavyweights to help them do it. In addition to Chastain, Waterston and Strong, the film features Gugu Mbatha-Raw, Michael Stuhlbarg, John Lithgow, Alison Pill, Dylan Baker, Jake Lacy, Douglas Smith and Ennis Esmer in key supporting roles, all of them more than up to the task that's been put in front of them.
Compelling, hard-hitting and refusing to compromise, the film is a jolt of electricity right from the start, Madden diving into the lobbying world with a rabid relish that's downright startling. The first half hour or so rushes by in the blink of the eye, the script doing a marvelous job of fleshing out the key elements of its titular character's core traits with bracing efficiency. Elizabeth Sloane is a smart, tenacious woman who bows to no one, willing to stomp over all who get in her path as victory is ultimately the only thing that matters to her. She's like a political Conan the Barbarian, but instead of a sword, she wields a cell phone and struts around in a collection of impossibly high heels, all immediately intimated the moment she walks into a room.
But Madden finds the sense of urgency he and Perera so breathlessly establish in the first act difficult to maintain, and during the middle section of the picture things do stall out from time to time, the filmmakers digging so deeply into the lobbying minutia I found it hard to stay emotionally involved in what was going on. When Miss Sloane makes the jump to the new firm a lot of time is spent having her interact with her new, highly inexperienced team, and as good as the cast might be a lot of this stuff is too overly familiar and obvious to intimately resonate.
Thankfully, the core of the story is just too strong for things to ever go off the rails. Additionally, the introduction of Mbatha-Raw is aces, her character a key figure in Miss Sloane's plans to take down the gun lobby, their emotionally complicated interactions becoming the core component around which much of the main storyline revolves around. I'm being purposefully vague because, while it's not much of a spoiler to talk about what happens between the two women, personally I was so overjoyed by their scenes together I just don't want to risk revealing anything about what happens no matter how minor. Seeing Mbatha-Raw and Chastain share the screen is virtual perfection, the two hugely talented actresses displaying a transfixing chemistry that's undeniably awesome and painfully authentic.
Speaking of awesome, I can't think of a better adjective to describe what Chastain accomplishes as Elizabeth Sloane. The fiery actress is every bit as amazing as she has ever been, and this includes her Oscar-nominated turns in The Help and Zero Dark Thirty. The key component to Miss Sloane has to do with why she turns down working for the gun lobby and instead chooses to battle against them, Chastain doing a superb job of making it obvious to the observant viewer why she makes this decision. The multifaceted mechanics of the performance are just astonishing, and even when the movie stumbles or loses its way the actress keeps the engine running relatively smoothly thanks in large part to her mesmerizing genius.
As sharp as the script's teeth might be, I can't say I was all that surprised about where things ended up. To Madden and Perera's mutual credit, both are more than willing to rip at the jugular, taking things to places that are as uncomfortable as they are absorbing. But the pair are also captives of the genre dynamics in which they have chosen to utilize, and while both are doing their best Sidney Lumet and Paddy Chayefsky impersonations that doesn't mean their motion picture has the power, grace or authority of something like Network or The Hospital. But Miss Sloane tells a story that feels like it was ripped right out of yesterday's headlines, that coupled with Chastain's magnificence helping make the film a gripping spellbinder worth seeking out.
– Review reprinted courtesy of the SGN in Seattle
Film Rating: 3 (out of 4)