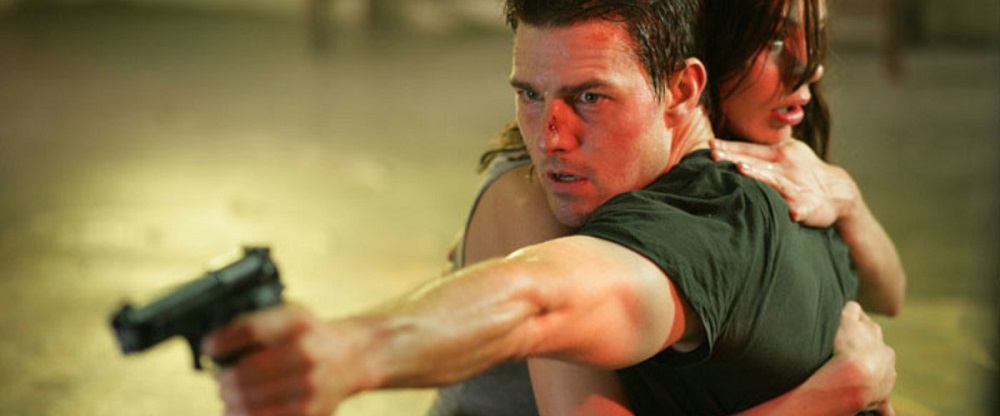 How does the Blu-ray/DVD Disc stack up? (all ratings out of 10.)
Movie
Video
Audio
Extras
Overall
SYNOPSIS
"Who are you? What's you're name? Do you have a wife? A girlfriend? Because if you do, I'm gonna find her. I'm gonna hurt her. I'm gonna make her bleed, and cry, and call out your name. And then I'm gonna find you, and kill you right in front of her."
CRITIQUE
Here's what I wrote about Mission: Impossible III back in my original theatrical review:
"If nothing else, Mission: Impossible III is a triumph for television hit-maker J.J. Abrams. The creative force behind Felicity and Lost has managed to achieve in his motion picture directorial debut what seasoned veterans Brian DePalma and John Woo could not, and that's craft a consistently engaging action-packed adventure. Like Joss Whedon before him with (the far superior) Serenity, Abrams shows a gift for making movies, this third entry in the popular series a fun and energetic romp sure to keep audiences glued to their seats.
But that doesn't necessarily mean it's great. In all honesty, I'm I'd even go so far to state that, for all their faults, I actually enjoyed the previous two Mission: Impossible adventures more than I did this one. While Abrams does a splendid job of ratcheting up tension right away, the filmmaker tying my stomach into matted legions of tightly wound knots that didn't fully resolve themselves until well after the end credits came to a stop, there's just a lot here to grab on to in any concrete way. The moment I stepped outside the theater the whole experience of watching this sequel immediately dissipated. To be blunt, I knew I had just had a good time for two hours; I just couldn't quite figure out why.
Part of the reason is that Abrams never let me catch my breath. It's a movie in constant motion, and while that's certainly exciting when the plot becomes nothing but a soulless shell game with nothing to emotionally latch on to the lack of anything substantive proves to be understandably problematic. This time out, retired IMF agent Ethan Hunt (Tom Cruise) is brought back to duty to stop a nefarious arms dealer and secrets peddler named Owen Davian (recent Capote Oscar-winner Philip Seymour Hoffman) from obtaining a top secret weapon known as the 'Rabbit's Foot.' With the aid of his highly trained team of experts, sexy Zhen (Maggie Q), cocky Declan (Jonathan Rhys Meyers) and good friend Luther (Ving Rhames), Hunt has only 48-hours to grab the Rabbit's Foot before Davian murders his clueless newlywed wife Julia (Michelle Monaghan).
There are twists. There are turns. There are stunning international locales. There are death-defying stunts. There is everything and more viewers have come to expect from this series. Abrams and his co-writers do a slam-bang job of cementing the proceedings in a world-weary reality that's almost as believable, and as richly realized, as the one Jason Bourne has spent two (better) pictures running around in. This movie is pure adrenaline from start to finish, the whole thing constantly on the move, on the go and always looking for more, more, more.
That this conceit works as well as it does is a testament to both the determination of the director and the skill of his actors. Say what you will about new proud papa Cruise, the man can deliver an emotionally-wired performance when he wants to. There is a furious energy to Hunt that borders on manic. Yet due to the schizoid nature of his character's job and the potently romantic chemistry between that actor and Monaghan Cruise still makes this secret agent relatable. Throw in confidently self-assured support from the other members of Hunt's IMF team (especially series regular Rhames), a nice bit of gamesmanship from Laurence Fishburne (taking over as the agency's stern figurehead) and a loony character bit by Shaun of the Dead star Simon Pegg (playing a nutty computer expert) and the pieces for a good time are all in place.
As for Abrams, while he doesn't manage a moment as brilliantly suspenseful as DePalma's raid on the CIA's computer in part one or Woo's miraculously spine-tingling motorcycle chase in part two, his action set pieces still hold their own. Unlike the other two I really got the feeling this incarnation of the IMF team was just that, a team, assertively working with one another to pull off jobs so mind-boggling they really could classify as impossible. The highpoint is a brazen heist staged inside Vatican City, Hunt and his coworkers taking out their target with such swiftness I swear if I'd have blinked I might have missed something important.
As entertaining as all of this is (and it is entertaining) the moment it ended movie evaporated like a spring morning's dew. There is no meat on this animal's bones, no juicy complexities to sink your teeth into and savor a day or two down the road. Worse, while Hoffman's two main scenes with Cruise are corkers (an opening one so good I thought I was going to chew my fingernails off in suspense), Davian is in the film so little the veteran character actor can't make him the titanic figure of indifferent evil he so richly deserves to be. The film's last act is also particularly haphazard and nonsensical, the crisply choreographed thrills and chills of the first two-thirds all but vanishing during the humdrum climax.
All said, I'm not exactly sure what to make of Mission: Impossible III. In all fairness, the previous two were flawed, interesting escapades that didn't quite make the grade, the level of consistency to make them special just not there. But for all the energy Abrams brings to things there's far less narrative complexity or character-driven vitality to anything that happens in this third IMF adventure,  and without any of the bravura set pieces of the DePalma and Woo's efforts I'm not sure this latest sequel will hold up on subsequent viewings as dynamically as they both somehow have.
Your mission, if you choose to accept it, is to find out for yourself. Feelings of disappointment or exhilaration, if they come, are unfortunately impossible to predict."
Having now re-watched all five of the Mission: Impossible films, somewhat unexpectedly this third one has become my least favorite of the series. I still think it's fine, and that opening scene with Hoffman and that Vatican City kidnapping sequence are two of the best set pieces of the entire franchise. But the movie's plot just isn't particularly satisfying, and I can't get over just how anemic the presentation of both villains in this chapter of the series ultimately ends up proving to be. Even so, I do get why so many people appear to love it as much as they do, Hoffman three main scenes so gosh darn awesome his presence alone makes up for a lot of this sequel's more egregious narrative shortcomings. So by all means give Mission: Impossible III a look, just don't expect me to be all that excited to sit down on the couch and watch it with you.
THE VIDEO
Mission: Impossible III is presented on a 4K (2160p) Ultra HD disc with a 2.35:1 1080p transfer.
THE AUDIO
This 4K Ultra HD disc features English Dolby TrueHD 5.1 track along with German, French, Spanish, Italian, Japanese and Portuguese Dolby Digital 5.1 options and includes English, English SDH, French, German, Italian, Japanese, Portuguese, Spanish, Danish, Dutch, Finnish, Norwegian and Swedish subtitles.
THE EXTRAS
All extras are contained on the two included Blu-rays and are ported over from the previous release of the film. The only exception is that the Audio Commentary with director J.J. Abrams and star Tom Cruise is ported over to the 4K Ultra HD disc. Otherwise, there is nothing new here to talk about.
A Digital HD copy of the film is also included with this release.
FINAL THOUGHTS
Even with some wonderfully memorable set pieces and a terrific villainous turn by the late, great Philip Seymour Hoffman, 2006's Mission: Impossible III is my least favorite entry in the long-running Tom Cruise international espionage franchise. Yet this is still a hugely enjoyable adventure at times, the first two-thirds of this second sequel particularly so. Paramount's 4K presentation is rather spectacular, and while I would have preferred a 7.1 or Atmos audio upgrade instead of the Dolby TrueHD 5.1 included here, I seriously doubt fans of the film will be even moderately disappointed by anything the studio has done as it pertains to this release.