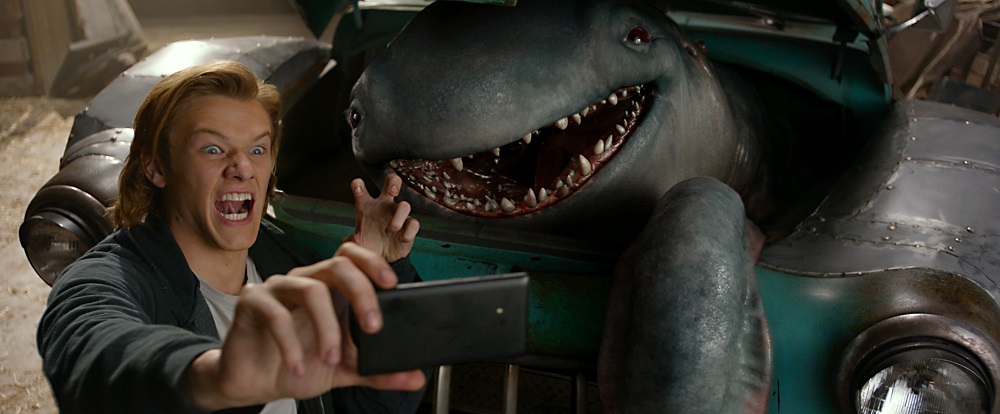 Silly Monster Trucks Inoffensively Harmless
For a movie about a newly discovered creature that lives in the deepest recesses of the Earth's crust and eats oil that is inadvertently brought to the surface by an evil industrialist, makes friends with a teenager working at a junkyard and ends up powering his gigantic junky green truck, Monster Trucks is surprisingly watchable. More, the pedigree that brought this dorky, undeniably juvenile idea to the screen is oddly strong. Derek Connolly (Safety Not Guaranteed) wrote the screenplay, while two of the minds behind the story were Kung Fu Panda trilogy impresarios Jonathan Aibel and Glenn Berger. Ice Age creator Chris Wedge is the director (this is his live action debut), while the behind-the-scenes talent includes cinematographer Don Burgess (Forest Gump), editor Conrad Buff (Titanic) and production designer Andrew Menzies (Fury).
None of which means that the movie, already written off by Paramount in their 2016 tax filings for a $100-plus million loss, is some unexpected sensation. It's as ludicrous and as dumb as any potential viewer with even an ounce of brain matter might expect it to be. After all, this is a movie about a teenager, who makes friends with a mysterious monster, that ends up powering his truck, so that the two of them can save the day; there's just no getting around any of that. But for all its pre-release problems, Monster Trucks is, at the very least, shockingly competent, sometimes more than that, and for the intended audience, most likely viewers 10-years-old and younger, probably gets the entertainment job done better than fuddy-duddy adult critics like myself would care (or are willing) to admit.
Tripp (Lucas Till) is a rural North Dakota teen living with his workaholic, recently divorced mother Cindy (Amy Ryan). Looking to get out of town as soon as he graduates, he takes a job at Mr. Weathers' (Danny Glover) junkyard, fixing up a battered old truck with the various spare parts his employer allows him to scrounge. The definition of the stereotypical "loner," he's suspicious of his mom's boyfriend, the town sheriff Rick (Barry Pepper), isn't interested in making friends with fellow outcast Sam (Tucker Albrizzi) and is clueless as it pertains to the flirtatious glances sent his direction by his Biology tutor, classmate Meredith (Jane Levy).
Unbeknownst to anyone in town, oil magnate Reece Tenneson (Rob Lowe) has been drilling a gigantic new well on land that hasn't had a full environmental review. After discovering a massive underground river system that connects the whole valley, he orders his team, chiefly lead scientist Jim Dowd (Thomas Lennon), to keep on drilling, no matter what the ethics of doing so might be. What he couldn't plan on was the discovery of a fantastic new creature, one whose very existence would unquestionably catch the eye of the Federal Government and force the shutting down of his incredibly expensive project.
From there, things pretty much progress into something akin to third tier Steven Spielberg territory circa the mid-1980s. The whole thing oozes a familiar E.T.: The Extra-Terrestrial meets *batteries not included meets Young Sherlock Holmes vibe, all of it crossed with a kid-friendly Transformers meets Super 8 aesthetic that's at least partially charming. Connolly's script isn't exactly intelligent, but it's just as clearly not nearly as insulting as it could have been, the screenwriter playing up the relationship between Tripp and the orphaned creature that suddenly takes up residence in his truck with a sweet, subtle innocence that's relatively okay.
Not that I can recommend watching this movie with a straight face. I'm not sold on Till as a leading man, and with a cast this stacked with talented veteran character actors, and I haven't even mentioned Holt McCallany or Frank Whaley, both of whom have important central roles key to the narrative's progression, it's a pity Wedge doesn't appear to have the first clue as to what to do with a single one of them. There's also a huge problem as it pertains to the relationship between Tripp and Sam that's close to inexcusable, the film treating the latter so horribly I almost felt like I should be reporting it to someone in authority for being a heartless bully.
Still, it's remarkably well shot, designed and edited, while the visual effects are of a much higher caliber than I anticipated they'd be. Levy, portraying a character diametrically opposite her acclaimed horror turns for director Fede Alvarez in Evil Dead and Don't Breathe, is borderline terrific, her charismatic comedic wholesomeness just glorious. More importantly, young kids with a fondness for Nickelodeon and Disney Channel high-concept comedies will undoubtedly be elated, and if they're inspired to creative endeavors after watching this that's at least one good thing to come out of all this madness we all can applaud. Monster Trucks is dumb, that goes without saying, but it isn't terrible, and as January victories go that's hardly insignificant.
– Review reprinted courtesy of the SGN in Seattle
Film Rating: 2 (out of 4)