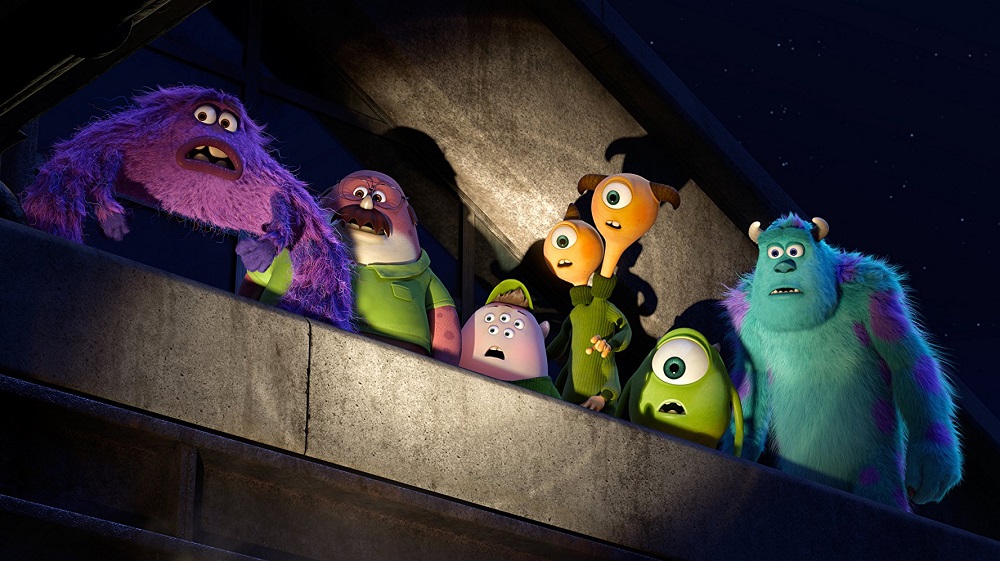 Jovial Monsters Prequel a Breezy Bit of Family Friendly Fluff
As much as I adore 2001's Monsters, Inc., and that's a massive understatement, it's a Pixar classic, I cannot say I was jonesing for a new adventure featuring wisecracking Mike Wazowski (voiced by Billy Crystal) and his colossal blue teddy bear of a best friend James P. Sullivan (John Goodman). Where would the story go? What could possibly come next? More than that, did we even care if there was a next? The reality was that the original story was magnificent, revealing a warmth, intimacy and understanding that was sublime, so bringing back Boo or trying to piece together a new scenario ran the risk potentially cheapening the original's perfection.
I give Disney and Pixar a tiny bit of credit for realizing a sequel wasn't the best idea, choosing not to follow up the events of the first film but instead making the decision to go backwards and show what Mike and Sulley were like in college. But prequels are always an iffy proposition no matter what the talent level involved might be, the reality that audiences know what the outcome has to be (otherwise the original wouldn't exist) a sticking point very few similar attempts at such a thing have ever been able to overcome.
Yet here's Monsters University giving its best college try, showing how this inseparable pair got their start and the travails that they encountered on their path to friendship. And, it must be said, Pixar and company pull it off, and while the movie isn't much more than a computer animated kid-friendly remake of Revenge of the Nerds, that doesn't make it any less entertaining. As prequels go this one is a heck of a lot of fun, filled with inventive sight gags and witty verbal twists of the tongue, all of it built on a sturdy foundation of interesting characters who are all easy to root for and ,as such, end up being worthy of respect.
This does not mean the film is near as sensational as its predecessor. It's far less complex and features a plot that is as tiredly forgettable as it is rudimentarily familiar. As underdog stories go, there's little novel about any of this, and other that a few quirky little touches, as well as a bracingly authentic, some might say educationally dubious, bit of honesty at the end, there's almost nothing about this prequel that ever came close to being a surprise.
Yet these is still so much to enjoy. While it's a foregone conclusion that Mike and Sulley's initial animosity and jealousy of one another will slowly morph into trusted friendship, that doesn't mean seeing them get there isn't a freewheeling energetic ride. Crystal and Goodman play off one another as rapturously as ever, while new vocal performers like Helen Mirren (the stern, unforgiving Dean Hardscrabble) and Nathan Fillion (the cocky head of Monster U's leading fraternity, Roar Omega Roar) make an immediate imprint, gleefully getting in on all the silliness excitable gusto.
Best of all are the actors portraying Mike and Sulley's gaggle of Oozma Kappa (OK for short) fellow fraternity misfits who find themselves in a Greek Row smack-down for Scare supremacy. Peter Sohn, Joel Murray, Sean Hayes, Dave Foley and Charlie Day are superb, forming a wonderful group of irregular regulars who fit the mantle of underdogs nicely. Will they be able to use their unique talents to good use? Can this forlorn, unappreciated assortment come together as a team? Will they prevail? Are these even questions that are worthy of being asked?
In some respects they are, the screenplay by Daniel Gerson, Robert L. Baird and director Dan Scanlon not always following an expected path. While the outcome is inevitable, how Mike and Sulley get to where we know they have to be isn't always a given. In fact, a third act event culminating in the human world comes very close to achieving the same levels of magic and emotional brilliance as Monsters, Inc. manufactured, the level of maturity and understanding close to staggering.
All of which is terrific, and I couldn't help but wonder how much better the film might have been had the filmmakers chosen to take as many risks during the initial two-thirds as they do during this final climactic sequence. Be that as it may, and as trivial as the majority of this story turns out to be, Monsters University is undeniably entertaining, this prequel making me laugh and keeping me smiling pretty much start to finish.
– Review reprinted courtesy of the SGN in Seattle
Film Rating: 3 (out of 4)