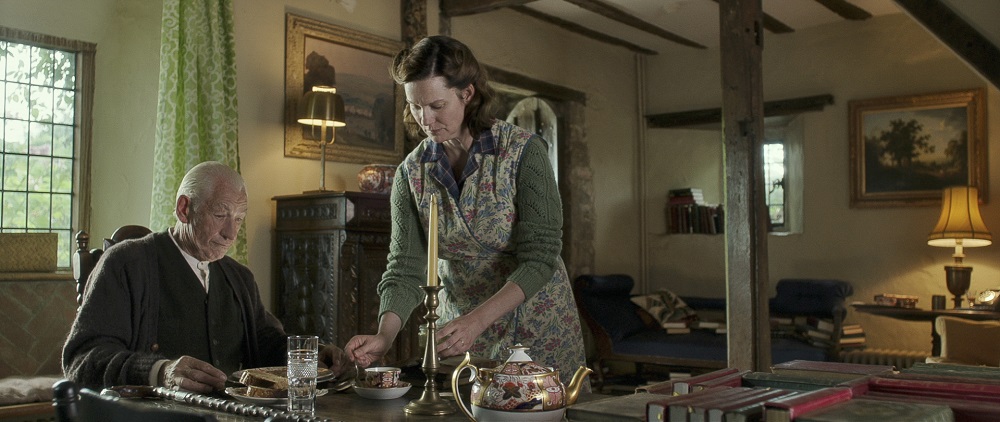 How does the Blu-ray/DVD Disc stack up? (all ratings out of 10.)
Movie
Video
Audio
Extras
Overall
SYNOPSIS
"I've decided to write the story down; as it was, not as John made it. Get it right, before I die."
–      Sherlock Holmes
CRITIQUE
Here's what I wrote about this one in my original theatrical review:
"It is 1947. The war has come to an end and retired, yet still legendary, detective Sherlock Holmes (Ian McKellen) has returned from a brief trip to Japan to his secluded coastal farmhouse in the English countryside. Content to live out his few remaining days tending to his bees alongside housekeeper Mrs. Munro (Laura Linney) and her inquisitive son Roger (Milo Parker), the 93-year-old wants for nothing save to be left alone.
Yet there is still one last task needing to be accomplished before the detective breathes his last. He must set the record straight in regards to his final case, the one that forced him to take the road to retirement, hoping to write it all down for the record before his cognitive faculties vanish into the ether. It must be done, this is the last great, mystery Sherlock Holmes ever chose to face, after all, and if the story is going to be told he's going to make sure it's the truth, every last uncomfortable ounce of it, consequences be damned.
Based on the book A Slight Trick of the Mind by Mitch Cullin, featuring a literate, emotionally naturalistic screenplay by Jeffrey Hatcher (Stage Beauty), director Bill Condon and actor Ian McKellen reunite for the first time since their 1998 Oscar-winning sensation Gods and Monsters with the achingly beautiful Mr. Holmes. Taking Sir Arthur Conan Doyle's signature character into new, refreshingly intimate terrain, this is a melancholic dance with history where fact and fiction crash one into the other in a search for honesty that's hauntingly sincere.
None of this is ever entirely what you think it will be. Holmes has conversations with the deceivingly intelligent lad Roger, works to convince the boy's working class mother he can make more of himself than she's been taught by society and circumstance to believe, and tirelessly attempts to keep his mental faculties sharp. Additionally, the sojourn to Japan, revealed in flashback, is nowhere near as inconsequential as it might initially appear, Holmes' interactions with the reserved, if still kindly, Tamiki Umezaki (Hiroyuki Sanada) vitally important to the outcome.
Intermixed inside all of this is the actual case that Holmes is eager to recollect, a seemingly simple surveillance of a mysterious woman (Hattie Morahan) leading places the detective, with all his prodigious skill and acumen, simply did not see coming. These glimpses into the past are potent, free from embellishment, visually glossy yet still emotionally grounded in a raw, unvarnished simplicity that's a little surprising. Without Dr. Watson to tell the story for him Holmes recounts things without excess flourish, sticking to the facts and only the facts, making the ultimate revelation he's building towards that much more devastating in the process.
This is Condon's best, most confident film since Gods and Monsters, surpassing everything else he's had made since, including Dreamgirls and Kinsey. It shows him bouncing back from the paycheck hiccup of The Twilight Saga: Breaking Dawn two-parter and the inert, dramatically turgid WikiLeaks drama The Fifth Estate. The director is in complete control, balancing the three competing stories with skill, making sure to plant the seeds as he goes along that allow dramatic fruits to blossom with bracing specificity. Each revelation leads someplace noteworthy, each piece of the puzzle taking on a life of its own that makes the host all the stronger in the process.
He's got a grand ally in his star, the veteran actor vaulting himself to the front of this year's race for an Academy Award nomination delivering a performance that's sure to be talked about for the remainder of 2015. He finds corners and angles to Holmes other current portraits of the character haven't discovered, and as impressive as Benedict Cumberbatch, Robert Downey Jr. and Johnny Lee Miller have been, McKellen surpasses them with ease. I felt each beat of the journey, took every step, and by the time final decisions are made I was so caught up inside of the great detective's headspace it was almost as if we were making them together in some sort of symbiotic tandem.
Linney is equally magnificent, if only in a much quieter way. Her character is more observational, everything happening internally, the single mother reacting as best she knows how to all that is happening around her as Holmes and Roger grow increasingly close. She's superb, holding things in until it is no longer possible, the two actors sharing a moment of pure gracefully sincere eloquence in a hospital waiting room desperately waiting for good news that will give both their souls some modicum of peace.
Beautifully shot by Tobias A. Schliessler (Lone Survivor), gloriously scored by Cater Burwell (Fargo), Condon's dip inside Sir Arthur Conan Doyle's playground is as technically stupendous as it is anything else, the director leaving precious little to chance as he brings this story to its close. But, as is proper where it comes to the great detective, the focus is on the character himself all the way until the final page is turned, Mr. Holmes a study in truth that isn't afraid of a handful of heartfelt lies."
Mr. Holmes holds up beautifully on repeat viewing. Additionally, it cements in my mind that both McKellan and Linney give two of 2015's best performances, and even if Oscar (probably) won't recognize them as such that doesn't make what they accomplish here any less extraordinary. This is a terrific motion picture, one I know I'll enjoy again and again each time I revisit it.
THE VIDEO
Mr. Holmes is presented on a single-layer 25GB Blu-ray with a MPEG-4 AVC encode and a 2.40:1 1080p transfer.
THE AUDIO
This Blu-ray features an English DTS-HD Master Audio 5.1 and comes with optional English, English SDH and Spanish subtitles.
THE EXTRAS
Extras here include:
Mr. Holmes: The Icon (2:21) – Way too brief featurette looking at the history of Sir Arthur Conan Doyle's most enduring character.
Mr. Holmes: The Story (2:49) – Another freakishly short featurette looking at the source material and how the filmmakers set about adapting it.
Original Theatrical Trailer (2:25)
A code for a Digital HD Copy of the film is included with this release.
FINAL THOUGHTS
Mr. Holmes is one of the better films I've seen this year. More, it is arguably the best motion pictures director Bill Condon has ever been a part of, and that includes his prior collaboration with actor Ian McKellen the Academy Award-winning Gods and Monsters. Lionsgate's Blu-ray presentation, while lacking special features, is still quite strong overall, and as such ends up being a disc that's exceedingly easy to recommend.