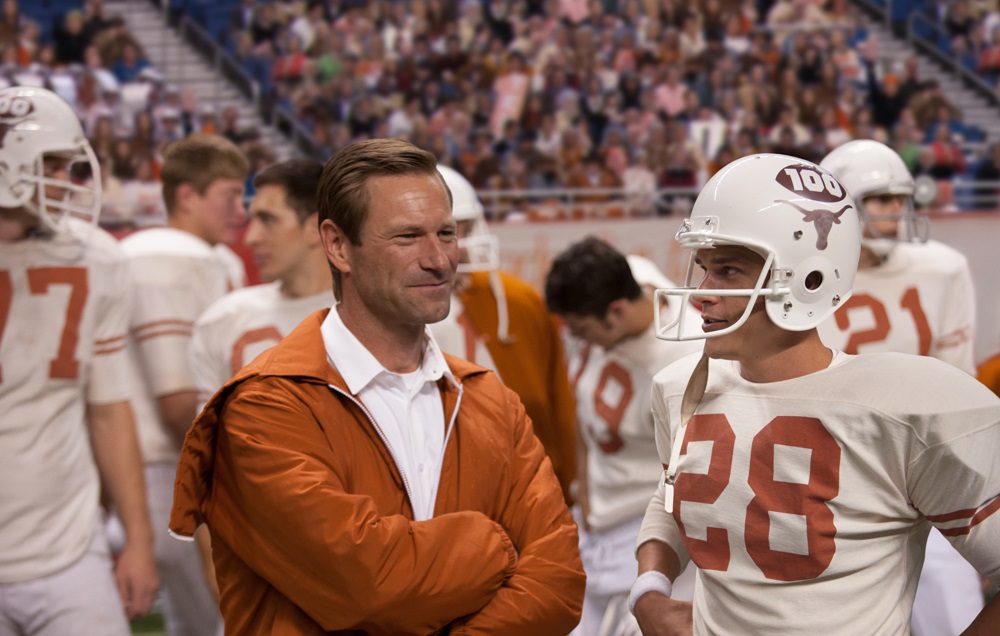 Overwrought All American Fails to Score
Freddie Joe Steinmark was the starting safety for the University of Texas football team during the 1968 and 1969 collegiate seasons. In '69, he helped lead his team to a National Championship, the UT Longhorns defeating the Arkansas Razorbacks 15-14 in what has since become known as the 'Game of the Century,' the team going on to complete their undefeated season against Notre Dame in the Cotton Bowl Classic 20 days later on New Year's Day.
This history lesson is relevant because Hoosiers and Rudy screenwriter Angelo Pizzo is making his directorial debut with My All American, a biography of the iconic college great that follows the undersized athlete (he was 5' 9" and 150 pounds) from his time as a Colorado High School star to eventually becoming a Texas legend. But football is only a small part of the story, the big turn of events being what happened after that so-called Game of the Century, what all assumed was nothing more than a painful leg injury proving to be a cancerous tumor requiring the removal of Steinmark's leg just below the hip.
It is an interesting story, one that by all accounts deserves to sit alongside Brian's Song, Bang the Drum Story and The Pride of the Yankees as a saga of sports field inspiration born out of unspeakable tragedy. By all accounts Pizzo seems like the right man for the job, his scripts for both Hoosiers and Rudy, the former in particular, showcasing an ability to bring to life a time and a place as if events being depicted were happening yesterday. He has a knack for channeling characters born of these bygone eras, and while he's not above embracing the inherent melodrama coursing through all of these tales he manages to do so with a subtle elegance that's undeniably eloquent.
But his past two successes were directed by David Anspaugh, and his skills behind the camera and in relating to his actors, born out of his early television days captaining "Hill Street Blues" and "St. Elsewhere," cannot be underestimated. His gift was understatement, knowing just how to utilize two magnificent Jerry Goldsmith scores while also urging the likes of Gene Hackman, Dennis Hopper, Barbara Hershey, Sean Astin, Ned Beatty and Charles S. Dutton to deliver mesmerizing performances ranking up there with all of their all-time bests.
Pizzo the director, at least right now, cannot say the same. He slathers John Paesano's (Maze Runner: The Scorch Trials) overwrought scores everywhere, augmenting every emotion with a sledgehammer when something lighter than a feather would have worked just fine. He telegraphs every twist, every turn with the subtlety of a mechanical monkey clapping its cymbals together with no apparent willingness to stop, while attempts to bring in socially relevant period details, most notably anything related to the Vietnam War, go over like a lead balloon.
There is some nice casting. Finn Wittrock, fresh off of an Emmy nomination for the fourth season of "American Horror Story," is all sunny pep, enthusiasm and principled tenacity as Steinmark, slipping into the role of the driven football hero effortlessly. Even better is Sarah Bolger as devoted girlfriend Linda Wheeler. A long way from stealing our hearts as a precocious child actress in 2002's In America, the youngster has very much started to come of age, and even if Pizzo's script doesn't give her a ton more to do than be the loving woman in the footballer's life she infuses every scene with an irresistible resolve that's sublime. The pair are an enchanting couple, making the tragedies to come all that more effective, heartbreaking and, yes, inspirational because of this.
It should also be said that the football scenes are staged with outstanding skill. Taking a page out of what he and Anspaugh learned shooting Hoosiers, Pizzo populates the supporting cast with athletes instead of actors, turning all of them over to second unit director and veteran sports-themed film stunt coordinator Michael J. Fisher (The Blind Side, Moneyball) in order to stage reenactments of Longhorn games that are as dynamic as they are thrilling. The national championship game against Arkansas is particularly amazing, the filmmakers achieving a level of on-the-field verisimilitude that's undeniably impressive.
But Aaron Eckhart growls and scowls his way through things, portraying legendary Texas football coach Darrell Royal with plenty of bluster yet little else. Robin Tunney and Michael Reilly Burke get an even shorter straw, their time as Steinmark's dedicated parents Gloria and Fred fairly worthless as far as the bigger picture is concerned. There's also a key subplot involving best friend and fellow Longhorn player Bobby Mitchell (admittedly well-portrayed by Rhett Terrell) that never feels as authentic as it needs to, especially considering the key role he ends up playing as far as Steinmark's recovery from surgery is concerned.
Freddie Joe Steinmark's story is an incredible one. I completely understand why the University of Texas continues to celebrate the man and his life four-plus decades after his death. Thing is, while Pizzo's heart is in the right place, he just can't seem to get inside this particularly story in the same way he did with both Hoosiers and Rudy. On top of that, he lets the melodrama driving the narrative overwhelm things, losing sight of the complexity of his characters in the process. My All American means well, and as a film it isn't without merit; sadly there just isn't enough of it for this inspirational sports story to emerge victorious.
Film Rating: 2 (out of 4)