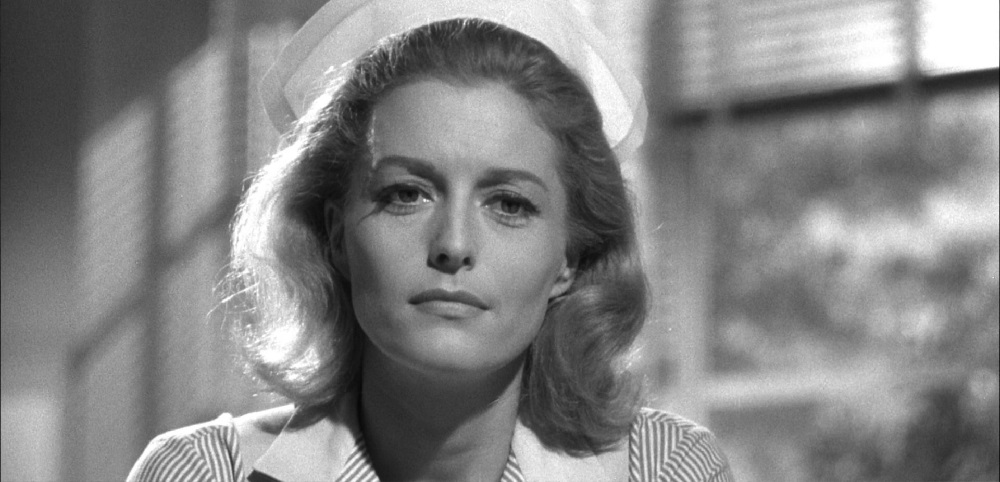 How does the Blu-ray/DVD Disc stack up? (all ratings out of 10.)
Movie
Video
Audio
Extras
Overall
SYNOPSIS
Kelly (Constance Towers) has come to the small town of Grantville to start over. After meeting the kind – if overly forceful – police captain Griff (Anthony Eisley), the former prostitute attempts to go straight by taking a job in the local hospital for handicapped children, falling in love with the beloved town golden boy J.L. Grant (Michael Dante). But not everything is as it seems in Grantville, the kindly façade melting away to showcase a hypocritical underbelly the moment Kelly uncovers one of the community's most disturbing secrets.
CRITIQUE
In The Naked Kiss, writer-director Samuel Fuller strips away the artifice of small-town Americana to reveal the hypocrisies bubbling beneath the surface. Using the story of a prostitute intent on reclaiming her life by helping the less fortunate, whether they be children, the elderly or other women around her own age, the filmmaker shines a spotlight on the contradictions omnipresent in everyday life. It is sensational and pulpy, but never in an off-putting way, Fuller keeping things on a sinisterly even keel, building suspense subtly and with a constant eye towards his explosive climax.
Everything is a shade of grey. No one here is perfect. The town's chief law officer runs things with precision, everyone loving him for keeping the peace and treating every person living in Grantville as an equal. But he's not above rolling in the hay with the newly-arrived prostitute or of trying to send her away across the river over to the local brothel, both to keep Kelly out of his jurisdiction but also close enough so he can continue to sample the goods.
Then there's J.L. Grant. The town saint, he saved Griff's life in Korea, has opened a hospital for handicapped children, brings back gifts for the town's elderly virgin seamstress who is still pining for her fallen – he died in WWII – fiancé and allows himself to fall in love with a woman he knows used to be a lady of the night. But he hides his own secrets, his own failings, Kelly's discovering of the truth leading her down a path of recrimination and hatemongering from a community who refuse to believe facts when they're presented to them in black and white.
All of this easily could have dripped into melodrama and sensationalism. Fuller doesn't allow that to happen. He keeps the performances grounded, and even during the more explosively emotional moments I always believed in the authenticity of these characters, their actions and what was happening to them. Even a surreal musical number comes off as genuine, and when the song sung by Kelly and the children she cares for is heard a second time, the effect is so devilishly eerie I could feel each hair on my arm stand on end one at a time.
Stanley Cortez's (The Magnificent Ambersons) cinematography is sensational, while supporting performances from great Virginia Grey and former silent film icon Betty Bronson are mesmerizing. But it is Towers who holds it all together, Kelly an unforgettable female icon so strong I can see why filmmakers like Martin Scorsese and Quentin Tarantino have claimed to have drawn inspiration from her at one time or another. She's fantastic, and it's no wonder she became a Broadway mainstay and was also a one-time favorite of John Ford.
I loved The Naked Kiss, maybe even more than I did this week's other Fuller release from Criterion, Shock Corridor. I found its story powerful and its performances electrifying. It stuck with me long after it had ended, and I can't wait to return to this film again very soon.
THE VIDEO
The Naked Kiss is presented on a dual-layer 50GB Blu-ray MPEG-4 AVC video with a 1.75:1/1080p widescreen transfer. As stated in the included booklet: "This new high-definition transfer was created on a Spirit Datacine from a 35mm fine-grain master positive. Thousands of instances of dirt, debris, scratches, splices, warps, jitter and flicker were manually removed using MTI's DRS system and Pixel Farm's PFClean system, while Digital Vision's DVNR system was used for small dirt, grain and noise reduction."
THE AUDIO
The film is presented in English LPCM Mono. Again, from the included booklet: "The monaural soundtrack was remastered at 24-bit from the optical track. Clicks, thumps, hiss and hum were manually removed using Pro Tools HD. Crackle was attenuated using AudioCube's integrated audio workstation."
THE EXTRAS
All extras are carried over from the previously released Criterion DVD edition except for a new interview with star Constance Towers by film historian and filmmaker Charles Dennis (28:48). These extras include:
Excerpts from a 1983 episode of "The South Bank Show" dedicated to Samuel Fuller (31:05)
Interview with Fuller from a 1967 episode of the French television series "Cinéastes de Notre Temps" (23:31)
Interview with Fuller from a 1987 episode of the French television series "Cinéma Cinémas" (12:50)
Original Theatrical Trailer (2:00)
Also included is a 24-page Booklet containing Robert Polito's essay Fractured Fairy Tales and an excerpt from Samuel Fuller's 2002 autobiography A Third Face: My Tale of Writing, Fighting and Filmmaking entitled "Want to Be a Lindy?", along with numerous illustrations by noted cartoonist Daniel Clowes inspired by the film.
FINAL THOUGHTS
The Naked Kiss is dynamite. Full of sensational camerawork, pitch-perfect storytelling and excellent performances, this is a strong slice of pulp fiction with more on its mind than just to titillate and tantalize. This is a film I know I'll return to again in the near future.