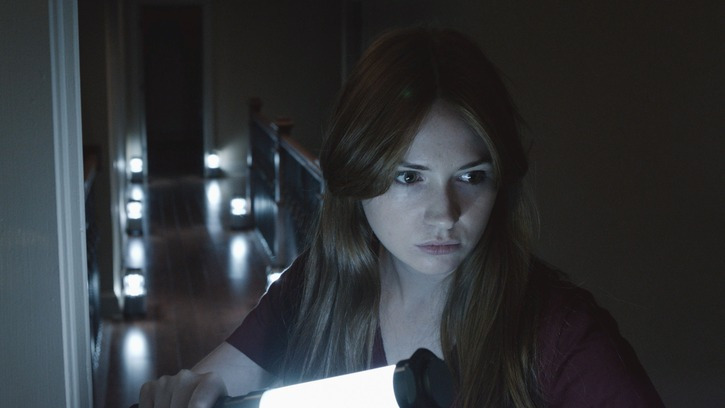 Unnerving Oculus Worth Gazing Into
It has been ten years since their parents Marie (Katee Sackhoff) and Alan Russell (Rory Cochrane) died under mysteriously violent circumstances. In that time, older sister Kaylie (Karen Gillan) has by all accounts made a good life for herself working at a prestigious auction house and getting engaged to smart, sexy coworker Michael Dumont (James Lafferty). As for younger brother Tim (Brenton Thwaites), he's spent the time in a mental institution, incarcerated for shooting his father believing the man was a threat to both him and his sister for reasons the fantastical to be easily believed.
On the day he is released, judged sane by the medical establishment, Kaylie meets him at the exit doors bubbling over in victorious excitement. You see, she's known all along her brother was never insane and that their father was not responsible for the murder of their mother. More than that, she's ready to exact revenge on the thing, the device, the artifact, an antique mirror known only asthe Lasser Glass, that was in fact responsible; she just needs her brother's help to do it.
You have to be willing to accept the fact that Oculus revolves around the conceit of a haunted mirror. Once you do that, if you can allow yourself to go there, what proceeds is a surprisingly effective, shockingly intelligent thriller about self, identity and sanity that can't help but burrow its way under the skin. Working from his own acclaimed short film, director and co-writer Mike Flanagan (Absentia), working with screenwriter Jeff Howard, has crafted an unsettling and edgy little shocker, melding past and present, fact and fiction with dexterous mesmerizing aplomb.
Basically, once Kaylie and Tim lock themselves in their childhood home with the Lasser Glass, Oculus begins to split itself into two distinct tandems. On one side is their present day story, each sibling trying to reconcile their memories of past events. They grapple with whether or not the supposed power the mirror has to entrance, possess and, ultimately, destroy actually is real. In the other, we follow the pair as children (superbly portrayed by relative newcomers Annalise Basso and Garrett Ryan) realizing to their mutual horror that their parents are cracking at the seams, becoming murderous shells of their former selves spurred on by a supernatural force they barely comprehend.
As Oculus progresses these two parallel storylines, as they become more and more intertwined, the Lasser Glass affecting how each child recollects past events as they both try to put pieces together. To prove to the world their parents' innocence while also hopefully destroying the mirror for good. Flanagan does a masterful job, casting a visually disconcerting spell where truth is used to deceive and lies are utilized to reveal inner longings and desires the victim has long tried to suppress. It's terrifically tense, continuously suspenseful, everything building to a suitably devastating conclusion fitting all that's come before it beautifully.
Granted, things do take a little time to get going, the scenes of informational exposition delivered by Gillan waver uncomfortably towards the unintentionally laughable side of the equation. Additionally, there is a gigantic McGuffin quite literally hanging from the ceiling throughout the motion picture and when it finally crashes to earth it's not exactly a shock the misery it exacts, dulling the edges of any penultimate surprises quite a fair bit. Lafferty and fellow co-star Miguel Sandoval (playing Tim's caring psychiatrist) are also given irritatingly little to do and part of me wonders if juicier moments for both actors were for whatever reason left on the cutting room floor.
All the same, Oculus works. It builds tension with graceful ease, Flanagan using both his narrative tangents with a precise eloquence cleanly speaking to the themes of self and identity I believe he was shooting for. It is eerily shot by cinematographer Michael Fimognari (Unrest), while Russell Barnes' (We Are What We Are) production design and Elizabeth Boller's art direction border on sensational, giving seamless identity to both past and present while also making it seem elegantly natural when events begin to merge together into one. Best of all is the score by Andy and Taylor Newton (billed as The Newton Brothers), their sonic designs adding just the right effect augmenting the action while also helping the developing emotional nuances burst forth with passion and power right up to the end.
I do wish there was a way Flanagan could have better masked how things were going to turn out, the lack of suspense as far as the last moments are concerned admittedly unsatisfying. But up until then I couldn't help but be impressed with what it was the director had accomplished. Oculus takes a "Twilight Zone" premise and runs with it into intriguingly distressing corners, fleshing out its characters and its ideas with respect for both them and the audience buying a ticket to see it all happen.
A thrilling gem, this is one genre outing worthy of gazing into the mirror more than once in order to get a better look at it.
Film Rating: 3 out of 4