How does the Blu-ray/DVD Disc stack up? (all ratings out of 10.)
Movie
Video
Audio
Extras
Overall
SYNOPSIS
"When the Jews return to Zion
And a comet rips the sky
And the Holy Roman Empire rises,
Then You and I must die.
From the eternal sea he rises,
Creating armies on either shore,
Turning man against his brother'Til man exists no more."
– Father Brennan
CRITIQUE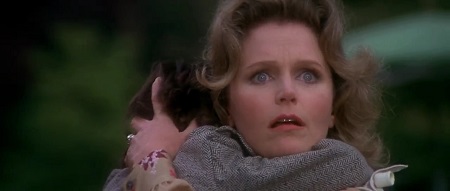 The Omen (1976)
After a mysterious sequence of events leads to a number of gruesome deaths, American diplomat Robert Thorn (Gregory Peck) begins to suspect his son Damien (Harvey Stephens) might be the spawn of Satan. Unbeknownst to his wife Katherine (Lee Remick), their real son died shortly after childbirth, the ambassador convinced to sub this new child – reportedly an orphan – for his own. Now, years later, Thorn races against time to ascertain Damien's true parentage, worrying that if he doesn't do so soon Katherine will likely be the next to die.
The movie that started it all, director Richard Donner's The Omen has over time become a horror staple that has spawned a plethora of imitators and in many circles is considered a bona fide classic. While I enjoy the movie quite a bit I cannot place it on that same lofty pedestal. David Seltzer's script is often too messy and nonsensical for my taste, and character development frequently gets left on the cutting room floor in order to make room for a bit more shock and awe.
Still, Donner directs the heck out of, and Jerry Goldsmith's Oscar-winning score is one of the greatest of all-time my opinion. There are shock and scare sequences here that are as outstanding today as they every were back in 1976, while Peck commands the screen with his patented form of emotionally subtle gravitas that's undeniably compelling. The film also offers up one of the freakiest and most unsettling final shots I think I've ever seen, and just thinking about it again now has sent a number of uncomforting shivers shooting up and down my spine.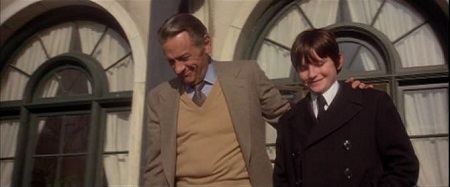 Damien: Omen II (1978)
Damien Thorn (Jonathan Scott-Taylor), now a teenager attending an elite military academy, is being raised by his wealthy industrialist uncle Richard (William Holden) and his second wife Ann (Lee Grant). He is best friends with his cousin Mark (Lucas Donat) and is by all accounts an excellent student and an even better athlete. But now that he is on the verge of adulthood his mysterious powers are beginning to manifest themselves, the knowledge of who he is and what mark he is destined to make upon the world one he is just now beginning to come to grips with.
Is it strange that I actually like Damien: Omen II more than I do its predecessor? Don't get me wrong, this is a silly sequel that grows increasingly histrionic as it moves along towards its inevitable conclusion. But Don Taylor stages a number of incredible death sequences, including one in an elevator that gave me nightmares for a good half-decade after I watched in for the first time and one involving a handful of crows and a massive semitruck that I believe even Alfred Hitchcock would have secretly applauded. Holden is pretty great, and while the climax is a tad underwhelming there are so many memorably signature set pieces lurking inside this sequel I find it to be incredibly re-watchable no matter how ludicrous the actual plot itself might be.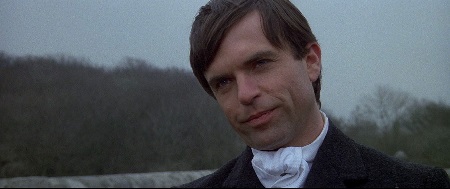 Omen III: The Final Conflict (1981)
Damien Thorn (Sam Neill) is now an adult and has fully embraced his life as the Antichrist. He is planting the seeds that will lead to his elevation to being the most powerful person the Earth, all of which will allow him to bring about the Apocalypse as prophesized in the Book of Revelations. But the new Christ has been born and Damien must kill this child if he is going to achieve his ultimate goals, the final battle between ultimate good and ultimate evil about to take place.
The Final Conflict is unabashedly silly. I have no idea what screenwriter Andrew Birkin and director Graham Baker were thinking about when they came up with this scenario but it certainly had little to do with anything relating to coherence or plausibility. This climactic entry in Damien's story goes off the rails almost right away, and not even a couple of decent death scenes is enough to make this sequel anything less than an unintelligible, unintentionally hilarious disaster. Neill is perfectly cast as the adult Damien, though, and Jerry Goldsmith provides another outstanding score. Other than that, I don't have a lot to say about this one.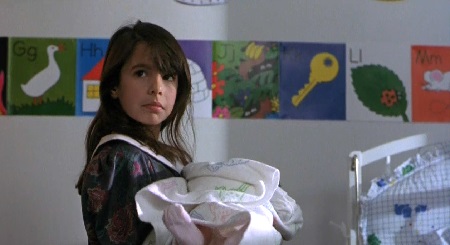 Omen IV: The Awakening (1991)
Not so much a sequel as it is an unsubtle gender-swapped remake of the first film, the initially shown on broadcast television Omen IV: The Awakening is far easier to watch than I imagined it was going to be. This time around, Karen (Faye Grant) and Gene York (Michael Woods) adopt a strange young girl named Delia (Asia Vieira) under somewhat mysterious circumstances. As her child gets older lethally bizarre events begin to happen to the family and Karen make the decision to investigate her daughter's past, discovering a horrifying connection to Damien Thorn in the process.
The movie is pretty dumb, can't really lie about that. But Brian Taggert's script is a bit more playful and witty than I initially expected it was going to be, and even though the film doesn't have the budget or the behind-the-scenes talent to successfully pull off most of its bigger ideas, there's still a moderate amount of fun to be had here if one is in the right frame of mind to do so. Not a big fan of Viera, but Grant is pretty good as her horrified adoptive mother, while veteran character actor Michael Lerner steals just about every scene he's involved in as a cagey private investigator hired to look into Delie's past.
The Omen (2006)
I originally reviewed director John Moore's take on The Omen back during its original release and said that the film was "just not very scary" and "pretty darn boring." Watching it again for the first time since June of 2006 I find I have nothing new to add. It's not very scary. It's pretty darn boring. That pretty much sums it all up.
THE VIDEO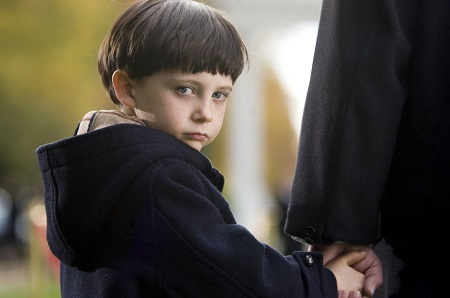 The first four films are presented on separate 50GB Blu-rays (MPEG-4 AVC Video). The 1976 version of The Omen, Damien: Omen II and Omen III: The Final Conflict all sport swanky new 2.35:1 1080p transfers. Each looks pretty darn terrific.
Omen IV: The Awakening comes to Blu-ray for the first time and has a somewhat controversial 1.85:1 1080p transfer. As this film was originally broadcast on domestic television, the absence of a 1.33:1 option is a little disappointing. However, the sequel was originally conceived and shot for theatrical exhibition, so the presentation showcased here is the one the filmmakers originally intended.
The 2006 version of The Omen appears to be a relative facsimile of the film's originally Blu-ray release, Scream! Factory presenting the remake on a 25GB Blu-ray (MPEG-2 AVC Video) with a 1.85:1 1080p transfer. It also had 12 fewer chapter stops.
THE AUDIO
The 1976 version of The Omen and Damien: Omen II have English DTS-HD Master Audio 5.1 soundtracks and also include additional English DTS-HD Master Audio 2.0 and English Mono options. Omen III: The Final Conflict does not include an English Mono track otherwise it is the same as its two predecessors. Omen IV: The Awakening only includes an English DTS-HD Master Audio 2.0 track. The 2006 version of The Omen only includes an DTS-HD Master Audio 5.1 option.
All five films include optional English SDH subtitles.
THE EXTRAS
I admit I was hoping for a little more as far the special features for this box set collection are concerned. But my disappointment does not mean there still isn't a wealth of material Omen fans aren't going to go a little nuts about. The 2003 feature-length doc covering the original series contained on the Omen IV: The Awakening disc is borderline essential.
Extras include:
The Omen (1976)
NEW Audio Commentary with Special Project Consultant Scott Michael Bosco
Archival Audio Commentary with Director Richard Donner and Editor Stuart Baird
Archival Audio Commentary with Director Richard Donner and Filmmaker Brian Helgeland
Archival Audio Commentary with Film Historians Lem Dobbs, Nick Redman and Jeff Bond
The Devil's Word – An Interview with Screenwriter David Seltzer (23:25)
It's All for You – An Interview with Actress Holly Palance (13:14)
The Devil's Music – An Interview with Composer Christopher Young Talking about Jerry Goldsmith's Legendary Score (19:05)
Richard Donner on The Omen (14:37)
The Omen Revelations (24:10)
Curse of Coincidence? (6:22)
666: The Omen Revealed (46:18)
Screenwriter's Notebook – An Interview with Writer David Seltzer (14:53)
2006 Introduction with Director Richard Donner (1:56)
Deleted Scene with Commentary (1:24)
An Appreciation – Wes Craven on The Omen (20:17)
Jerry Goldsmith Discusses The Omen Score (17:37)
Trailers from Hell Featuring Commentary by Filmmaker Larry Cohen (2:46)
Behind-the-Scenes Gallery (5:46)
Movie Stills Gallery (6:16)
Posters and Lobby Cards Gallery (6:08)
Original Theatrical Trailer (2:25)
TV Spots (1:26)
Radio Spots (3:51)
Damien: Omen II (1978)
NEW Audio Commentary with Special Project Consultant Scott Michael Bosco
Archival Audio Commentary with Producer Harvey Bernhard
Damien's Guardian – An Interview with Actress Lee Grant (15:56)
The Devil's CEO – An Interview with Actor Robert Foxworth (16:21)
The Harbinger – An Interview with Actress Elizabeth Shepard (26:34)
Elizabeth Shepherd's Scrapbook – A Look at Her Behind-the-Scenes Photos with Commentary by Elizabeth Shepherd (3:36)
Power and the Devil: The Making of DAMIEN: OMEN II (7:22)
Still Gallery (6:34)
Original Theatrical Trailer (2:59)
TV Spots (1:34)
Radio Spots (1:31)
Omen III: The Final Conflict (1981)
NEW Audio Commentary with Special Project Consultant Scott Michael Bosco
Archival Audio Commentary with Director Graham Baker
The Devil in the Detail – An Interview with Director Graham Baker (24:56)
Resurrecting the Devil – An Interview with Screenwriter/Associate Producer Andrew Birkin (20:30)
Interview with Production Assistant Jeanne Ferber (16:38)
Still Gallery (3:54)
Original Theatrical Trailer (1:51)
TV Spots (1:03)
Omen IV: The Awakening (1991)
The Book of Evil – An Interview with Screenwriter Brian Taggert (18:11)
The Omen Legacy (1:01:39)
Still Gallery (2:14)
Theatrical Trailer (1:19)
The Omen (2006)
All of these are ported over from the previous release. None are new.
Audio Commentary with director John Moore, producer Glenn Williamson and editor Dan Zimmermann
Unrated Extended Scenes and Extended Ending (7:09)
Omenisms: Behind the Scenes of "The Omen" (37:19)
Abbey Road Recording Sessions (10:14)
Revelation 666: Behind the Scenes (22:17)
Original Theatrical Trailers (3:56)
FINAL THOUGHTS
The box set it arguably worth it just for the first three films alone. They look and sound terrific, and the extras included on The Omen (1976) and Damien: Omen II discs are pretty darn outstanding. Having never seen Omen IV: The Awakening I'm a little surprised how sturdy it is. Not great. Certainly see how it ended up debuting on network television. But still an interesting watch I think is starting to grow on me. As for the 2006 version of The Omen, I think I like it less now than I did when I first watched 13 years ago. It's instantly forgettable.
All-in-all, though, this is a solid collection, and fans of the series will likely want to add this Scream! Factory release to their personal libraries sooner rather than later.