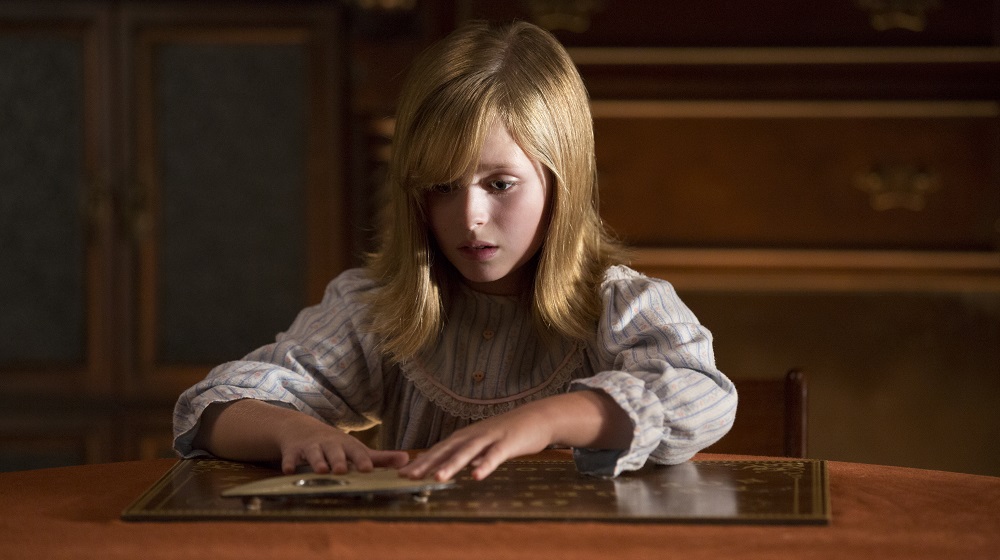 Unnerving Ouija Prequel a Terrifyingly Good Surprise
Let's all be honest, 2014's Ouija was a bad movie. I missed the press screening but took in the film about a week after its release, and while I didn't hate the anemic tween girl horror outing based on the Hasbro board game and made as if by a boardroom committee and not be actual filmmakers, I never felt compelled to write about it, either. Barely containing a story, only hinting at the thinnest idea of three-dimensional characters and devoid of anything close to a scare, the horror outing was instantly forgettable, its $50 million box office due more to good timing and a decent trailer than it was to anything approaching affinity by a majority of the domestic audience.
With that out of the way, holy moley but is respected indie director Mike Flanagan's (Oculus, Hush) somewhat unexpected follow-up Ouija: Origin of Evil pretty darn terrific! Billed as a prequel, this is really more of a fresh start, its connections to its lame predecessor ephemeral at best. Flanagan's script, written once again with frequent collaborator Jeff Howard, is an effective slow-burn freak show the builds terror with troubling grace and sinister ease. It's also beautifully acted by its talented cast, especially by young newcomers Annalise Basso and Lulu Wilson, the two actresses navigating complex emotional terrain with ferociously unsettling efficiency.
It is 1967, and Los Angeles single mother Alice Zander (Elizabeth Reaser) makes her living as a psychic, doing séances for whoever comes calling, trying to ease her clients' consciences and allay their deepest fears as best she can. Naturally it's a scam, and she's aided by her two daughters, teenager Lina (Basso) and her younger sister Doris (Wilson), the pair assisting in a variety of little tricks that convince those sitting at the table the paranormal activity they are witnessing is real.
Thanks to a suggestion from Lina, Alice decides to insert a Ouija board into the act, hopefully adding an additional layer of chicanery into their con. Funny thing is, the darn thing works, Doris particularly affected by its apparent power to contact the supernatural. Suddenly she starts exhibiting real clairvoyant powers, the child seemingly touched by the spirits to the point she can genuinely help people get in contact with their dearly departed loved ones and grant them a semblance of peace.
Obviously, this doesn't end up being a good thing, Doris' abilities not exactly all they appear to be. But what Flanagan and Howard's script lacks in originality it makes up for in believability and robust characterizations, especially as it pertains to its central trio. They run through an entire gamut of emotional responses, each affected by this confirmation of the paranormal in their own unique way. This makes what transpires all the more disquieting, the building terror palpable as things progress to their heart-stopping, brutally kinetic conclusion.
The most natural comparison is to any number of possession thrillers, especially the granddaddy of them all, William Friedkin's The Exorcist, especially after a kindly priest, the girls' catholic school principal Father Tom (Henry Thomas), is introduced. But the playfulness of the scenario, along with the naturalistic way each element ends up being introduced, all of it allows for a level of believability that could never have existed otherwise. Additionally, the ultimate revelation as to what is really going on and why is an absolute corker of a twist, the look washing over Basso's face as she puts all the pieces together and begins to beg Father Tom and her mother to stop talking before it's too late as priceless as it is unnerving.
Speaking of Basso, she and Wilson give two of the best child performances of the year, and that's not hyperbole. There's a ton asked of both kids, and, not only do they pull off the minute intricacies of the journeys their two respective characters take, they do it in a way that allowed me to feel connected to them each and every petrifying step of the way. Wilson, in particular, does a marvelous job, her evolution as the possession progresses so startling in its effective verisimilitude watching it culminate the way it does shook me to my core.
Flanagan gets better with each outing. More than that, he knows how to satisfy audience expectation in a way that doesn't sacrifice story or character. He's decidedly unsentimental as far as outcomes are concerned and takes no prisoners as far as it pertains to the fates of any of his core characters. Yet, he does all of this with a suitably snarky sense of humor, inserting an uncomfortable laugh at just the right moment, and as such it gives things an additional human quality that's monstrously effective.
The fact Ouija: Origin of Evil exists is minor marvel in and of itself considering how little is thought of the first film. The fact it's good? Potentially even great? At least as wonderful as James Wan's initial The Conjuring? Maybe even better than that? I don't even know what to say. In fact, I'm close to clueless. Be that as it may, Flanagan cements his status as a rising directorial talent, especially as it concerns genre fair like this. Not only can I not wait to see what he has in store for us all next, I just as assuredly cannot wait to get a look at this nifty little piece of supernatural terror again for a second time.
Film Rating: 3½ (out of 4)