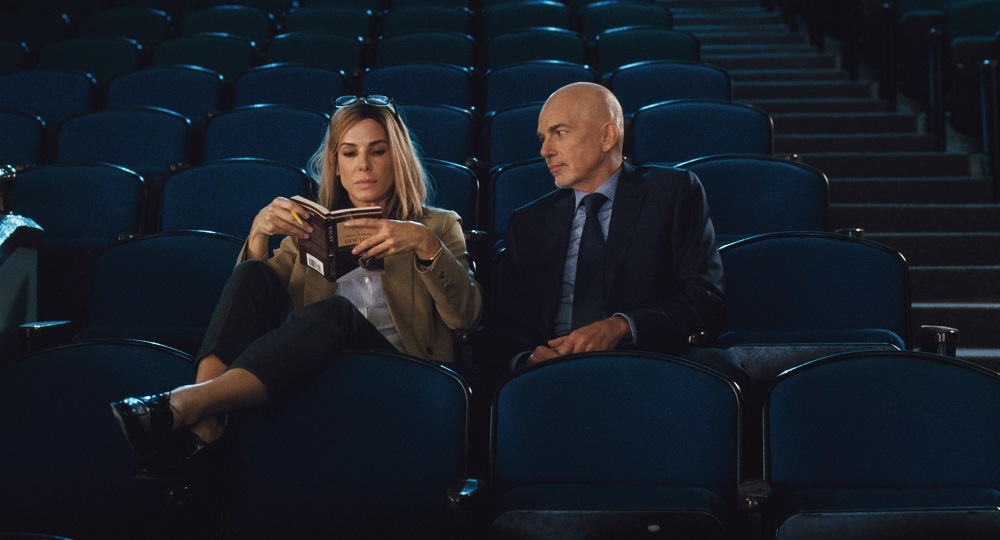 Well-Intentioned Crisis a Satirical Disappointment
Political operatives for hire Ben (Anthony Mackie) and Nell (Ann Dowd) have come to the secluded, mountainside home of famed 'Calamity' Jane Bodine (Sandra Bullock) to talk her out of her self-imposed retirement. They're on the campaign for former Bolivian President Castillo (Joaquim de Almeida) as he fights to regain his old job over a decade after voters ousted him from office. His poll numbers are at rock bottom and he's looking for all the help he can get, Ben and Nell believing they've found just the person to help turn things around and get the campaign running on the right track.
Jane isn't sure why she's allowed herself to get talked into taking this job, but the moment she sets down in the country and sees her arch nemesis Pat Candy (Billy Bob Thornton) is handling frontrunner Rivera (Louis Arcella) old interior fires geared towards political combat are instantly reignited. For her, this race is oddly personal, and while she doesn't know the language that doesn't mean she still can't come up with political messages Bolivians of all socioeconomic backgrounds will respond to heart and soul. With the race tightening things catapult towards Election Day, the fate of an entire nation hardly mattering to Jane or Pat as they work to persuade voters to cast their ballots for their respective candidate.as victory is all either operative cares about.
Our Brand is Crisis, written by Peter Straughan (Tinker Tailor Soldier Spy), directed by David Gordon Green (Joe, George Washington), produced by George Clooney and Grant Heslov (Good Night, and Good Luck.), is inspired by Rachel Boynton's outstanding 2005 documentary of the same name. Chronicling a real Bolivian election, it analyzed how U.S. political and marketing tactics influenced that country's 2002 presidential race, showcasing how a delegation – led by James Carville, no less – turned the tide for unpopular also-ran Gonzalo Sánchez de Lozada, their underhanded techniques leading him to victory.
Viewed through a satirical lens, the filmmakers go out of their way to paint a picture of political strategizing that's as disturbing as it is terrifyingly universal. It's about how Madison Avenue and the corporate elite use every tool and tactic at their disposal to sway public opinion, veterans of these marketing battles finding a variety of ways to convince as many as they can to vote how they want, even if doing so goes directly against what is actually best for them personally. As such, it all feels particularly prescient what with a new presidential contest in its early stages here in the U.S., the line between what's happening in the film in Bolivia and what's going on in this country not as far removed as one might initially think.
Or maybe not. Part of the problem is that, as solid as many of Straughan, Green and company's observations might be, none are fresh or original. The movie's satirical jabs at the political process are familiar across the board, and not a single thing anyone says or does is near as shocking as it needs to be in order for the film to resonate on a meaningful level. It's pretty standard stuff, most of the narrative elements content to roam along the surface, the script rarely, if ever, digging deeply enough to matter as far as the bigger overarching picture is concerned.
None of which applies is it pertains to either Bullock or Thornton. These two are wonderful, the duo engaged in a delicate, passionately fiery tango fueled by mutual admiration and riotous disdain. They've lived, loved, lied and lost, found victory in failure and lost part of their soul every time one of their candidates came out of an election a winner. Each actor is so good, so fully committed to what is going on and their journeys each of their characters is on that they elevate the film one full level above any it ever could have ascended to without them, giving things a feeling of potent urgency I found wholly responded to.
The rest of the cast, which also includes Scoot McNairy, Zoe Kazan and relative newcomer Reynaldo Pacheco, is equally up to the challenge, yet none of them – save de Almeida, who is excellent – are given near enough to do to make a concrete, lasting impression. On top of that, Straughan's script, while filled with a number of nice moments, is tonally inconsistent, never striking a solid balance between drama and comedy thus muting the satirical jabs to the point they barely land. More, it's almost as if he wants to have his cake and eat it to, a third act shift towards redemptive seriousness not coming across as minutely genuine.
As for Green, a talented director, it's almost as if he's channeling all sides of his creative facades with this film, and that's not necessarily a good thing. While it's apparent the man who helped bring stories as different as Snow Angels, Prince Avalanche, Pineapple Express and The Sitter is at the steering wheel, I can't say elements of all of those features (and others) trying to coexist is a positive. The ribald and maudlin, the grotesque and serious, the melodramatic and the deathly serious, they all sit beside one another, the shifts in focus and tone oftentimes jarring.
Yet there is no dismissing Our Brand is Crisis entirely. As already stated, Bullock and Thornton are superb, while Green's control of the technical elements is as strong and as confident as ever, Tim Orr's (Seeking a Friend for the End of the World) sensational cinematography deserving of special recognition. But the movie never achieves greatness, the satirical points it's making too obvious, the dramatic transformations too inauthentic. It's another one of those well-intentioned, nicely crafted efforts I wish I liked more than I actually do, making it a head-scratching disappointment that's as frustratingly unsatisfying as anything I've seen this year.
Film Rating: 2 (out of 4)