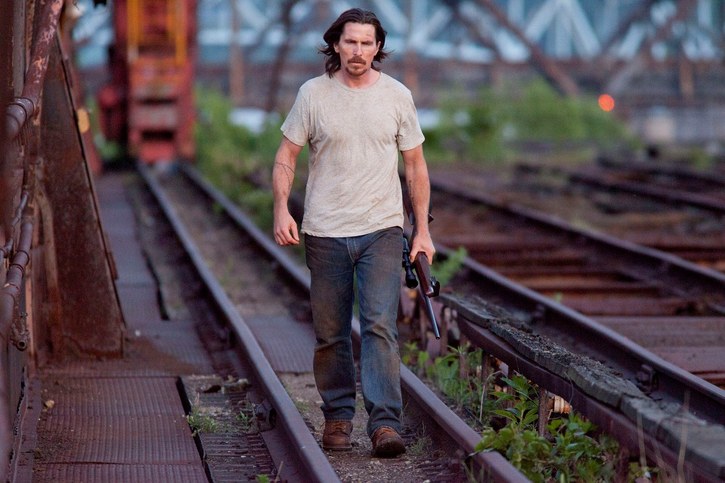 Darkly Tragic Furnace Burns with Emotional Authenticity
No one is ever going to mistake Scott Cooper's (Crazy Heart) backwoods Pennsylvania steel country Shakespearean noir with a 'nice' movie. There is tragedy and heartbreak running in the film's veins right from the first forlorn images of the Braddock steel mill photographed with severe austerity by cinematographer Masanobu Takayanagi (The Grey) and set to the pained vocalizations of Pearl Jam's Eddie Vedder, this ambience only growing in severity as things progress. What we have here are good people in a bad environment dealing with sad situations as best they think they can, and no matter how negative or positive certain decisions might be it's obvious no matter what the outcome it will be dripping in blood.
At its heart, this is the saga of two brothers, Russell (Christian Bale) and Rodney Baze, Jr. (Casey Affleck), the elder working at the same dying steel mill his father did throughout his life while the younger has just been stop-lossed by the Army and is on his way back to Iraq for a fourth tour of duty. They bicker, they fight, they get on one another's cases, but it's all mostly good-natured ribbing for the most part, even if Rodney's association with town loan shark and moneyman John Petty (Willem Dafoe) – an affable sort, but still a criminal – does lead Russell to worry.
The night they are supposed to meet for a beer Russell is the victim of an unimaginable accident, forcing him into prison for a year and derailing what many assumed was an impending marriage to beautiful primary school teacher Lena Taylor (Zoë Saldana). When he gets out he is met with some hard truths, not the least was his dad's death to cancer and his former girlfriend's plan to marry local police chief Wesley Barnes (Forest Whitaker). Most disturbing is the revelation that Rodney has been bareknuckle brawling for John Petty instead of looking for real work, using his fists to help quell the demons barking inside of him as he tries to put his days in Iraq in the rearview mirror.
As you might imagine, none of this goes particularly well for anybody, especially after Rodney makes the acquaintance of New Jersey drug lord and underground fight broker Harlan DeGroat (Woody Harrelson). What comes next is straight out of Greek tragedy, or at the very least 1940s gangster noir, Russell forced into a type of action he's loathe to embrace but feels duty and honor bound as a loving brother to engage in all the same. Things move at a measured pace, the funereal tone unmistakable especially by the time the second act comes to an end and the third begins its march to the cemetery.
Yet, do not misunderstand me when I say this, Out of the Furnace is an understatedly powerful drama that's almost impossible to resist and even more difficult to ignore. It is magnificently acted, especially by Bale, Affleck, Harrelson and Sam Shepard (playing the Baze boys' uncle) and is filled with astonishing moments of barren beauty and visceral power that speaks to the story's core elements more often than not without any words at all. Cooper allows this world they inhabit to live and breathe with poignant eloquence, never allowing the more obvious themes and ideas inherent in his and co-writer Brad Ingelsby's (The Dynamiter) script to become tiring or didactic.
It's now apparent that Bale has quickly become one of the finest actors of his generation. Having won a much-deserved Oscar for his turn in The Fighter, after showing himself capable of incredible human transformations in films as varied as American Psycho, The Machinist and even The Dark Knight, his December one-two punch of this and David O. Russell's American Hustle is one for the ages. It's hard to imagine this is the same actor from one motion picture to the next, the way he disappears so completely into the roles beyond imagining. His work as Russell is some of his best yet, and at no time did it feel like Bale wasn't entirely invested in making sure every movement, every, every twitch of a muscle, wasn't completely and utterly genuine.
Out of the Furnace doesn't paint a rosy picture. Like the somewhat similarly themed Killing Them Softly before it, what it has to say about the current climate in America is far from warm and is decidedly not even close to fuzzy. But unlike that Andrew Dominik somewhat satirical polemic, Cooper isn't out to make any broad political statements, isn't trying to shine a spotlight on universal cultural malaises afflicting society at large. He keeps things focused on Russell's story and his journey alone, never straying from where he needs to go no matter what the repercussions of doing so might entail. Like I've already stated, this doesn't make the movie an easy or nice one, far from it, but that doesn't make it any less masterful, the final product an invigorating and fascinating character study of the ongoing battle between darkness and light worth getting excited about.
Review reprinted courtesy of the SGN in Seattle
Film Rating: 3 (out of 4)