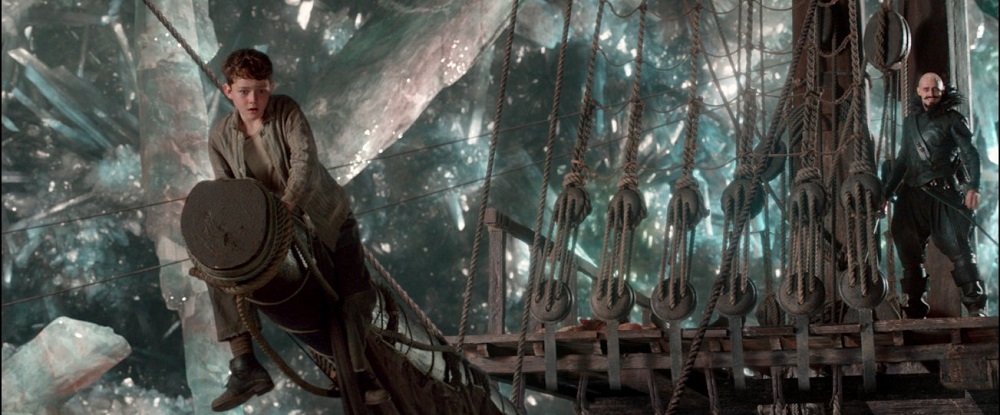 How does the Blu-ray/DVD Disc stack up? (all ratings out of 10.)
Movie
Video
Audio
Extras
Overall
SYNOPSIS
"I am going to tell you a story about a boy who would never grow up. About the pirate who wished to kill him. About the island where fairies roamed. But this isn't the story you've heard before, because sometimes friends begin as enemies, and enemies begin as friends. Sometimes to truly understand how things end, we must first know how they begin."
–       Peter 
CRITIQUE
Here's what I wrote about this one in my original theatrical review:
"Joe Wright's Pan is the type of spectacular, eye-popping misfire only a great filmmaker can deliver. As a movie, this origin story for author J.M. Barrie's iconic character is astonishingly terrible, veering in so many directions at the exact same time grabbing onto any single facet of it for anything more than a second is more or less impossible. But as a pure piece of idiosyncratic cinema? As a feast for the eyes, ears and remaining senses? As an example of pop art run gloriously and gleefully amuck? The resulting fantasy is a wild, imaginatively audacious ride that's one-of-a-kind, making the fact it's so narratively inept less upsetting than it potentially could have been otherwise.
The auteur behind works of genius like Pride & Prejudice, Atonement and Hanna, it's hard not to look at Pan as if it might be Wright's Dune, his 1941, his New York, New York, his One from the Heart, a riveting fiasco that will be looked at for years to come as an inventive misstep and little else. Those movies, directed by the likes of Lynch, Spielberg, Scorsese and Coppola, will never be regarded as successes. Even so, almost no one looks at any of them as bona fide disasters, either, the periscope of time allowing for a prevailing view that recognizes these missteps as a great filmmaker taking a colossal risk and relatively little more.
With a screenplay by Jason Fuchs (Ice Age: Continental Drift), the film begins with young Peter (Levi Miller) whisked away from his London orphanage during WWII by an actual pirate ship, its sailors out on an errand for the immortal Captain Blackbeard (Hugh Jackman). Finding himself in a mystical realm known as Neverland, he discovers that the bloodthirsty swashbuckler has been kept alive thanks to the magical properties of pixie dust, and as such he keeps raiding the mortal plane for orphans to slave away in his mines digging for it.
Peter doesn't take much to be treated as a slave, escaping into the forests of Neverland with the help of fellow imprisoned miner James Hook (Garrett Hedlund). Turns out, the boy might just be a prophesized chosen one, destined to lead the native inhabitants to victory over Blackbeard and his pirates while also freeing the fairy folk from being hunted down for their pixie dust. Princess Tiger Lily (Rooney Mara), her tribe's most cunning warrior, believes this to be true, certain that if Peter looks deep within he'll see the same, knowing that with a little pluck, courage and trust (not to mention a happy thought or two) they boy won't just rise to the occasion, he'll fly there.
Now, I like Steven Spielberg's own 1991 reinvention of this tale Hook; find it to be an emotionally pure family-friendly fantasy that takes Barrie's characters into some fun and invigorating places. At the same time, I'm happy to stand with the naysayers who poke at it for its excesses, who hold it accountable for being overly theatrical and even more outlandishly melodramatic. I just find that the film still manages to tap into Barrie's themes and ideas in ways I respond to, all of it anchored around performances from Dustin Hoffman (as Captain Hook) and the late Robin Williams (as the mild-mannered adult who once upon a time was Peter Pan) that are close to superb.
Believe it or not, Wright's film is even more eccentric in its excesses, the candy-colored costumes, sets and production design looking as if the director was given free rein in the Crayola factory and gifted every single crayon color to use at his discretion. More there is an exuberant self-indulgence to both characterizations and to central set pieces that's wildly insane, stuff that's intimately subtle intermixed with other elements that are anything but. There's a tonal imbalance that's out of control, and from one moment to the next it's never certain just what kind of motion picture Pan is going to be.
In this way the film is decidedly as child-like as its hero, and much like a youngster on the verge of becoming a teenager keeping discipline over emotions, ideas and coherent thought is sometimes an alien concept. But this structural schizophrenia weighed on me, made it impossible to care about was happening or if Peter would be able to come into his own as a hero. Yet, the quiet moments, the brief bits of chaotic respite where the future Lost Boy learns about his parents, begins to explore his powers, has an emotional connection with any of the three adult figures attempting to make use of him, these sequences enthrall, leading to questions of intent, concept and execution on the parts of Wright and his creative team that are sadly unavoidable.
Jackman is having a blast as Blackbeard, the only problem being watching him indulge himself so gleefully isn't nearly as much fun for the audience as it must have been for him to perform. This overt theatricality, however, seems to be what Wright was seeking, he and Hedlund – who is at times unwatchably cartoonish as Hook – so animated, so excitable, so full of vim and vigor, one has to assume they were egged on to deliver these performances exactly as-is. Granted, this is a movie that has a full-blown Moulin Rouge-style musical number set to a familiar Nirvana ditty as its entry point into Neverland, so crazed excitability is in the movie's DNA roughly from the get-go.
But what about the sensational animated flashbacks (one of which is an incredible, dazzling stop-motion showpiece that blew me away)? Or the glorious finale set aboard a pair of flying pirate ships battling it out inside a hidden cave? Or the sight of Mara wearing a Rastafarian rainbow-colored wig? Or how Miller has the making of a real star at some point down the line? Or Jacqueline Durran's (Anna Karenina) magnificent costumes? Or John Powell's (How to Train Your Dragon 2) exhilarating score? Or Aline Bonetto's (A Very Long Engagement) awe-inspiring production design? Or the way Wright, to his film's betterment or embarrassment I cannot say, appears to have complete mastery of everything that is happening no matter how outlandish or boneheaded it might appear?
These are all questions I do not admit to knowing the answers to, even though each and every one is a piece of exquisite magnificence the motion picture can, without a doubt, captivatingly call its own. Say what you will about this origin story (and, trust me, plenty will be, the movie almost guaranteed to be one of 2015's biggest financial boondoggles), to claim it isn't made by a filmmaker in total control cannot be one of them. Wright has reimagined Barrie's world, given it a special imprint only he could have manufactured. None of which makes the resulting misfire good, let alone worthwhile, but it does make it fascinating, Pan the type of fearless failure only a director of consummate skill and vision par excellence could have delivered with such a resounding thud."
As beautiful disasters go, Pan is kind of divine. It's fascinating to watch, filled with sights and sounds utterly unique in and of themselves. None of which makes it a good movie, per se, but it is a fascinating, at times an intently hypnotic one, and as failures go, I'll take more like this Joe Wright mess every single day of the week.
THE VIDEO
Pan is presented on a 50GB Blu-ray MPEG-4 AVC Video with a 2.40:1 1080p transfer.
THE AUDIO
This Blu-ray features English Dolby Atomos and English Dolby TrueHD 7.1 audio tracks along with English, French, Spanish and Portuguese Dolby Digital 5.1 options and includes English SDH, French, Spanish and Portuguese subtitles.
THE EXTRAS
Extras here include:
Audio Commentary with director Joe Wright – Outstanding audio commentary that puts the film, its stylistics and what exactly the filmmakers were attempting to achieve in much greater focus, and I honestly think my opinion of the feature has elevated some after listening to it.
Never Grow Up: The Legend of Pan (10:50) – Fine if forgettable EPK-style featurette on the long-lasting endurance of the Barrie character and his adventures.
The Boy Who Would Be Pan (6:07) – Nice little featurette on Levi Miller; highly worthwhile.
The Scoundrels of Neverland (5:49) – Too short featurette looking at Blackbears and his followers, never focusing enough on any of them to make things informative (or interesting).
Wondrous Realms (5:01) – Fine featurette looking at the visual esthetics of Pan and how much care and effort went into achieving them.
A Digital HD Copy of the film along with a DVD version are both included with this release. 
FINAL THOUGHTS
Joe Wright's Pan is a mess, yes, but it is also a glorious one, and it's quickly becoming a movie I can watch with fairly little trepidation whatsoever. Warner's Blu-ray presentation is stunning, the few fans the film does have certain to be excited about that. As for everyone else, I do hope people take the time to give this one a chance, doing so they just might discover a quirky, original take on J.M. Barrie's iconic characters that appeals to them far more than maybe they expected it to.