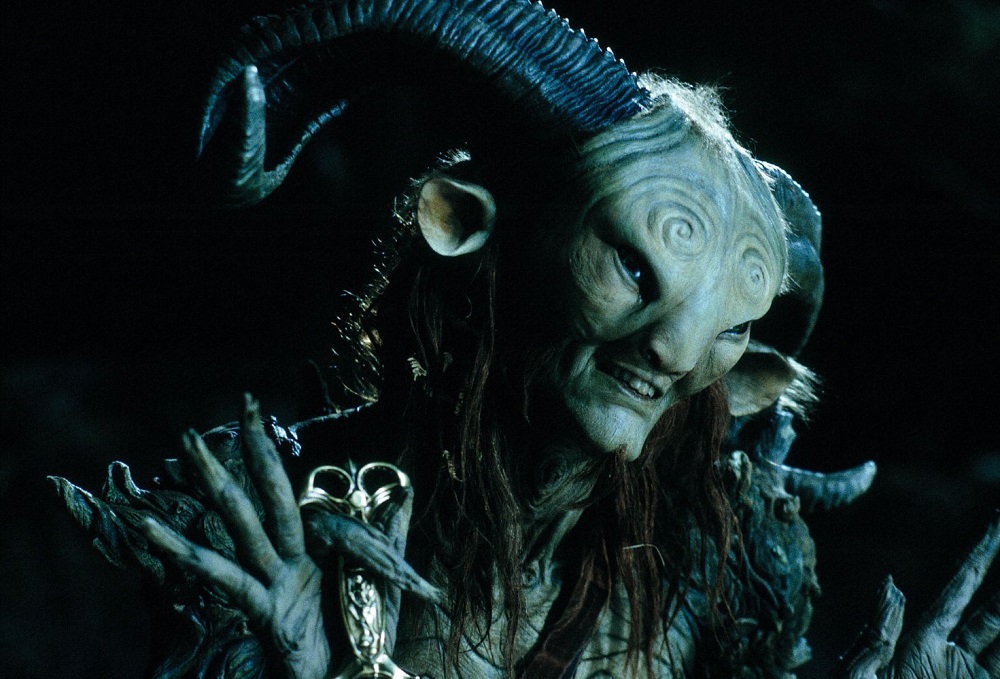 How does the Blu-ray/DVD Disc stack up? (all ratings out of 10.)
Movie
Video
Audio
Extras
Overall
SYNOPSIS
"And it is said that the Princess returned to her father's kingdom. That she reigned there with justice and a kind heart for many centuries. That she was loved by her people. And that she left behind small traces of her time on Earth, visible only to those who know where to look."
CRITIQUE
Here's what I wrote about this one way back in 2006:
"Few films are either as magical or as enchanting as Guilermo del Toro's Pan's Labyrinth. In the same breath, few fairy tales are as perverse, terrifying or as deeply disturbing. This new surrealistic war-torn wonder is an emotionally shattering marvel, a visionary triumph made be a filmmaker at the top of his game.
Returning to the same Spanish landscape of 2001's The Devil's Backbone, del Toro once again follows the mysterious fortunes of a young child as they try to navigate the dangerous waters of a civil war. In this case, that child is Ofelia (Ivana Baquero), newly relocated with her mother Carmen (Adriadna Gil) to the countryside so they can be with her new stepfather Captain Vidal (Sergi López).
Vidal does not care for the little 12-year-old girl, his only concern the life of the potential son his newlywed wife carries within her belly. Otherwise, his focus is on stamping out the rebels hiding within the forest. They are a disease, a virus infecting his way of life and in desperate need of eradication. Manipulation, abuse, torture, genocide, all usefully awful means to a glorious end in his mind, the destruction of these revolutionaries the best thing he could ever accomplish for his glorious Spain.
With her mother growing ill and her stepfather treating her like a dog, Ofelia retreats inside the elaborate fairy tales she treasures. But when a trip within a crumbling stone labyrinth just on the edge of the forest reveals a world the little girl never imagined, the line between fantasy and reality blurs. Soon the child finds herself on a quest that puts her own life in danger, yet also one she also knows could save the life of an unborn brother she hopes to be acquainted with in the future.
Pan's Labyrinth is as exhilarating as it is mesmerizing. To call del Toro's latest a fairy tale for grownups would be too easy, a far too simplistic description for a picture which plumbs such exquisitely realized emotional depths. Much like The Devil's Backbone the filmmaker looks at evil through the eyes of a child, the Spanish Civil War a perfect backdrop to showcase just how far man's inhumanity to man can extend.
This time, however, del Toro uses the framework of a fantasy to magnify how great this depravity is. Ofelia's journey through the looking glass is no Lewis Carol darkly-twisted-yet-still-sweetly-safe fantasy land. Here, giant toads ominously threaten to swallow a child whole while pale men with eyeballs in the palms of their hands sit at bountiful dinner tables ready to strip the bones of any who choose to partake of their meal. Ofelia's fairy tale is a metaphor commenting on the very real horrors of the modern day that surrounds her, and while it may be populated by fairies and fauns the real danger lies in the hands of the madmen with guns who watch the child's every step.
In a year filled with magnificent visual achievements, Pan's Labyrinth might be the most spectacular of the bunch. From the intricately designed avenues of the labyrinth, to the washed-out disheveled blues and grays of the military encampment, reality and illusion collide producing splendiferous results. Frequent del Toro collaborator Guillermo Navarro's photography is spellbinding, while production designer Eugenio Caballero has crafted a world so textured it is impossible not to believe these realms really do in fact exist.
This will undoubtedly be a tough sit for some. The director has created a film full of adult concepts, ideas, emotions and problems yet chooses to look at them through the innocent eyes of a child. Some of what Ofelia does might seem ludicrous, maybe even borderline insane, but for a small girl faced with such extreme inhumanities and terrors retreating into a fairy tale world isn't at all an unreasonable conceit. More, the fact these fantasies are colored by the events taking place in her everyday life gives Ofelia an insight into war's destructive fingerprints that's much more insightful than any I expected before the film began.
Of the actors, López is miraculous. His is a monstrously terrifying depiction of fascist evil so all-encompassing all the actor had to do was walk in front of the camera to send a chill down my spine. Off all the villains I have seen this year (save maybe Meryl Streep in The Devil Wears Prada) he is my favorite, López making Captain Vidal a creature so horrible even the fantasy critters populating Ofelia's thoughts would run screaming away from him if given the opportunity.
Collectively, filmmakers del Toro, Alfonso Cuarón and Alejandro González Iñárritu, the self-described 'Tequila Gang,' are having the kind of year many in Hollywood dream about yet seldom achieve. Cuarón's Children of Men is the best film of the year, while Iñárritu's Babel is one of the more topically thought-provoking powerhouses I've seen. Together this trio has released some of the most urgent, intelligent, entertaining and richly-layered pictures of 2006, del Toro's Pan's Labyrinth certainly no exception."
Pan's Labyrinth has aged marvelously these past ten years, del Toro's fantastical fairy tale as inventive now as it ever was during its initial theatrical release.
THE VIDEO
Pan's Labyrinth is presented on a 50GB Blu-ray MPEG-4 AVC Video with a 1.85:1 1080p transfer. As stated in the included booklet: "For its theatrical release, the film was completed in a 2K digital intermediate finishing process from the 35mm original camera negative. That digital intermediate provided the highest level of faithfulness to director Guillermo del Toro's original vision. For this release, further color changes were made throughout the feature to fully realize that vision."
THE AUDIO
This Blu-ray features a Spanish DTS-HD Master Audio 5.1 track and includes optional English subtitles. Again, from the included booklet: "The film features a fully digital soundtrack. He surround audio for this release was remastered from the original digital audio master files using Pro Tools HD."
THE EXTRAS
Extras here include:
Audio Commentary (from 2007) with writer/producer/director Guillermo del Toro
Director's Introduction from 2007 (0:25)
Del Toro and Funke (39:21) – Brand new interview piece with novelist Cornelia Funke running the filmmaker throughout seemingly every corner of his career, especially Pan's Labyrinth.
Doug Jones (25:38) – New interview piece with frequent del Toro collaborator Jones touching on multiple aspects of his career and an in-depth look at the variety of creatures he portrays inside Pan's Labyrinth.
Interactive Director's Notebook (from 2007) including introduction from Guillermo del Toro
The Power of Myth (2007) (14:24)
Pan and the Fairies (2007) (30:28)
The Colors and the Shape (2007) (4:03)
The Melody Echoes the fairy Tale (2007) (2:48)
Ivana Baquero Audition (2007) (2:55)
Prequel Comics (2007) (14:44)
Video Comparisons (2007)
Original Theatrical Trailers & TV Spots
Also included is a Collectible Illustrated Booklet featuring an essay by critic Michael Atkinson. 
FINAL THOUGHTS
Pan's Labyrinth is a dream and a nightmare, both in constant battle for supremacy as Guillermo del Toro's haunting fairy tale weaves its way towards its shattering conclusion. A decade after its original release, this film has grown to become a bona fide masterpiece, Criterion's sensational Blu-ray as exquisite a presentation as any it is likely ever going to have.