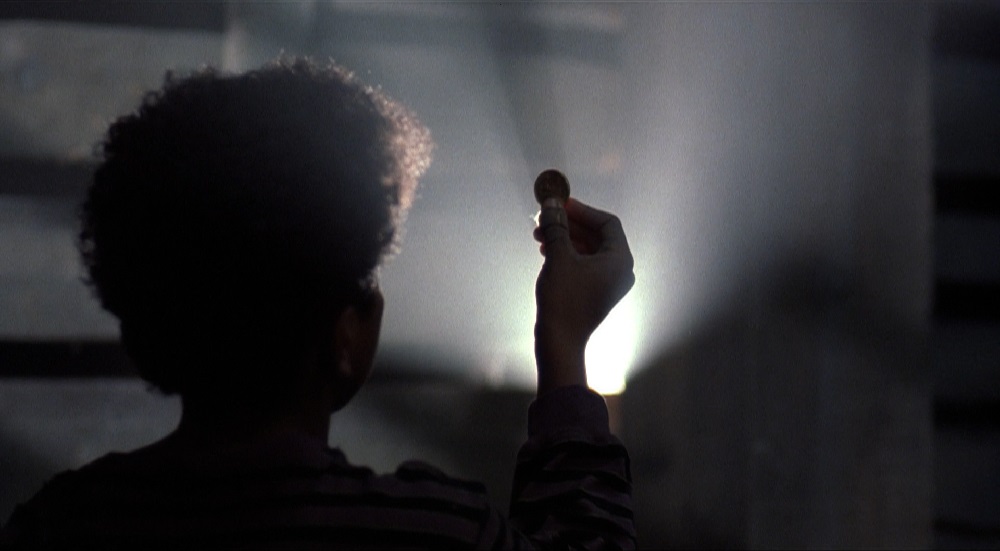 How does the Blu-ray/DVD Disc stack up? (all ratings out of 10.)
Movie
Video
Audio
Extras
Overall
SYNOPSIS
"What's a mother to do? Lazy brat sits in her room all day, sewing dolls. Children misbehaving in the basement! And one in the wall, doing his business God knows where. You kids will be the death of me… the death of me."
–      Woman
CRITIQUE
In the wake of Wes Craven's death back on August 30, I admit I had a lot of trouble writing the review for both The People Under the Stairs and Shocker Blu-rays released by Scream! Factory. Craven was just too important to me, his films firing my imagination in such a way I can't help but feel I owe at least some of my enduring love for cinema and it's possibilities to him.
About a month later, looking at The People Under the Stairs once again, I can't help but feel like it is, without a doubt, one of the filmmaker's most underrated achievements. Nightmare on Elm Street and Scream might get all the laurels, The Hills Have Eyes and Last House on the Left might have changed the game (and The Serpent and the Rainbow might just be his best motion picture, one we could all use to talk far more about), but this unhinged, wildly unpredictable slice of social commentary might be his most inspired and imaginative bit of freewheeling lunacy of his entire filmography. Filled with twists and turns, overflowing in ideas and featuring two stellar, over-the-top performances by Twin Peaks veterans Wendy Robie and Everett McGill, this little genre hybrid is a total joy, one that only gets better and better as the years go by.
The story follows Poindexter "Fool" Adams (Brandon Adams), an inner city kid who is talked into breaking into the house of a pair of crazed eccentrics (Robie, McGill) by gregarious thug Leroy (Ving Rhames), the man and woman the two slumlords responsible mass evictions and horrendous living conditions in buildings throughout town. Once inside, he discovers a house of horrors unlike anything he could have imagined, a young girl named Alice (A.J. Langer), apparently the pair's psychologically scarred daughter his only ally. On top of that, there are a number of deformed creatures living in the basement, primarily underneath the stairs, one of the more gregarious and helpful members (Sean Whalen) moving throughout the house inside the very walls themselves.
Nothing is as it seems in The People Under the Stairs, Craven dexterously moving from comedy, to social commentary, to drama, to horror, to satire, to action, to thriller with confident skill. While not every aspect of the film works as well as other, and while the unhinged nature of the narrative can be jarring (especially on initial viewing), so much of the picture sticks with you long after its come to an end one almost can't help but fall in love with the darn thing in every way whatsoever. One of the director's absolute best, and definitive proof that he was far more of a cinematic provocateur and originator than I sadly think he's often given credit for being.
THE VIDEO
The People Under the Stairs is presented on a dual-layer 50GB Blu-ray with a MPEG-4 AVC encode and a 1.81:1 1080p transfer. This appears to be the same transfer utilized for Universal's barebones 2014 Blu-ray, featuring all of the same positive and negatives.
THE AUDIO
This Blu-ray feature an English DTS-HD Master Audio 5.1 soundtrack along with an English DTS-HD Master Audio 2.0 track and comes with optional English subtitles.
THE EXTRAS
Extras here include:
Audio Commentary with writer/director Wes Craven – Fantastic commentary track from the horror legend, sadly one of his last, hosted by Red Shirt Pictures' Michael Felsher; definitely worthy of multiple listens.
Audio Commentary with actors Brandon Adams, A.J. Langer, Sean Whalen and Yan Burg – The cast tends to watch the movie more than they actually comment upon it, and while they're all happy with the film their insights into its production are hardly memorable.
House Mother with Wendy Robie (19:26) – Terrific interview with the veteran character actress, her insights into how she approached the character, tried to give her a tragic, almost pitiable sense of humanity, still relatively fresh. Robie also touches on a number of other aspects of her career, a strong focus, of course, on Twin Peaks and her (no retired) costar Everett McGill.
What Lies Beneath – The Effects of The People Under the Stairs (15:02) – Another strong featurette from the folks at Scream! Factory, this one focusing on special effects and makeup wizards Howard Berger, Robert Kurtzman and Greg Nicotero and what working on this film meant to them and to their careers.
House of Horrors with Director of Photography Sandi Sissel (16:09) – Veteran cinematographer Sissel (Salaam Bombay!) looks back on the making of the film, specifically on her working relationship with Craven as well as how she embraced the comedic aspects of his script.
Behind the Scenes Footage (6:39) – Wonderful archival behind-the-scenes footage, the best of it revolving around a signature moment involving Ving Rhames' character.
Vintage Making of Featurette (3:43)
Original Storyboards (6:55)
Still Gallery (4:17)
Original Theatrical Trailer (1:18)
TV Spots (1:21)
FINAL THOUGHTS
With no real upgrades as far as technical specs are concerned, the reason to get excited about this Scream! Factory release of The People Under the Stairs has everything to do with the extras, and on that front the distributor specializing in cult and underground releases such as this does not disappoint. They are aces across the board, especially the recently recorded commentary track with the late, great Wes Craven, and for fans of the motion picture this is a sensational little gem of a Blu-ray that should be picked up for the collection immediately.