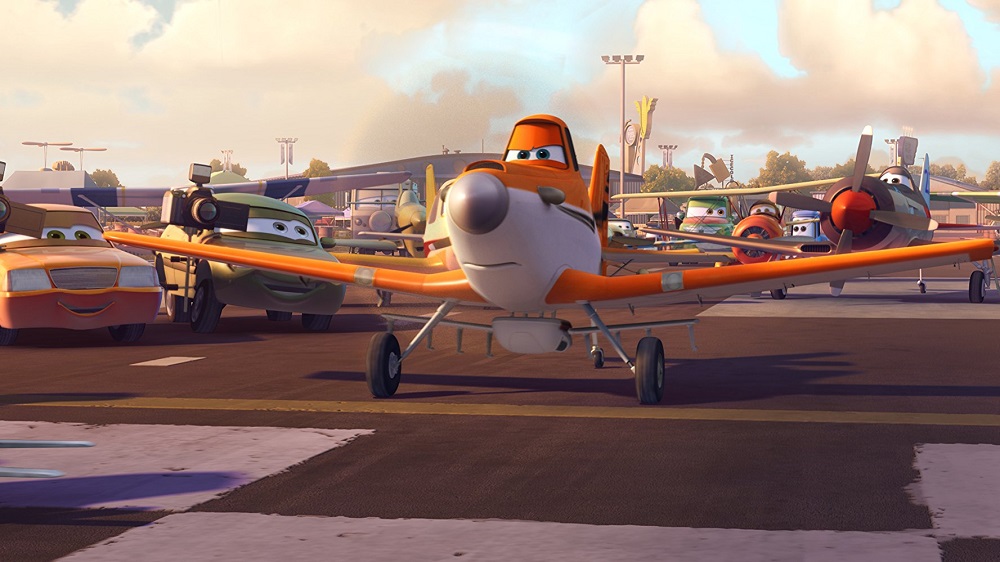 Disney's Planes Doesn't Exactly Soar
Even though it is billed as being "from the world above Cars," Disney's latest computer animated offering Planes has nothing to do with that 2006 film. More, it was not made by Pixar, the studio behind both it and its 2011 sequel. Just as important, even though it has been given the Disney insignia and is being given a full-throttle marketing push, the film itself was animated at the studio's Disneytoons arm, that branch responsible for many of the Mouse House's television and direct-to-video efforts, an animation facility not normally involved with anything theatrical.
All of which should make it of little surprise when I reveal that Planes was initially meant to be a direct-to-video release much in the same vein as Disney's Tinker Bell efforts, cashing-in on a popular brand (i.e. Cars) but telling a story unconnected from the theatrical film from which is was born. But for whatever reason, and I'm guessing it has a lot to do with the fact a sequel, Planes: Fire and Rescue, is already in the works for a July 2014 release, the studio scrapped plans for a Blu-ray debut and decided to give this film a multiplex bow, meaning that critics like myself were going to have to watch it and give their two-cents even though doing so doesn't make a ton of sense.
Why? It's a lose-lose proposition. The film shoots low, but it does so on purpose, aiming for a kindergarten-aged crowd who will eat this barely 90-minute enterprise up whether their parents want them to or not. It's completely unoriginal, in many ways an exact remake of Cars only with talking machines who like to take to the air instead of ones who scoot along the pavement. The characters are obvious and one-dimensional, while the resolution to the story is as predictably forgone as anything I'm likely to see all year.
At the same time, if one steps back, if they allow themselves to take in the picture's history, what venue it was originally designed to be seen in, Planes is admittedly better than the majority of kiddie entertainments delivered to the straight-to-video marketplace. The animation is crisp, the vocal cast better than average and the story itself imparts comforting life lessons almost every parent would love for their five, six and seven-year-olds to embrace. It's more or less fine, and if it had debuted on DVD and Blu-ray instead of in an actual theatre I'm fairly positive the majority of reviews would be shockingly kind.
So there's the rub. If I say I hated the movie I'm being unkind, not judging it for what it is and the audience it is meant for (not to mention for the original intent of the creators behind it). At the same time, if I'm nice, if I say it's good (let's go with passable; that's about the best I can stomach), families might then plunk down numerous hard-earned dollars to buy tickets, and considering there's a 3D surcharge potentially involved, those amounts could be astronomical. The majority will almost certainly be disappointed, and with efforts out their like Despicable Me 2, Turbo and even Pixar's own Monsters University still in theatres who the heck would blame them for being so?
This hasn't been much of a review, I get that, but Planes isn't much of a movie, so in some ways I feel like the route I'm taking is the only one available. For those that must know, the plot revolves around a lowly crop duster named Dusty (voiced by Dane Cook) who dreams of entering an around-the-world air race even though he isn't built for speed and has a horrific fear of heights. Under the tutelage of WWII Navy Corsair Skipper (Stacy Keach), and with the support and aid of fuel truck Chug (Brad Garrett) and aircraft mechanic Dottie (Teri Hatcher), Dusty manages to enter the race and live out his dream, finding strength, courage and, yes, speed in the process.
Connections to Cars are obvious, as are similarities to Cars 2 (and, somewhat ironically, DreamWorks Turbo, which more or less tells this same story but with a super-powered snail subbing in for a faster-than-average crop duster), so not a single surprising thing happens at any point during the film whatsoever. Little kids, however, won't care. They'll fall in love with Planes. They will adore the talking planes and motorized vehicles, which is more than likely the point and the real reason Disney decided to bypass the DVD release for a theatrical one. After all, dollars are dollars, and having children convince their parents to spend them can sometimes be as easy as showcasing a little orange plane with great big puppy dog eyes talking with a giant pink aircraft as they fly through puffy white clouds in a clear blue sky.
Film Rating: 2 (out of 4)