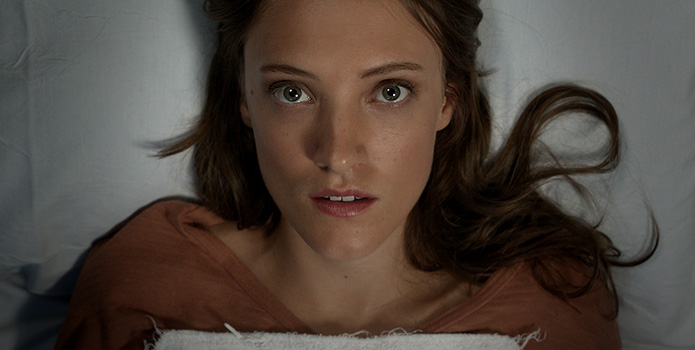 Darkly Disturbing Proxy a Mind-Numbing Triumph
Esther (Alexia Rasmussen) has suffered unimaginable tragedy. After visiting her doctor, she is viciously attacked, losing her unborn child in the assault. After getting out of the hospital she is referred to a support group for trauma survivors and it is there she meets the acquaintance of Melanie (Alexa Havins), a good-spirited and helpful young woman who lost her son and husband in a horrific accident not too long ago.
Or did she? Esther runs into Melanie out and about, sees her with a young boy that looks a lot like the one she described as her son during one of their intimate chats. Following her, she spies a man, Patrick (Joe Swanberg), who is exactly like the one she claims died in that horrific accident alongside the pair's child. Funny thing is, none of this shocks Esther, the information doesn't make her mad. If anything it excites her, putting ideas inside of her head she's not entirely certain what to make sense of.
Director Zack Parker's Proxy movie is very good at pulling the rug right out from underneath you. Proxy isn't what you think it is going to be, playing a game of bait and switch right at the halfway point that's jarring and incredible both at the exact same time. More than that, it builds to a devastating, bloodcurdlingly flabbergasting conclusion the likes of which had me open-mouthed in awe, leaving me to wonder what the heck had just happened and take full measure of all it was I had just experienced.
If Parker's debut Scalene was an unsettling, discombobulating experience, it is nothing compared to this. The filmmaker, co-writing with Kevin Donner, looks at the darker nether regions of the human experience from increasingly peculiar perspectives, never allowing me to get my feet or catch my bearings. The things that happen, who individuals turn out to be, what is lurking at their respective cores, all of it evolves in ways that are hypnotically idiosyncratic, carnage unleashed always when it was the least expected.
It's dark stuff, and Parker shines spotlights in places I'm not altogether sure I wanted to see highlighted for maximum exposure. There are experiences Esther, Melanie and the mysterious Anika (Kristina Klebe) suffer through that are beyond imagining, while the actions Patrick finds himself carrying out are as mind-numbing and distasteful as they are brutally tragic in their destructive fury. The final destination is a place of misery and despair, the shocking truths uncovered ones no one wants to admit exist let alone suffer through for themselves.
Havins and Klebe shine, each going to extremes that close to unfathomable. Drinking Buddies director Swanberg is also surprisingly excellent, his moments of madness having a level of complex, grief-riddled authenticity to them making their cruelty all the more potent. It is Rasmussen, however, who beguiles the most, her trance-like façade hiding serpentine demons that curl and strangle in ways that defy belief. Universally, the cast is a strong one, all of them investing in the material and their characters to such an extreme the overall effect is out of this world.
Proxy isn't for the faint of heart. It asks questions most won't want to contemplate let alone hear uttered. But Parker's singular, unflinching point of view is undeniable, as is his talent, the overall film a Hitchcockian triumph that by all accounts will grow in strength, power and tragic devastation when viewed subsequent times. Make no mistake, as horrifying as it all is, as deadly as the outcome might be, the film itself is nothing short of a triumph, one I'm certain I'll be pondering for the remainder of 2014.
Film Rating: 3.5 out of 4