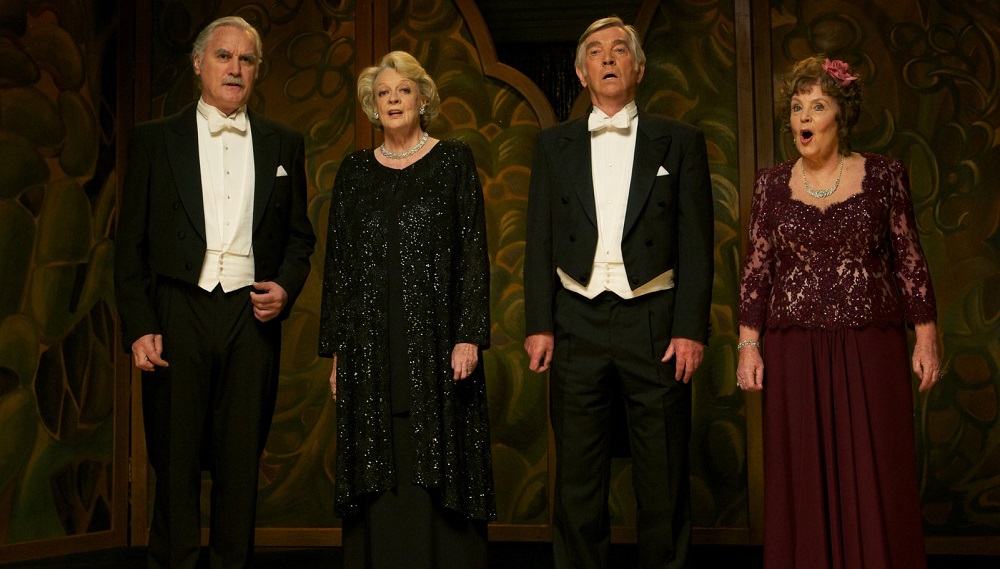 Quartet Sings an Entertainingly Familiar Tune
Beecham House for Retired Musicians is getting a new resident. With only a few short days until their annual gala celebration of Giuseppe Verdi's birthday, which also doubles a fundraiser to keep the doors of the home open, internationally acclaimed opera star Jean Horton (Maggie Smith) is moving in, this former darling of the classical musical arena a perceived diva many fellow residents are both in awe of and intimidated by.
Not everyone, however. Wilfred 'Wilf' Bond (Billy Connolly) and Cecily 'Cissy' Robson (Pauline Collins) performed with Jean in the past and they know just about all there is about the aging star. As for Reginald Paget (Tom Courtenay), he's not so much annoyed that she is coming to live with them as he is angered and depressed by the fact, the two not only former partners in song but also married once upon a time for a short period as well.
The once inseparable foursome, torn apart by age, misdeed, deceit, shame and all manners of outside influence, find themselves suddenly thrust back together. What more, they've been asked to perform for the first time in decades at the gala, a momentous event that could potentially save Beecham House, even if doing so will require Reginald and Jean to put their painful past mistakes behind them.
Quartet is not going to change the world. Its insights don't rattle one's intellectual birdcage. It does not say anything that we do not expect it to or going into directions we do not readily anticipate. Screenwriter Ronald Harwood (The Diving Bell and the Butterfly), adapting his own play, isn't going for the jugular nor is he attempting to change the world. His scenario is nothing more than a sweet, simple parable of growing old and of the ways some, in this case musical artists of varying stripes, go about dealing with the last act of their respective lives.
Slight as it may be, that doesn't mean Quartet does not entertain. With confident, sure-footed direction by Dustin Hoffman (surprisingly making his debut behind the camera), beautiful camerawork by the great John de Borman (Made in Dagenham) and featuring multifaceted performances by the entire cast (and not just the center foursome), the movie had me grinning ear-to-ear for most of its running time. While certainly not essential, and not exactly a motion picture I'd pay evening ticket prices to go and see, as matinee fodder this blissful and uplifting drama is a melodious aria I personally found worthy of a rapturous applause.
Smith could play a character like Jean Horton in her sleep. At the same time, she doesn't go through the motions, pulling off moments of regret and longing that broke my heart. Connolly, stealing scenes left and right with his deft comic timing, shows a maturity and a depth I can't recall seeing from him before, making some of his quieter moments hit home in ways that are warm and inviting.
As for Courtenay and Collins, they steal the show, and while the latter has the more showy role (Cissy is battling the early stages of dementia) that doesn't mean she attempts to eat up the screen or overplay her hand. No, both actors find a groove that is full of heart, emotion, intelligence and meaning, the pair oftentimes speaking volumes even when they are in reality stating very little via dialogue. They are stunning, there's no way else to put it, and I treasured just about every single second they appeared, whether together or apart, on the screen.
Hoffman populates the remainder of the cast, save the indomitable and always mesmerizing Michael Gambon, with famed musicians and singers of all ages and stripes. Iconic opera singer Dame Gwyneth Jones has the most central role of the side players, and to say the hits all of her notes and shines like the star she is something of a major understatement.
I'm not about to proclaim Quartet something of a minor masterpiece. It isn't, not even close, the film running mainly in the same circles The Best Exotic Marigold Hotel did. It just does it with even less effort and, in my opinion, with a bit more in the way of honest emotion. These artists don't give in and they refuse to give up, proving once again that if you can maintain a song in your heart and keep a dance in your step being young is an ongoing state of grace that potentially could last forever.
Film Rating: 3 (out of 4)