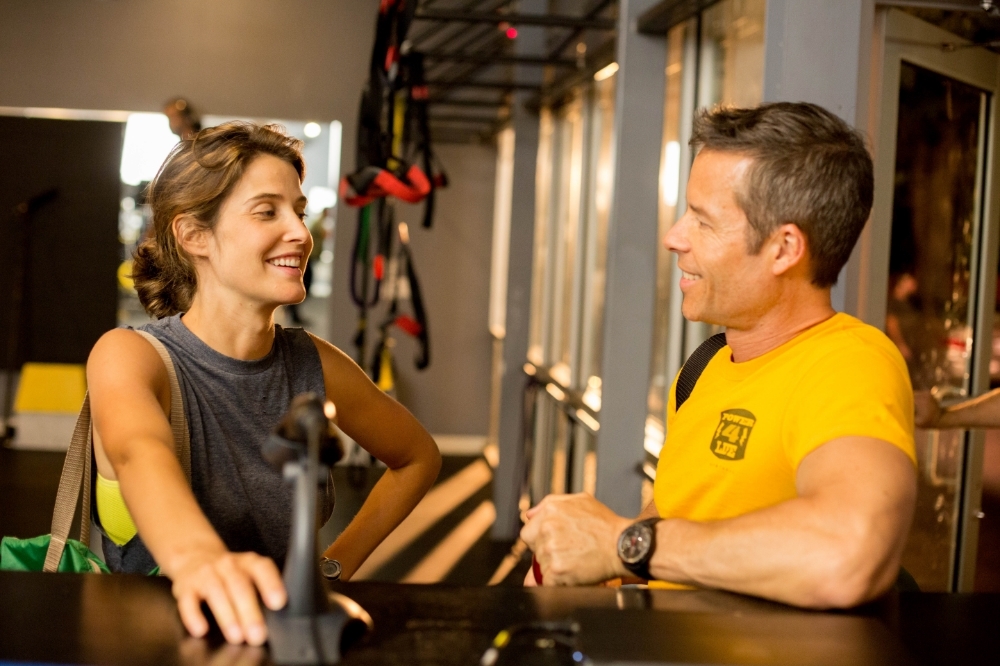 a SIFF 2015 review
Perceptive Results an Energetic Comedic Workout
Danny (Kevin Corrigan) should have had it all. But even inheriting a fortune the likes of which will set him up for the rest of his life he's still mired in a deep, overpowering depression he's beginning to think he'll never overcome. Taking up residence in Austin in order to escape bitter New York memories he can't forget, he joins a fitness club run by health nut Trevor (Guy Pearce), claiming he'd like to get in shape but in reality he's doing so because he's just plain tired of being alone.
After a bit of arguing with her boss, personal trainer Kat (Cobie Smulders) scores the gig of getting Danny into shape. She's got a history with Trevor, one that's nearly as complicated as her new client's past life back on the East Coast. For a variety of reasons the trio discover their lives intertwining in the most unusually of complex ways, little ending up as expected as mental and romantic fitness becomes even harder to obtain than its more body-centered counterpart.
Andrew Bujalski's (Computer Chess) Sundance Film Festival favorite Results isn't so much a romantic comedy as it is a perfect mumblecore counterpart to Joe Swanberg's Drinking Buddies in that it fits distinctly inside its filmmaker's low budget independent world yet does so featuring a bevy of high-profile movie stars. Yet where that 2013 crowd pleaser revolved around craft beer brewing, Bujalski's opus takes on the CrossFit craze and does so with somewhat surprising ferocity. As light and as frothy as it might be, it takes no prisoners as far as Trevor and his ambitions are concerned while also twisting fitness freak Kat's world upside down as she gets to know Danny. There's more going on than meets the eye, the breezy atmosphere concealing an emotional complexity that sneaks up on the viewer biting them right on their freshly toned behind.
The film is beautifully cast, Pearce delivering a delightful performance as the fitness-obsessed Trevor who has no idea about all that's happening around him as he puts all his efforts into trying to perfect his brand and make his club the go-to place or those looking to turn their lives around. His clueless narcissism is endearing, making his complicated history with Kat all the more intriguing, Danny's place in the middle bewildering especially as it becomes blatantly clear he's not as interested in obtaining muscular perfection as his two new friends are.
Smulders is equally wonderful, unafraid to take her character to some potentially unappealing places as she tries to use the new man in her life to goad the other to take more notice of her. As for Corrigan, he could play a guy like Danny in his sleep but that doesn't mean he's not going for broke, and I love the fact that his evolution never goes according to the stereotypical plan Bujalski cagily tricks the audience into thinking will transpire back at the start of the film. Supporting players include Giovanni Ribisi, Brooklyn Decker, Constance Zimmer and an absolutely hysterical Anthony Michael Hall, all of whom make an indelible imprint even if their collective overall screen time is relatively brief.
As perceptive as all of this might be it's just as equally slight, Bujalski playing it somewhat safe as things reach their conclusion. But the movie is constantly entertaining nonetheless, Corrigan, Smulders and Pearce all working in sensational tandem allowing the filmmaker's themes and ideas to come to life with delightful enthusiasm. Results isn't in tip-top shape, but its certainly fit, its comedic athleticism never in doubt at any stage of the cinematic workout it zealously asks the audience to participates in.
Film Rating: 3 (out of 4)