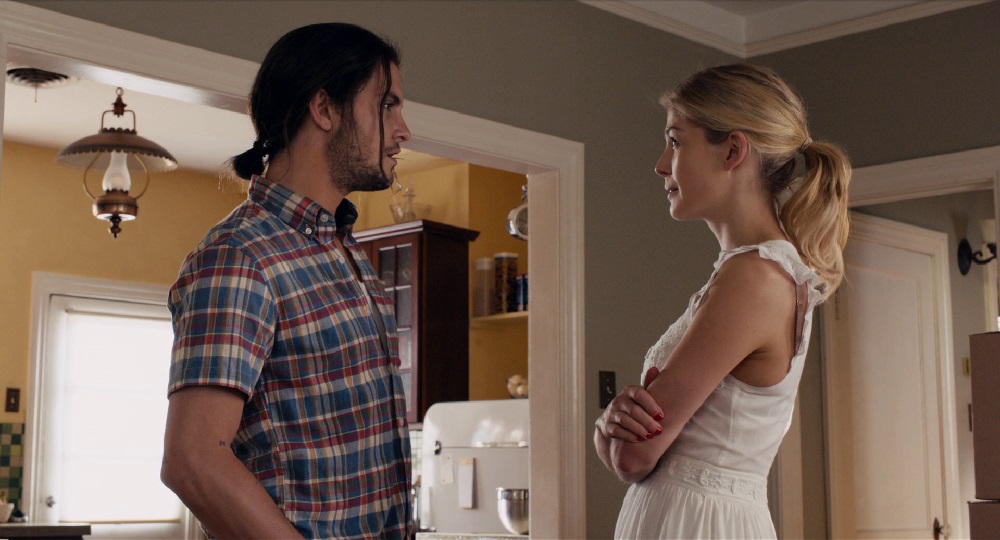 How does the Blu-ray/DVD Disc stack up? (all ratings out of 10.)
SYNOPSIS
Miranda Wells (Rosamund Pike) is a small town nurse set up on a blind date by her friends with the supposedly charming William Finn (Shiloh Fernandez). But when things don't go well, and he refuses to take no for an answer to his advances, the unthinkable happens, leaving this typically high-strung, meticulous woman a shell of her former self. Now Miranda wants revenge, and William is going to rue the day he ever forced this particular woman to do anything she did not want to.
CRITIQUE
Return to Sender is a bad movie. It's script is hogwash. It hasn't the courage to embrace its exploitation origins. It's surprisingly misogynistic in many of the ways David Fincher's Gone Girl potentially could have been yet fearlessly, ferociously never was. It wastes a talented supporting cast in a variety of thankless roles (including an out of nowhere Ryan Phillippe as a UPS driver), most infuriatingly a rascally Nick Nolte as Miranda's kindly father. Director Fouad Mikati (Operation: Endgame) does what he can, allowing veteran cinematographer Russell Carpenter (Titanic) and dynamite composer Daniel Hart (Ain't Them Bodies Saints) to work as magic as they can, but in the end it just isn't enough, this thriller about as difficult to sit through as any movie I've seen this year.
It isn't Pike's fault. Miranda might be a second-rate Amy Dunne, but the talented actress gives it her all even though she's wearing some exceedingly overfamiliar shoes. She's got some terrific moments as this revenge-seeking ice queen, and watching her plan her trap isn't without a few minor joys. But Patricia Beauchamp and Joe Gossett's script is tedious in so many different ways documenting them all is virtually impossible, and by the time the heroine puts her plan into action I can't say I cared a single lick how any of it was going to turn out.
I haven't talked about Fernandez because, well, what's there to talk about? William might as well as just arrive at Miranda's doorstep with a neon sign screaming "villain – do not trust" flashing above his head, and how this Type A woman even gives him more than a second of conversation is difficult to believe. But, on top of that, for a guy that's depraved enough to commit rape Fernandez portrays about the blandest and most nondescript (if still requisitely scuzzy) scumbag I've ever seen. Return to Sender just plain isn't good, and part of me is slightly upset at myself that I ever thought it would have been anything otherwise.
THE VIDEO
Return to Sender is presented on a single-layer 25GB Blu-ray with a MPEG-4 AVC encode and a 1.85:1 1080p transfer.
THE AUDIO
This Blu-ray features both English DTS-HD Master Audio 5.1 and comes with optional English SDH subtitles.
THE EXTRAS
There are no extras included with this release. 
FINAL THOUGHTS
Return to Sender is a bad movie, there's just nothing else to say about it, and even with a cast as talented as this I can't stress enough how much it should be avoided at all costs.