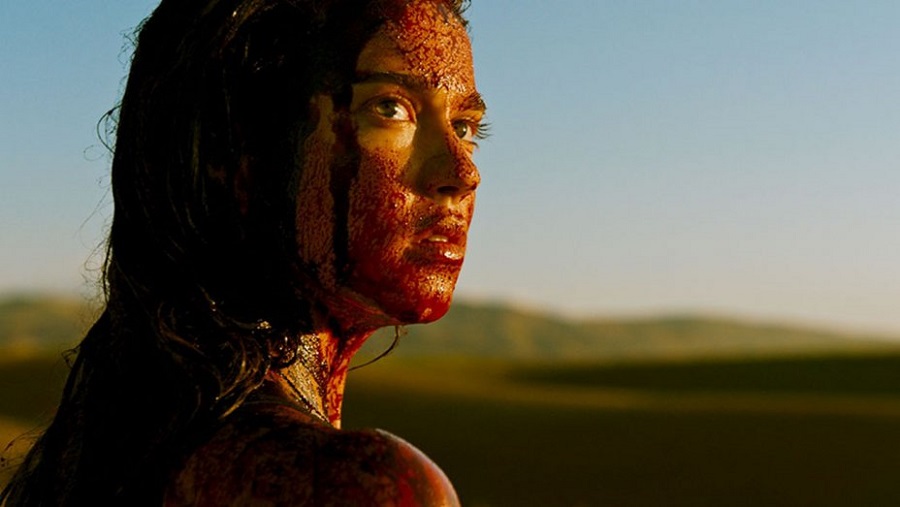 a SIFF 2018 review
Explosive Revenge an Assertively Feminine Exploitation Triumph
Jen (Matilda Lutz) and her wealthy, if married, boyfriend Richard (Kevin Janssens) are enjoying a weekend alone at his secluded desert estate. After getting off the helicopter, the pair quickly leaps into one another's arms for some amorous bedroom gymnastics. But as soon as they're finished Jen heads into the kitchen to discover two heavily armed men leering at her through a sliding glass door. It appears Richard has invited friends Stan (Vincent Colombe) and Dimitri (Guillaume Bouchède) to join them as he intends to do a little desert hunting while at the house for the weekend. As the evening progresses Jen decides to make a party out of this unexpected gathering, drinking and dancing well into the morning much to the delight of all three men.
The next morning the playful atmosphere from the night before is shattered when one of Richard's friends takes things to an abhorrent, unforgivable place that by all accounts should land him in jail. Jen's expectation that her boyfriend would do the right thing when he learns what happened, that he would get her to the hospital and turn his buddy into the police, does not come to pass. Instead, after trying to pay her off and having his offer rebuffed, Richard decides to dispose of this problem by throwing it off the side of a cliff. But Jen has no intention of dying, and no matter what she has to do to survive she's going to make sure she gets her revenge.
Writer/director Coralie Fargeat's spellbinding feature-length debut Revenge is a stunning a reinvention of the rape-revenge exploitation film that had me sitting at the edge of my seat first frame to last. A magnificent evisceration of the ingrained misogyny that this genre has frequently been known for, this thriller is a crafty survivalist masterwork that grows in intensity and power as the heroine's battle progresses. Fargeat layers in the symbolism and the subtext with assertive subtlety, Jen's transition from easygoing girly-girl to hardened hunter willing to do whatever is required to see another dawn happening with a ferocious majesty that had me cheering each and every step of the way.
Is it believable? Heck no. When you see what happens to Jen after Richard tosses her over that cliff her survival isn't exactly plausible. But how she gets herself out of her initial predicament? What she does to take care of her wound, get a weapon and put herself onto something akin to equal ground with the three men trying to track her down and kill her? The way Fargeat lays it all out feels strangely believable, including a novel cauterization sequence that would make even John Rambo sit up and blush. The director never allows this aggressively bloody sensationalism to overshadow Jen's emotional makeover, major emphasis placed upon how these events are shaping her and the wellspring of inner strength, courage and self-belief she'll utilize in order to outlive her adversaries.
It should be noted that the major coup is the way in which Fargeat stages the rape and its aftermath. The director makes this moment all about male insecurity and entitlement, each of these working directly with the other in order to produce a repellent misogyny that's as terrifying as it is insidious. In the view of Stan, Jen should be honored to be the object of his desire. In Dimitri's eyes, the young woman's raw sexuality deserves to be enjoyed by the wealthy and the powerful whether or not she agrees to participate. As for Richard, he has no time for a woman who won't acquiesce to his demands or look at his offer of financial freedom as payment for the supposed wrongs done to her as something to be derided. They are all at fault. Worse, they don't even realize it, their male privilege to do whatever they like whenever they want to overriding all other concerns as far as their patriarchal view of male-female relationships are concerned.
All of which makes Jen's rebirth, her literal rising from the ashes from the stake she was impaled upon, even more effective. Just because she appeared to be nothing more than a bubble-headed Barbie Doll using her sex appeal to get ahead that doesn't mean she gets to be treated like a silicone sex toy to be thrown away like a piece of pink lipstick-wearing garbage. If anything, this brush with death has made her more confident, more self-assured than ever before. Jen goes from being the hunted to becoming the hunter, and the harder Richard and his cohorts attempt to push her back down into what they view as her pre-assigned submissive role the more she proves to be lethally determined to set her own course as to what she gets to do with her life.
Lutz is sensational, her Jen coming off as some sort of bubblegum pop combination of Charlize Theron's Furiosa from Mad Max: Fury Road, Sharni Vinson's Jen from You're Next, Lori Petty's title character in Tank Girl and Heather Langenkamp's Nancy from A Nightmare on Elm Street. She's a heroine of the here and now, the actress unafraid to strip Jen bare, leaving all her bloody and bruised scars visible for the world to see.  More than that, though, she shows how these wounds have led her to this place of reevaluation, have revitalized her to stand up for herself in ways she never has before. This is a star-making performance, its primordial complexities a thing of beauty, Lutz commanding the screen in a way that is unforgettable in its mesmerizing virtuosity.
I'm not sure Fargeat could have crafted a more impressive debut. She takes a tired subgenre of exploitation filmmaking and makes something timely, immediate and essential out of it. She utilizes cinematographer Robrecht Heyvaert's sun-drenched, sinfully colorful visuals as if they were the primary weapon in her massive creative arsenal, coupling these images with an immersive, disquietingly bone-rattling sound design and with composer Robin "Rob" Coudert's (Maniac, Populaire) incredible score with pinpoint precision. Revenge smashes the male gaze into a myriad of pieces, this incisive feminine vision of an all-too-real terror a gruesome shot of cinematic adrenaline I'm unlikely to soon forget.
Film Rating: 3½ (out of 4)