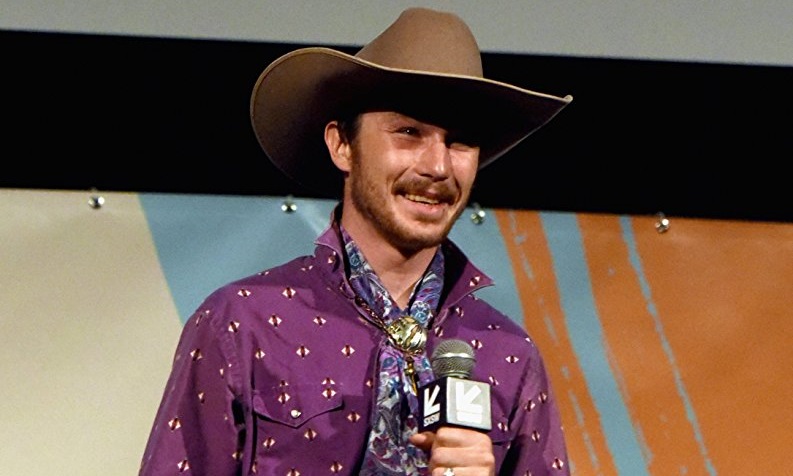 Working and Earning
Cowboy Brady Jandreau Sits Tall in the Saddle in The Rider
It shouldn't have come as a surprise. I was given the opportunity to speak with The Rider star Brady Jandreau, a young one-time rodeo star and professional cowboy making his debut in writer/director Chloé Zhao's award-winning film, and when he picked up the phone the first words out of his mouth couldn't help but make me smile. "Things are going pretty good," he says nonchalantly after I asked him how he was doing, "just got done moving some cows. It's a good day."
Turns out Jandreau was outside working the range, taking a break from handling his heard to chat with me for a couple of minutes. For those familiar with the film, the thought of him being outside shepherding cattle and taking time out for a quick, friendly call feels entirely within character. But then, Zhao based her story for The Rider on happenings from Jandreau's and his family's lives. The movie is about a young, upcoming rodeo star named Brady Blackburn who has his dreams potentially curtailed after suffering a massive head injury that forces him to stop any sort of strenuous activity, including anything that puts him astride a horse. It's the exact injury Jandreau suffered not too long before the filmmaker began trying to write her script.
"We already knew one another," says a plainspoken Jandreau referring to Zhao. "I'd worked with her before. On another movie. We became friends and she just started asking me about my life. She asked me about my dad Tim. She asked about my sister Lilly. All of that stuff. Then she produced a 65-page script for us to look at and see if there was anything we weren't okay with. We didn't have any issues. Things just sort of happened from there."
In the background I hear a few muffled moos, and Jandreau says something under his breath about how some of the cows are a little restless while I try to conceal a quiet chuckle. There's something surreal about our conversation. It also feels wholly appropriate. In the movie, Jandreau gives a sturdy, emotionally evocative performance that is grounded in little details which allow Zhao's story to come alive in ways that are consistently surprising. Speaking to him now, I start to wonder how much of the cowboy's performance was theater and how much of it was just the young man being so comfortable in his own skin he couldn't be anything less than genuine.
"I get that question a lot," he says dispassionately. "I guess that's to be expected. I can see how all of this must look odd to some people. But I've never acted a role that was about another person's experiences. I imagine that would be weird. Playing a role based on my own and my family's experiences is just as weird as anything else, I'm guessing. On a certain level, even if some of it is based on me, it's still just pretend, right?
"The first day of shooting we were actually shooting at a rodeo and they weren't really prepared for us. Everything was hard to control. It was pretty chaotic just in general, but Chloé always seemed to know what to do, and I never saw her get frustrated. But the second day? We picked right up. At that point it just started to feel natural, the whole acting thing."
Considering his competitive background and his time lassoing stardom on the rodeo circuit before his head injury, I can't say this laid-back display of confidence on Jandreau's part is surprising. "I pretty much felt comfortable from the get-go," he states. "I've never really cared about what people think about me, to be honest, but you probably knew that. Or, I imagine you probably guessed it. So that's one thing that really helped, I think. Chloé told me what she wanted and I tried to do it. Was pretty much that simple.
"I really think that's what moved her towards having me be the lead role. The fact I don't care what people think. We were going to make a film before my head injury. We just didn't have a story yet. The way Chloé puts it, if she were going to make it about somebody else, if she were inspired to write this story because someone else had the head injury, would I still play the lead role? She always says I would have."
It's that trust that helped allow Jandreau to believe he would be able to portray the character. "Me and Chloé, we've always had a pretty good connection," states the cowboy. "As we got to know each other better, that connection also got better, you know? She knows what she wants. She's very focused. Makes it really easy. I always felt like I was in good hands and she wasn't going to steer me into a bum direction."
Ultimately the movie truly was a family affair. Jandreau's father Tim plays his character's dad in the movie, while his sister Lilly fills that role in the story as well. Also in the film and playing himself is former rodeo star Lane Scott, an up-and-coming professional bull rider who was severely injured in a horrific car accident in 2013, spent seven months in a coma and awoke having to deal with catastrophic physical impairments he's still struggling to overcome. "People watch this movie, especially people from here, they watch this movie and they think they just shot us being us and we're just that cool and all that," he says in regards to acting alongside his father and sister, "but it really wasn't like that at all. This wasn't a documentary. We would still have take after take. We would still change things up.
"There was a lot of improvisation because there were a lot of things that were dependent on nature. Most of the story is set outside. A lot of what we did was dependent on the weather, dependent on the mood of the horses, which a lot of times is also dependent on the weather. It's like a big circle. Scenes with Lane in the hospital and at the rodeos were harder to control than you'd probably think. A lot of those had to be improvised. You never knew what Lane was going to do, what the horses were going to do, what the weather would be like; stuff like that.
I can hear the reticence in his voice where it comes to talking too much about his family or about his friend Lane. At the same time, Jandreau doesn't mince words, doesn't try to conceal anything, even when the conversation turns back towards working with the horses. "There would be a part of the script where all it would say was, 'Brady trains horses.' and that would be it," he laughs. "So I would just work with the horse as I would normally work with a horse. But as we were doing something, Chloé would be like, what if you did it at a different angle? So that would change how I would have to work through the scene. We would also have to work to make the horses feel comfortable. You'd be surprised all the things horses would be scared of, especially horses that are very rarely worked with."
"But, then, you probably saw that I was also given a credit as the horse trainer on the film," Jandreau adds without an ounce of conceit or pride, the young man just stating another fact as he sees them. "I had a lot of work to do on this film. I bet you could only imagine that I had a lot to do."
There's a moment late in The Rider where Brady's character has to decide whether or not to put himself in jeopardy at a rodeo against his doctor's orders. Zhao's story eschews easy melodramatic convention, instead choosing a more enigmatic, and thus more authentic, outcome to this quandary, and it is one Jandreau is happy about. "The movie never says whether or not my character will ever ride again," he boldly asserts. "It's left open. Who's to say he will never ride again? Things don't need to be definitive. That's not necessarily what life is, and the film leaves enough room for lots of different outcomes in so many respects.
"For all the viewer knows, I could be riding again at the next rodeo. Maybe I just didn't ride at this one. Maybe I didn't ride for reasons nobody know about. Maybe I just went and listened to the doctors, made a full recovery and started riding again sometime in the future. Maybe that's what I'm gonna do next year."
At this point it's hard to know if Jandreau is still talking about the character or if he's talking about himself, the two so intertwined separating them becomes increasingly difficult. He clears that up pretty quickly. "If you're wondering, I do listen to my doctors," he says gently. "But I do want to ride again in a rodeo. Who is to say that I won't?"
"It's not a movie about a story," he continues after an introspective pause. "It's not a movie about an event. It's a movie about people. That's what it is. It's just us trying to be ourselves in a lot of aspects, but we still also have to present ourselves in a certain way. I was young for my injury and I was going through a lot of different emotions not being able to rodeo having brain damage. I was kind of an emotional wreck.
"But I might have had a horrible headache but still needed to act happy in a scene. Or I might have just gotten done joking around with my buddy and I needed to go look like I just had a horrific brain injury. It's still acting, you know? It's not all real. But working on the film did help me, I think. It was therapeutic. And life still goes on. And it's going good. I got married. Been training a lot of horses. We've got a lot of nice looking horses standing around right now as we talk. And that's life. Working and earning. That's what it is about."
– Interview reprinted courtesy of the SGN in Seattle