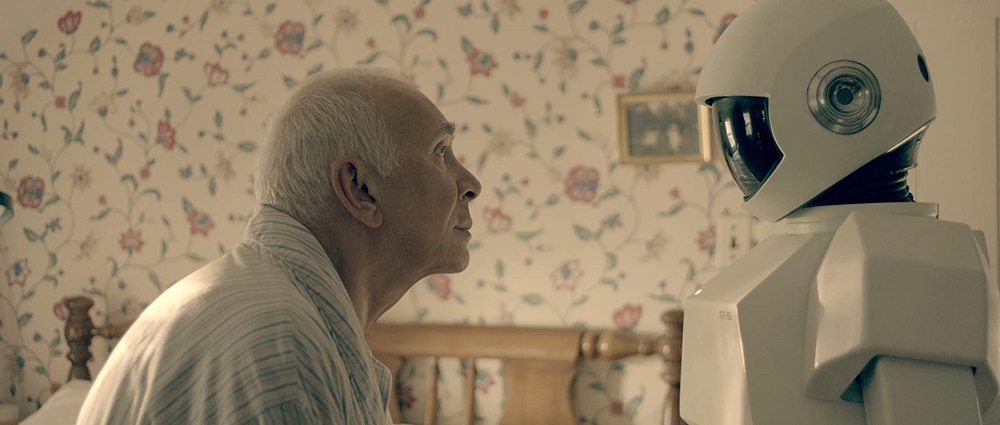 Sweet Robot & Frank Stole My Heart
Frank (Frank Langella) is a retired jewel thief living on his own. His favorite place to go is the town's only remaining library where he chats with the kindly librarian Jennifer (Susan Sarandon), the pair apparently the only ones who still care about the printed page. His daughter, Madison (Liv Tyler), is a free spirit traipsing around the globe helping those in need, while his son, Hunter (James Marsden), lives in the city traveling out to see his father weekly, afraid the older man can no longer live on his own.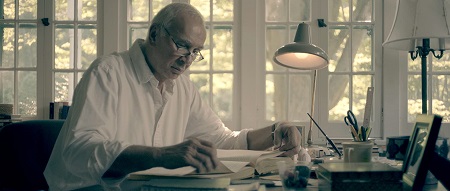 Hunter buys his father a Robot (voiced by Peter Sarsgaard) caretaker to watch over him. At first Frank wants nothing to do with the mechanized watchdog, complaining to Madison and trying to find a way to shut the darn thing off. But one thing slowly leads to another, and soon the former thief starts to warm up to Robot, the two forming a bond that's remarkably similar to friendship.
Set in an undisclosed 'near future,' Robot & Frank is a curiously sweet little character study that's substantially elevated a few entertainment notches thanks to an unvarnished and raw performance from Langella. Cagey, poised and self-assured, the former Academy Award-nominee isn't afraid to show Frank's wounds, to showcase how his diminished mental health is both made more whole by his new relationship but also ends up directly suffering because of it. One moment a man in full, the very next a shell of a former self he's not certain existed in the first place, the actor held me continually spellbound.
I don't mean any disrespect when I label director Jake Schreier and writer Christopher D. Ford's futuristic fable as slight. It is, but when the storytelling is this confident, the central characters this three-dimensional and the emotions this beguiling being slight isn't a bad thing at all. It's almost kind of a plus, the filmmakers keeping their focus centered exactly where it needs to be, rarely straying off into subplots that don't drive the central narrative forward.
What's interesting to me is that for a movie unapologetically using its slick sci-fi premise to be nothing more than a character study of a man dealing with the tragic pangs of mental illness is just how playful much of this ends up being. When Frank and Robot begin planning a jewel heist, when they start conspiring to rip off a self-centered immature neighbor (Jeremy Strong) who holds technology sacrosanct and treats the old man as nothing more than a relic of the past to be pitied, it's hard not sit there and broadly grin. The way the former thief uses his wiles to bring his robotic helper to his cause, how he uses this tin man's logic against him, it's all wonderful, all of which only helps make the juxtapositions between his lucid state and his deteriorating mental capacities all the more tragic.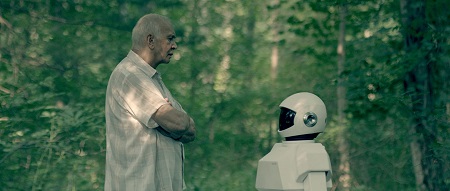 Not sure the climactic moments revolving around Hunter's exasperation as to his father's shenanigans or the arrival of a bumbling, Colombo-like sheriff (Jeremy Sisto) add much to the proceedings, these sequences feeling more than a bit tacked on and slightly glib. Strong's smug, pompously self-aware performance didn't do a lot for me, either, but as his character is undeniably meant to be annoying I can't entirely blame him for my unhappiness with his portrayal.
The final scenes, however, are borderline perfect. Revelations involving Jennifer, a decision about Robot's future, how Frank will continue to relate to both of his children as he continues to age, all of it comes full circle in a way that brought authentic tears to my eyes. While Robot & Frank doesn't exactly go anyplace all that unexpected, how Schreier handles the material and the emotions he brought out of me certainly were. It stole a piece of my heart, this sci-fi drama a sweet, humbling reminder of how great a simple story assertively told can oftentimes be.
Film Rating: 3 (out of 4)