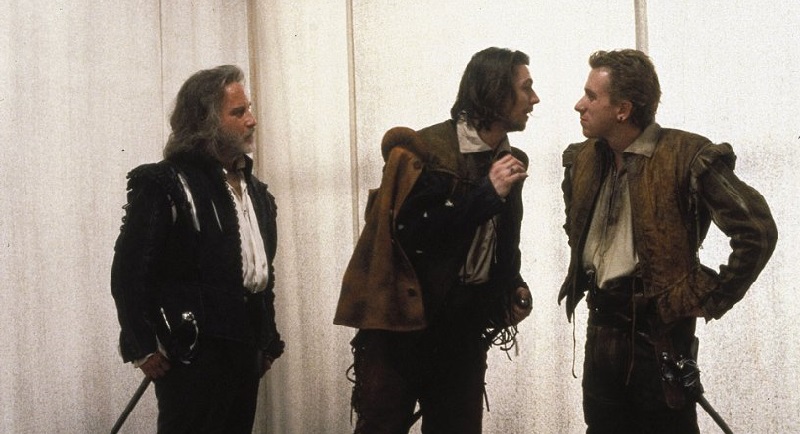 How does the Blu-ray/DVD Disc stack up? (all ratings out of 10.)
Movie
Video
Audio
Extras
Overall
SYNOPSIS
"There's a design at work in all art…events must play themselves out to an aesthetic, moral and logical conclusion. We aim at the point where everyone who is marked for death…dies. Generally speaking, things have gone about as far as they can possibly go when things have got about as bad as they can reasonably get."
–               The Player 
CRITIQUE
What is truth? What is fiction? And is the play really the thing? Those are just a few of the deliriously imaginative questions that are pondered in Tom Stoppard's 1990 cult favorite Rosencrantz & Guildenstern Are Dead, this adaptation of his own award-winning play practically perfect in all ways that matter. At the heart of it all are two actors (Gary Oldman, Tim Roth) thrust into minor roles and absolutely at a loss as to what is going on, why they are here and, for that matter, who it is they are supposed to be playing.
They're in William Shakespeare's Hamlet, and the parts they've been given are of minor – if key – supporting characters Rosencrantz and Guildenstern, two quick-witted dimwits who think they're taking the titular Danish prince to his doom only to find their heads are the ones destined for the noose. But which character are these two playing? Who is who? More, why is everything treating all of this so seriously? Is it real? And, if it is real, does that mean they're going to end up dead by the time their parts in this Shakespearean tragedy play themselves out?
Throughout this mess Rosencrantz and Guildenstern – or is that Guildenstern and Rosencrantz – attempt to see if fate can be tempted, maybe even changed, hoping things aren't going to come to a culmination with them both in a box, underground and, it goes without saying, lifeless. They are aided, or at least guided, by the jovial, joking The Player (Richard Dreyfuss), a helpful – well, sorta – guide who instructs them in what are the hallmarks of great tragedy as well as what paying audiences are eager to see happening inside their Proscenium Arch-contained melodramas.
Dreyfuss, Roth and especially Oldman are superb, while Stoppard's direction is light, lively and confident for all two hours of the film's running time. While it likely does not work near as well for those unfamiliar with Shakespeare's immortal play upon which all of this is born from, the whole thing is just so much gosh darn fun and overflowing in creative originality I like to think one doesn't need to know a thing about Hamlet in order to be entertained. Rosencrantz & Guildenstern Are Dead was a college discovery I now list as one of my all-time favorites, and 25 years after its original release it's so nice to see it hasn't lost an ounce of its entertainment magnificence one single solitary little bit.
THE VIDEO
Rosencrantz & Guildenstern Are Dead is presented on a 50GB Blu-ray MPEG-4 AVC Video with a 1.85:1 1080p transfer.
THE AUDIO
This Blu-ray features English DTS-HD Master Audio 2.0 audio and includes optional English SDH subtitles.
THE EXTRAS
Extras here include:
25th Anniversary Interview with Writer/Director Tom Stoppard (55:27) – An almost hour-long interview at London's Savill Club, Stoppard in glorious form as he goes through the play's history, including when it was once upon a time called 'Rosencrantz & Guildenstern Meet King Lear.' Wonderful stuff.
Tom Stoppard (59:09) – Another hour with Stoppard, this one an archival interview. Equally wonderful (even if a lot of information is understandably repeated).
Gary Oldman (58:07) – An hour with Oldman, this archival piece with the actor exceedingly dense and informative.
Tim Roth (32:56) – A fun 30 minutes with Roth, the story behind why he ended up in the film (a story his wife urged him not to tell) especially good.
Richard Dreyfuss (45:30) – Another great interview, Dreyfuss using Buddy Hackett to explain what exactly the play is all about. 
FINAL THOUGHTS
Rosencrantz & Guildenstern Are Dead is a cult gem I'm absolutely ecstatic has managed to find its way to Blu-ray. Tom Stoppard's 1990 idiosyncratic favorite features glorious performances, witty lines and an ingenious premise that makes me grin ear-to-ear just thinking about it. This 25th anniversary presentation is solid across the board, and while picture quality isn't perfect, considering the age (and the budget) of the film in question one can't help but think this is the best this one is likely ever to look. Highly recommended.