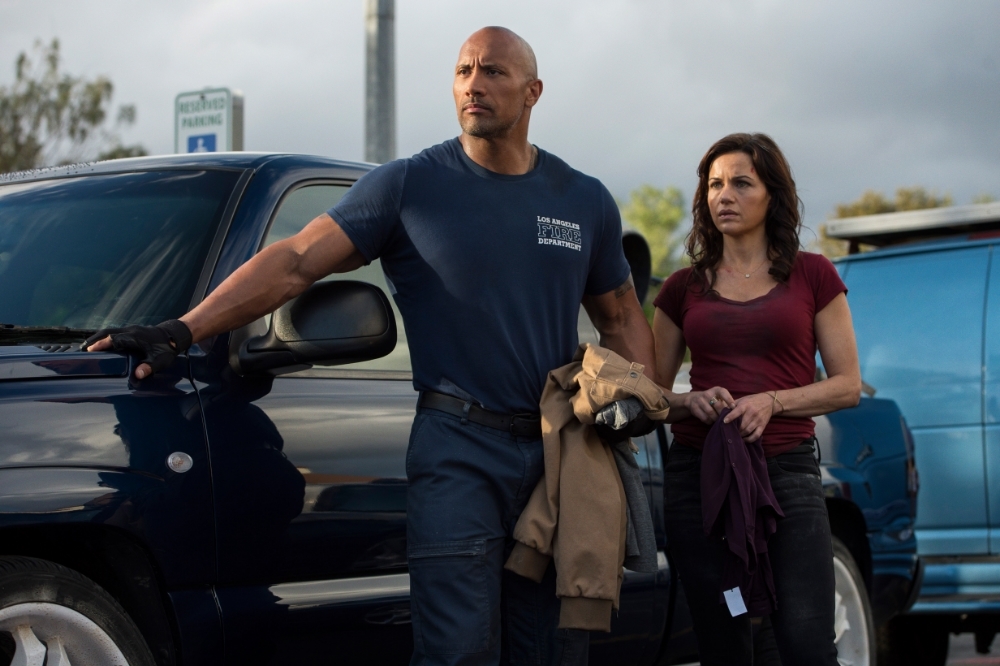 Charismatic Rock Cooks Up Disaster in San Andreas
The template for every disaster film ever made hasn't changed much over the decades. From Clark Gable in 1936's San Francisco, to Gene Hackman in 1972's The Poseidon Adventure, to John Cusack in 2009's 2012, the basic plot and situations the various characters find themselves in are remarkably similar. All deal with personal strife of one form or another (typically familial), everything made inconsequential thanks to a massive cataclysmic event that puts them and all they hold dearest in the world in mortal jeopardy. Some live, some die, all are tested in ways they by all accounts never thought possible, images of mass destruction filling the screen every step of the way.
San Andreas, starring Dwayne "The Rock" Johnson as a Los Angeles fire department rescue helicopter pilot, Ray, with a soon-to-be ex-wife, Emma (Carla Gugino), and a college-bound daughter, Blake (Alexandra Daddario), all still reeling from a death in the family a handful of years prior, follows this age-old template to the letter. A member of a crackerjack team who have been saving people since their days serving together in Afghanistan, Ray puts all that on hold when a massive earthquake rocks the San Andreas fault sending California into chaos. Traveling from L.A. to San Francisco, he races against time saving as many as he can while trying to keep the members of his family alive, devastation, calamity, horror, heartbreak and heroism happening along the way.
Carlton Cuse, known for working on shows like "Lost" and "Bates Motel," takes a story by Andre Fabrizio (Vice) and Jeremy Passmore (Red Dawn) and cobbles together a relatively serviceable screenplay out of it. He keeps things simple, small even, focusing entirely upon Ray's journey to rescues Emma and then Blake, only leaving him to focus on the daughter as she, along with a pair of Brit brothers, Ben (Hugo Johnstone-Burt) and Ollie (Art Parkinson), traverse the streets of San Francisco trying to survive until daddy can pull them all to safety. Sure, there's a subplot involving Cal Tech scientist Lawrence (Paul Giamatti) and television journalist Serena (Archie Panjabi) trying to get the word out that the "Big One" is coming, but it's only there for seasoning, the real emphasis all on the fractured family doing what they can to be reunited.
In this way San Andreas ends up having a massive leg up on many of its contemporaries like the Roland Emmerich double-bill of 2012 and The Day After Tomorrow. By keeping things small, intimate even, Cuse ups the emotional ante by leaps and bounds over many of the more recent entries in the genre. Better, it keeps things from spilling into silly, overwrought and absurd ultra-cheap SyFy Channel terrain; and while this is still nothing more than a glorified B-movie, it's still rather more compelling than it honestly has any right to be.
Director Brad Peyton, who worked with Johnson on Journey 2: The Mysterious Island, ably handles the carnage, rarely dwelling on things in a way that could be construed as heartless, yet also not skimping on all the visual pyrotechnics and razzle-dazzle epics like this thrive on. He also doesn't allow the film to wear out its welcome, the running time under two hours; and while the outcome is never in doubt, getting there isn't nearly the chore it easily could have been had things been drawn out any further.
This is still a disaster movie, though, so expecting subtlety is like showing up at the Tillamook facility in Oregon and anticipating being offered something other than cheese. One bad thing leads to the next, portents of doom not heeded almost assuredly indicating gruesome, horrifying death. Even so, I'm not sure why you go so far out of your way to showcase in minute detail how crackerjack a unit Ray and his team are if you're not going to do a darn thing with the any of them when things spiral out of control. Additionally, it's not necessary to make Emma's current beau, architect Daniel Riddick (Ioan Gruffudd), the absolute worst person in all of San Francisco, the audience's empathy and affinity unlikely to ever have gone his direction had he just been presented with more of an even keel.
Thankfully, Johnson dominates with charisma oozing from every sweaty, overgrown muscle, while Gugino has terrific chemistry with her co-star. San Andreas doesn't reinvent the disaster wheel, doesn't even try, but that doesn't make it any less successful, at least from the standpoint from which this particular genre is concerned; whether or not that's enough to warrant buying a ticket I leave completely up to you.
Review reprinted courtesy of the SGN in Seattle
Film Rating: 2 ½ (out of 4)