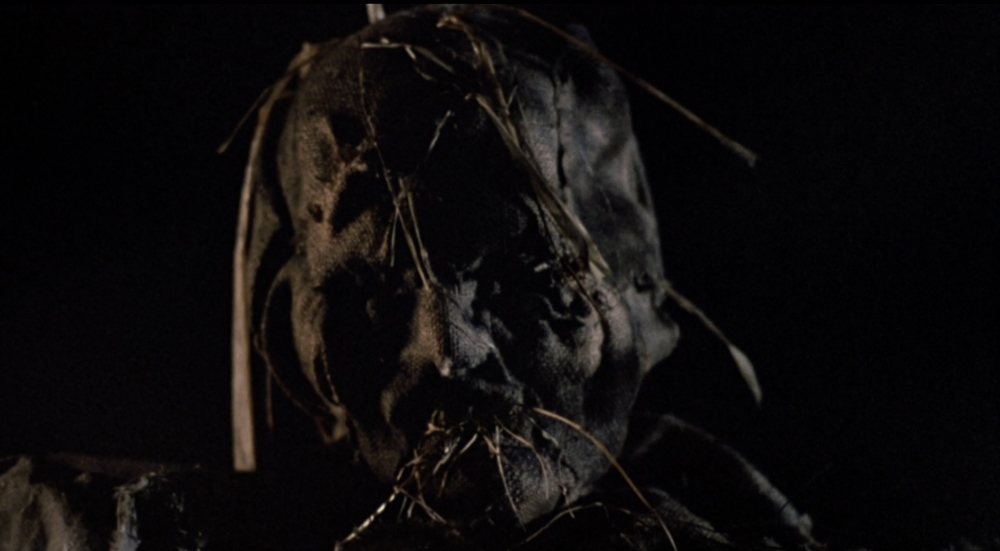 How does the Blu-ray/DVD Disc stack up? (all ratings out of 10.)
Movie
Video
Audio
Extras
Overall
SYNOPSIS
"If I were a crow, I'd be somewhere else."
–      Jack
CRITIQUE
Cult favorite Scarecrows is as fun a late '80s horror effort as any the genre produced. This 1988 production, a film that discovered its following thanks to VHS, was made on a miniscule budget by a young filmmaker – director William Wesley, who co-wrote with Richard Jefferies – who was more or less figuring things out as he and his crew went along. Far more cerebral than you initially expect it to be, this intimate, claustrophobic thriller takes its time to explode into the expected violence and mayhem involving the titular creatures, and as such becomes far more meaningful, and memorable, than it otherwise would have been had the filmmaker chosen a different path.
The story revolves around a group of paramilitary criminals fleeing the site of a heist at a military base, kidnapping a pilot, pilot Al (David Campbell), and his daughter Kellie (Victoria Christian) in hopes the duo can fly them to safety. When one their own, Bert (B.J. Turner), attempts to make off with the cash, the remainder of the group – leader Roxanne (Kristina Sanborn), hard-headed Jack (Richard Vidan), questioning Curry (Michael Simms) and tough-talking, if surprisingly tender, Corbin (Ted Vernon) – are forced to land the plane in order to chase off after him.
The kicker is that Bert has parachuted into the middle of a secluded farm that looks like hasn't been home to an actual farmer in decades. It is instead the home to a whole cadre of evil looking scarecrows, scarecrows which aren't exactly as inactive, or as inactive, as they initially appear. They're both physical and psychological warriors intent on dispatching the invaders – who drop from the sky clad all in black like crows – who have wandered into their domain.
It's thin. The acting is all over the map. The miniscule budget is apparent right from the get-go. The idea, while inspired, isn't anywhere near as fascinating or as original as I suspect Wesley thinks it is. Even at only 83 minutes it feels a tiny bit padded.
Funny thing is, none of that ends up mattering. The low budget forces Wesley and company to play things pretty loose. It also forces them to spend more time developing characters and relationships than allowing them to litter the proceedings with a bunch of gruesome killings and bloody dismemberments. They have to find a way to be creative, thus the ethereal psychological aspect, and in the end all of things ends up making the final film far more effective, and light years more entertaining, than it arguably has any right to be.
Is Scarecrows a great horror opus, some lost classic deserving a far larger following than the moderate, if vocal, cult cheerleading squad it has managed to attract over the past 17 years? No, not really, but like an exceptionally effective episode of "The Twilight Zone" the film has a way of sticking with you long after it comes to an end, so many moments having a creepy idiosyncratic brilliance to them that's undeniably noteworthy. It's a move that needs to be seen, and not just be genre fanatics, Wesley's debut having a lot more going on underneath the surface than I think most newcomers to it are going to expect.
THE VIDEO
Scarecrows is presented on a dual-layer 50GB Blu-ray with a MPEG-4 AVC encode and a 1.85:1 1080p transfer.
THE AUDIO
This Blu-ray features both English DTS-HD Master Audio 5.1 and DTS-HD Master Audio 2.0 soundtracks and comes with optional English subtitles.
THE EXTRAS
Extras here include:
Audio Commentary with director William Wesley and producer Cami Winikoff – Solid commentary track filled with informative bits of information, Wesley and Winikoff both obviously pleased that their little film has managed to develop the reputation and the following it has over the past decade-plus. 
Audio Commentary with co-screenwriter Richard Jefferies, director of photography Peter Deming and composer Terry Plumeri – More informal, if equally enjoyable, commentary track, future crackerjack cinematographer Deming (The Cabin in the Woods) the star pointing out what it took for him to craft so many elegantly unsettling images working with a budget bordering on invisible. 
The Last Straw with Norman Cabrera (16:35) – Surprisingly informative interview with one of the film's key creative contributors as it pertained to makeup and visual effects, Cabrera only 18 at the time shooting on Scarecrows commenced. 
Cornfield Commando with Ted Vernon (8:46) – Nice little interview with veteran Vernon. If anything, it could have been a little bit longer. 
Original Storyboards (3:48)
Still Gallery (5:12)
Original Theatrical Trailer (1:32) 
FINAL THOUGHTS
Scarecrows is a low budget shocker from the late 1980s that's far more imaginative than one would initially surmise. Scream! Factory's Blu-ray presentation gives this little gem its due, fans urged to snatch the disc up the moment it goes on sale.