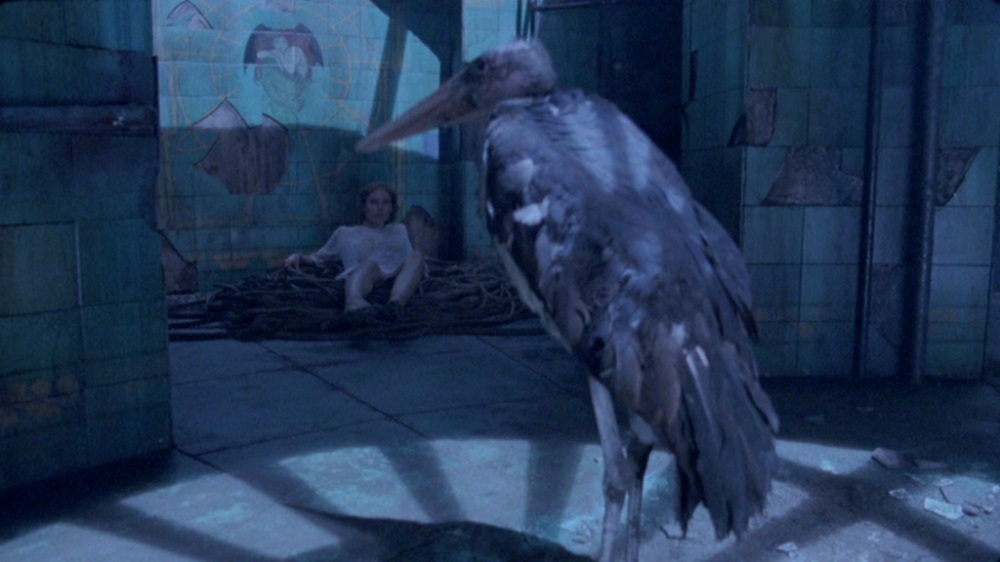 How does the Blu-ray/DVD Disc stack up? (all ratings out of 10.)
Movie
Video
Audio
Extras
Overall
SYNOPSIS
American expat Miriam Kreisl (Kelly Curtis) is in a remote corner of Germany to teach kindergarten living in a secluded house in the middle of a quiet forest. After a no-so-random encounter with the apparently homeless Moebius Kelly (Herbert Lom) leads this strange man into her home, the young woman begins having strange, disturbing dreams involving witchcraft, devil worship and the occult. Things only get more hideously surreal from there. 
CRITIQUE
Anyone who has seen director Michele Soalvi's unforgettable 1989 shocker The Church knows going into The Sect that what they're about to watch is likely going to be unrelentingly bonkers right from the start. Good thing, because after an opening prologue set in 1970 in the desert of "South California" where a bearded stranger (played by a frighteningly sadistic Tomas Arana) quotes the Rolling Stones before summarily signaling his band of roving misfits to ritualistically murder a small group of hippies and their children, Soalvi's thriller hits the ground running and then refuses to let up for every single second of its almost two hour running time. It's a mesmerizing Rosemary's Baby riff that's as whacked-out and as psychologically unhinged as anything I could have possibly imagined before watching, this Dario Argento produced and co-written opus a seriously messed up occult freak I'm likely to forget anytime soon.
Don't expect a lot in the way of character development. Curtis, younger sister of Halloween and A Fish Called Wanda icon Jamie Lee Curtis, does what she can, but honestly there's not much for her to do other than to look terrified, scream, run around aimlessly and ask random questions that have no discernible answer whatsoever. Still, she does a pretty nice job of portraying the clueless heroine, and I must say her stoic, ferociously feral conviction during the film's final 15 or so minutes is undeniably effective.
Additionally, Soalvi showcases an ability to compose images of gruesome depravity that are as artistic as they are abhorrent. There's a face-peeling sequence here that rivals anything out of Hellraiser or Re-Animator, while a climactic fiery reveal is a mythological maelstrom of metaphor and revenge so hot even a Phoenix would have more than a little difficultly rising from the ashes of the devastation the director has craftily splashed across the screen. He also gets a fantastic score out of legendary composer Pino Donaggio (Dressed to Kill) that's frankly awesome, the music a continual kinetic kick in the pants that augments all the on-screen horror perfectly.
Look, a person going into The Sect should hopefully have a pretty good idea of what it is they are in for when they slip this Blu-ray into the player. Soalvi's films are raw, chaotic, nonsensical and maliciously maniacal in ways that often defy belief. While not rising to the same level as The Church (also coming soon to Blu-ray courtesy of Scorpion as well), this little occult shocker is still a hidden horror gem genre fans should really take the time to discover. With a high-definition presentation this strong, here's hoping they now take the time to do just that.
THE VIDEO
The Sect is presented on a 50GB Blu-ray MPEG-4 AVC Video with a 1.78:1 1080p transfer.
THE AUDIO
This Blu-ray features an English DTS-HD Master Audio 2.0 soundtrack. It does not include any subtitles.
THE EXTRAS
Extras here include:
Interview with Tomas Arana (29:21) – Delightful interview with the veteran character actor where he talks at length about working with both Michele Soalvi and Dario Argento while also offering up a number of additional tidbits involving many of the highs, lows and memorable in-betweens that have made up his lengthy career.
Interview with Michele Soalvi (20:10) – Another rather lengthy interview with the eccentric filmmaker where he offers up many choice observations in regards to his filmography, especially as it pertains to The Sect and The Church.
FINAL THOUGHTS
While The Sect doesn't have the magnetically unhinged staying power of Michele Soalvi's 1989 grotesque spellbinder The Church, it still offers up plenty of amazing moments of terror and mayhem that are difficult to let go of or forget. Scorpion's Blu-ray of this oddball supernatural occult curiosity is pretty solid (and likely the best one this film will ever get), all of which makes a fan's decision as to whether or not to add this disc to their personal library a fairly easy one.