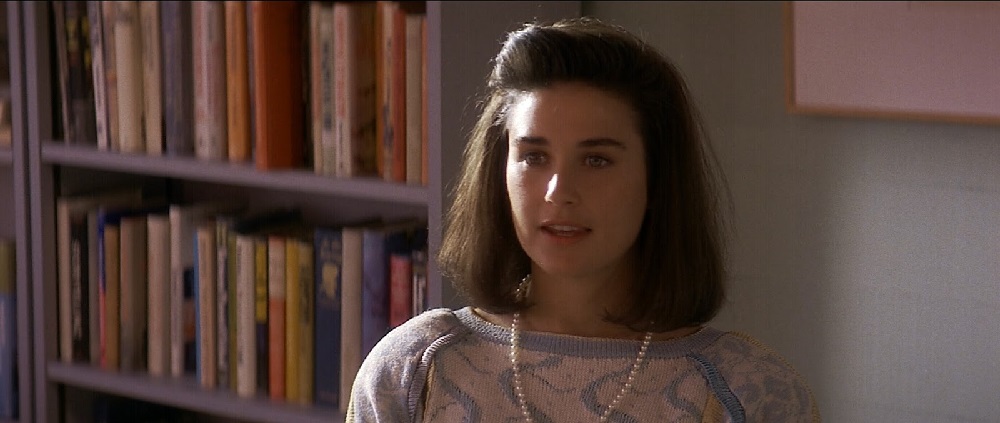 How does the Blu-ray/DVD Disc stack up? (all ratings out of 10.)
Movie
Video
Audio
Extras
Overall
SYNOPSIS
"How can one who cared so little for life give hope to the world?"
CRITIQUE
It's the end of the world and no one appears to be noticing it. At least, that's what pregnant Californian Abby Quinn (Demi Moore) is starting to believe. After she and her prominent defense attorney husband Russell (Michael Biehn) rent out their guest house to the charming, if oddly mysterious David Bannon (Jürgen Prochnow), Abby begins to have a series of strange visions and crazy premonitions that are positively biblical in their ability to terrify her. Things get even more bizarre with the arrival of a Catholic Priest, Father Lucci (Peter Friedman), direct from Rome who appears to know a lot about what is currently going on, and as far as the young woman can tell it looks to her the doors to Hell are about to open and Armageddon is nigh.
Not sure how I never got around to watching director Carl Schultz's (Careful, He Might Hear You) religious-themed suspense flick The Seventh Sign until now. I know it has something of a following. I also remember, while critics seemed to not like it all that much, a lot of my older friends seemed to really respond to the film during in its original release. Anyhow, considering its longevity, the cast and the genre the fact I'm only getting around to it now is something of a head-scratcher, and I don't really have a very good answer as to why it took me so long to finally give it a look.
I honestly shouldn't have bothered. Moore, as impassioned as her performance might be, is hopelessly miscast as Abby. She just doesn't fit the character particularly well, and as hard as she tries, and as much as he throws herself into the role emotionally, I just never believed her in the part. It does not help that her chemistry with Biehn is nonexistent. As nice as it is to see him give a performance light years distant from his ones in The Fan, The Terminator and Aliens, there is a cavern between him and Moore that mutes the inherent melodrama at the heart of this story in ways that I simply could not get past, and as such I had trouble caring about almost anything that was happening to the both of them.
It isn't a total disaster. Prochnow and Friedman are both very good, and the late John Heard has a wonderful cameo as a local Reverend who, even though he doesn't give Abby the best advice in the world, still manages to exude a tenderness, warmth, thoughtfulness, intelligence and respect that puts a number of the themes hinted at in the portions of Clifford and Ellen Green's script (the part took their names off the film, utilizing the nom de plumes George Kaplan and W.W. Wicket) that Schultz decided to utilize into an intriguing perspective the overall film itself sadly never lives up to. The subplot involving Russell's parent-killing client (beautifully portrayed by John Taylor) is also quite involving, and I almost wish the story had spent more time on their relationship than it does on the one involving the lawyer and his pregnant wife. There are also some startling visual effects that deservedly got under my skin, while composer Jack Nitzsche's (An Officer and a Gentleman) powerful score is in my opinion of the Academy Award-winners absolute best.
All of which makes it something of a pity I just didn't like The Seventh Sign. I never cared about Abby. It didn't matter to me whether or not Bannon was evil. I wasn't interested in discovering more about Father Lucci's strange history and why he is so interested in what is happening in California. Most importantly, for a story about the end of the world I honestly never felt like all of humanity was ever in danger, all of which means my emotional investment in this one consistently hovered precariously between nonexistent and nil for almost all of the suspense-thriller's brief 97-minute running time.
THE VIDEO
The Seventh Sign is presented on a 50GB Blu-ray MPEG-4 AVC Video with a 2.35:1 1080p transfer.
THE AUDIO
This Blu-ray features an English DTS-HD Master Audio 2.0 soundtrack and includes optional English subtitles.
THE EXTRAS
Extras here include: 
Interview with Actor Michael Biehn (11:10)
Interview with Director Carl Schultz (20:21)
Interview with Screenwriters Clifford and Ellen Green (30:01)
Interview with Actor Peter Friedman (20:13)
Interview with Actor John Taylor (10:52)
TV Spots (1:04)
I have to say, all of these interviews are outstanding. Informative and continually interesting, each showcases a cavalcade of behind-the-scenes tidbits that really force one to look at the film as a whole in an entirely different way. Heck, all combined together they make me wish I liked this one more than I actually do. They're all that good.
FINAL THOUGHTS
For a film that only did marginally at the box office back in 1988 (according to the folks at Box Office Mojo it finished 55th for the year), The Seventh Sign has had a remarkably long shelf life and it always amazes me the number of people who pop out of the woodwork and comment how much they love it. Personally, I don't get it. As good as Moore is (and she's terrific) she's equally miscast, while the Biblical aspects of the story don't have any sort of zip or zing to them making the apocalyptic happenings fall more than a little flat. But it does have its moments, I can't deny that, and both Jürgen Prochnow and Peter Friedman are aces, each bringing their A-game to a motion picture that honestly doesn't deserve all their hard work.
As for Scream! Factory's Blu-ray release, it's splendid. Fans are urged to pick this up immediately, while newcomers should give it a watch before buying to make sure this odd (and moderately boring) little biblical horror movie is for you.