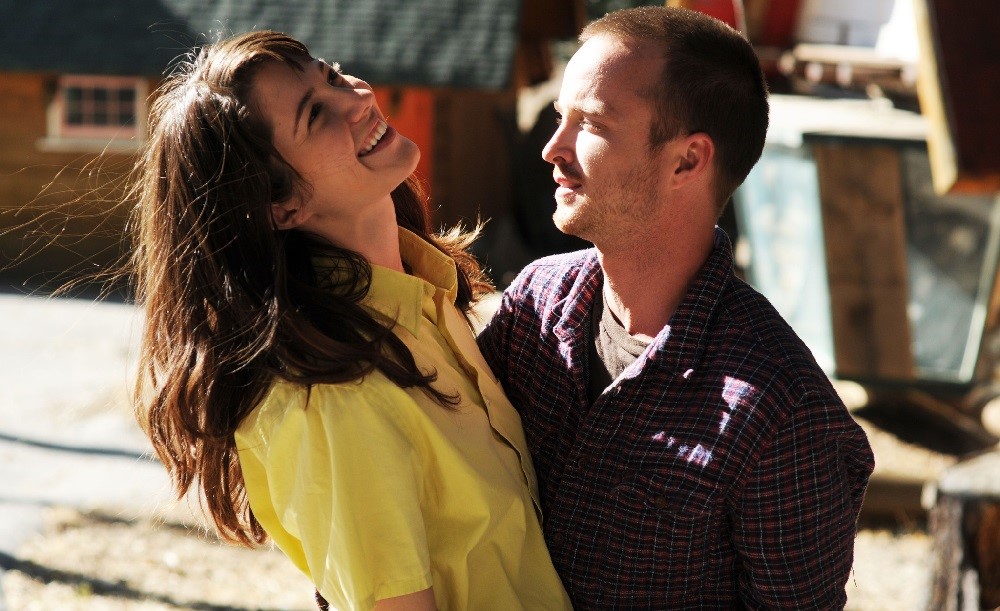 Alcoholism Drama Smashed a Showcase for the Multitalented Winstead
Elementary teacher Kate Hannah (Mary Elizabeth Winstead) is an alcoholic. She comes to grips with this reality when she unintentionally vomits in the middle of class, her curious second graders quickly concluding she must be pregnant. This leads to some unintended consequences, not the least of which is having Principal Barnes (Megan Mullally) suddenly wanting to get all chummy with the educator, announcing Kate's faux pregnancy to the entire school.
It's the Assistant Principal, the friendly and understanding Dave Davies (Nick Offerman), who first convinces Kate to go to an A.A. meeting with him. There she meets local baker Jenny (Octavia Spencer), and she agrees to become the young woman's sponsor. But while Kate's equally alcoholic husband Charlie (Aaron Paul) is initially supportive of his wife's attempts at sobriety, he's not exactly helpful, either, inadvertently revealing his wife's most embarrassing secrets to his brother Owen (Kyle Gallner) over a few beers.
Smashed doesn't tell a story we haven't seen numerous times before. It covers timeless cinematic territory, and from The Lost Weekend to Under the Volcano, from Barfly to Clean and Sober, director James Ponsoldt and co-writer Susan Burke don't offer up many new ideas. Even last week's Flight follows a similar path, both films taken together telling essential tales of abuse and addiction from both sides of the gender spectrum.
Why essential? Because, when told with an emotional authenticity that doesn't speak down to the audience or treat them like imbeciles, narratives like these can serve an important purpose. They can be moving, tearful and inspiring, and watching characters as fully developed as Kate deal with their addictions can oftentimes be as suspense-filled an experience as sitting down to enjoy a James Bond thriller or the latest comic book superhero adventure.
Ponsoldt and Burke have done a fabulous job crafting their lead character and, in Winstead, they have found the perfect actress to embody her. Every nuance and every facet of her being feels complete. Winstead, more familiar for roles in genre fare like Live Free or Die Hard, Scott Pilgrim vs. the World, Black Christmas and Death Proof, is outstanding. This is a complex performance, and from the first moment Kate drunkenly sashays onto the screen and through to the climactic turn of events where she must make a potentially heartbreaking – and life-changing – decision, the actor is riveting every step of the way.
If only the whole movie rose to Winstead's level. The supporting characters, most notably Dave, Jenny and, most important of all, Charlie, aren't nearly as vividly realized. While I appreciate that Ponsoldt keeps his drama to under 90 minutes, this is one of those rare instances where an extra ten minutes of storytelling may have been warranted.
Yet, all of the actors are good, each making the most of their limited screen time. Mullally is particularly excellent, a sequence of quiet honesty from her near the end simply wonderful. Paul, earning raves for his standout turns on Breaking Bad, also has a few striking moments, his final scene with Winstead is beautifully ethereal, closing things out with a winsome gracefulness that's undeniably touching.
Smashed tells a familiar story with subtle simplicity, never beating the audience over the head with its themes or ideas. As for Winstead, this is a transformative performance. Hopefully, this is a harbinger of even greater things to come from the actor, maybe even an Oscar nomination or two, all of which is reason enough to give this independent gem a look sooner rather than later.
Film Rating: 3 (out of 4)