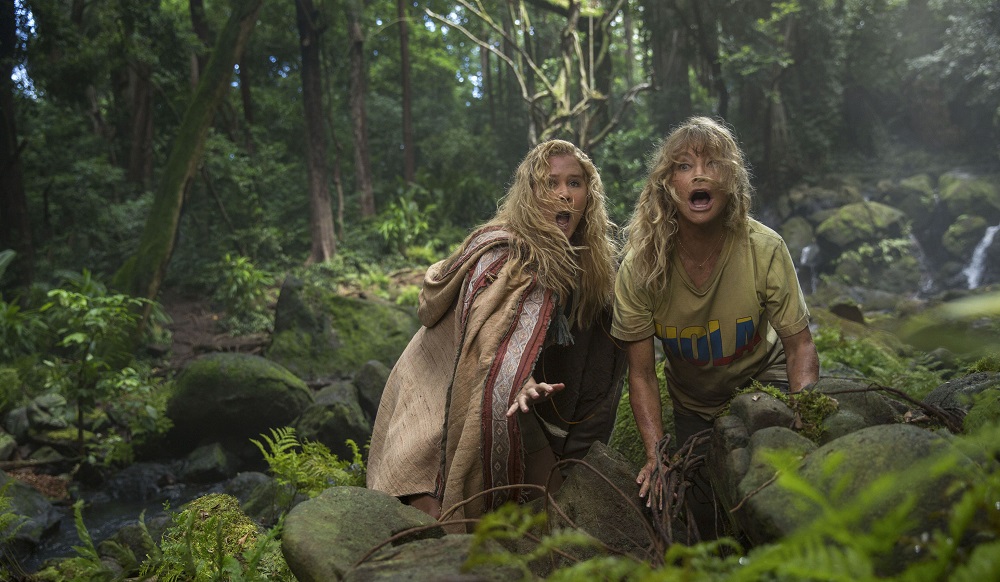 Hawn's Return Makes Snatched a Comedy Bargain
After her musician boyfriend (Randall Park) breaks up with her on the eve of their nonrefundable Ecuador vacation, recently unemployed ne'er-do-well Emily Middleton (Amy Schumer) somehow convinces her homebody mother Linda (Goldie Hawn) to join her on this South American excursion. Eager for adventure and convinced she'll never do anything of note with her life, Emily has a chance encounter with James (Tom Bateman), a suave, handsome traveler who promises to show both her and her mother the time of their lives.
What he doesn't tell them is that he's working for Columbian kidnapper, drug dealer and slave trader Morgado (Oscar Jaenada). Next thing Emily and Linda know, they've been whisked across the border to be held for $100,000 in ransom. But fate smiles on the pair, if only for a brief second, mother and daughter escaping into the jungle. Urged by the U.S. State Department to make their way to Bogotá and the American Consulate located there, Emily and Linda must put their differences aside as they try to survive this ordeal. In the process they both learn things about the other they'd not taken the time to discover until now, rediscovering familial bonds of friendship and love they'd both thought had been forever lost.
Snatched is, probably not too surprisingly, nowhere near as serious or as emotionally complex as that brief scenario might make things sound. Working from a script by The Heat scribe Katie Dippold, director Jonathan Levine's latest bit of crazed lunacy might not be as inventive or as effective a genre mash-up as previous films like 50/50, Warm Bodies, The Night Before or All the Boys Love Mandy Lane, but that doesn't make it any less fun. It's an episodic bit of hyperbolic silliness that proves to be an excellent return engagement for the previously retired Hawn, the Oscar-winning actress showing she hasn't lost a single bit of her effervescent touch in the 15 years between this movie and her last on-screen appearance, 2002's middling misfire The Banger Sisters.
Not to say there aren't a few hiccups. There are, not the least of which is a subplot concerning Emily's agoraphobic, selfishly childish little brother Jeffrey (Ike Barinholtz), an entire section devoted to him and his battles with State Department stooge Morgan Russell (Bashir Salahuddin) absolutely dreadful. There's also another running gag involving fellow Ecuadorian travelers Ruth (Wanda Sykes) and Barb (Joan Cusack), and I honestly don't know what to make of it. But Cusack, who has no dialogue (the reason for that I will not spoil), delivers a performance of such physical magnificence watching her work is a continual hoot, so as obnoxious as Sykes is and as silly as these secondary characters might be, she makes these moments craftily amusing all on her own.
There is another problem, and it's a somewhat unforeseen one, and it is Schumer herself. Not because the actress doesn't generate laughs. She does. Plenty of them. To say she isn't funny in the film would be the definition of an alternative fact. No, the issue is that, standing next to Hawn, Schumer's limitations as a dramatic actress become instantly clear. She can't hold her own alongside her talented costar, and whenever Dippold's script asks them to emote or connect on a deep, interior level only one of the twosome is able to consistently pull these scenes off. Where Schumer was able to get through Trainwreck without this being a problem, here it is impossible not to take note of her limitations, Hawn blowing her off the screen with an effortless confidence that's frequently impressive.
But at barely 90 minutes in length, and with Levine orchestrating things with such assertive precision, the movie never overstays its welcome, offering up enough genuine laughs to make practically all of its missteps not worth obsessing over. There's a great bit involving Christopher Meloni as a Romancing the Stone Michael Douglas wannabe that builds to a spectacularly insane conclusion, while a running gag involving a dog whistle is paid off nicely during the film's final act. Most of all, Snatched is a glorious showcase for Hawn, and while she's not the focal point of this dopey silliness she's still the one I couldn't take my eyes off of, the actress' return more than enough to make the matinee ticket price required to see this one an outright bargain.
– Review reprinted courtesy of the SGN in Seattle
Film Rating: 2½ (out of 4)