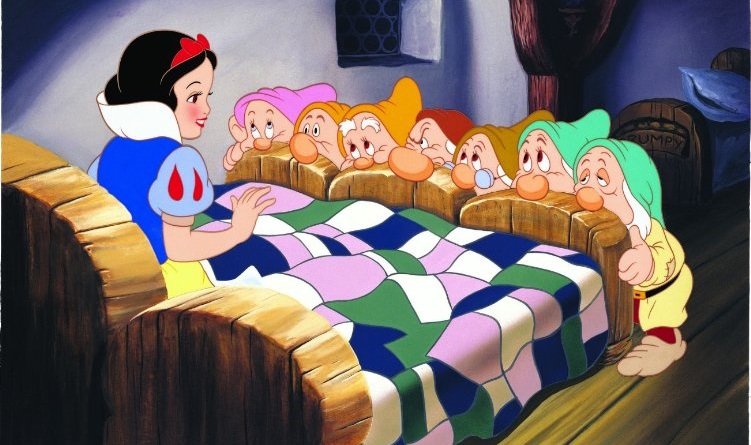 How does the Blu-ray/DVD Disc stack up? (all ratings out of 10.)
Movie
Video
Audio
Extras
Overall
SYNOPSIS
"Magic mirror on the wall, who is the fairest one of all?"
–       The Evil Queen 
CRITIQUE
Here's what I wrote about this one when I reviewed Disney's Diamond Edition back in 2009:
"Snow White and the Seven Dwarfs changed everything. People did not believe audiences would spend money to see a feature-length animated film while Walt Disney thought otherwise, putting all of his efforts (as well as the fate of his studio) in proving the naysayers wrong.
To say he did would be a colossal understatement, all one has to do is look at the massive size of the Disney brand to realize that. But what is frequently forgotten is just how wonderful this 1937 animated marvel remains, the template for all future productions coming out of the studio set by this motion picture. Tweaks would be made, certain aspects would obviously change with the times, but from Cinderella to Robin Hood, Dumbo to Beauty & the Beast, The Lion King to Toy Story, the general idea remained the same: Tell timeless stories with attention to detail and without condescension, treating adult and adolescent audiences as one and the same.
As for critiquing the film, what is there to say at this point? The movie is still as charming as ever with creative and beautiful animation throughout. The Queen remains one of the scariest villains in the entire Disney oeuvre, and the dwarves themselves are an ingenious group that continue to be as whimsical and charming today as they undoubtedly were back during the film's initial theatrical release. The songs are great (even if Adriana Caselotti's singing voice admittedly gets a little on my nerves), and the thunderstorm chase through the forest to the tops of a perilous rocky cliff remains one of the most intense and exciting the studio ever animated.
In short, the film is a bona fide unbeatable classic, and any chance to watch it should be a considered an absolute treat worthy of treasuring."
Snow White and the Seven Dwarfs remains a classic. Nothing has changed, not one single thing.
THE VIDEO
Snow White and the Seven Dwarfs is presented on a 50GB Blu-ray MPEG-4 AVC Video with a 1.34:1 1080p transfer.
THE AUDIO
This Blu-ray features an English DTS-HD Master Audio 7.1 audio track along with an English Dolby Digital Mono track and dueling French and Spanish Dolby Digital 5.1 options and includes English SDH, French and Spanish subtitles.
THE EXTRAS
New extras prepared for this release include:
In Walt's Words: Snow White and the Seven Dwarfs (4:22) – Archival 1956 interview with Walt Disney. Not a lot here, but still pretty cool all the same.
Iconography (7:16) – Various talking heads waxing poetic about Snow White and the Seven Dwarfs and its lasting legacy.
@DisneyAnimation: Designing Disney's First Princess (5:16) – Animator Mark Henn, Art Director Michael Giaimo, Art Director Bill Schwab and Art Director Lorelay Bové on what it took to create Disney's first animated heroine.
The Fairest Facts of Them All: 7 Things You May Not Know About Snow White and the Seven Dwarfs (4:37) – Descendants star  Sofia Carson talks various bits of trivia related to Disney's animated classic.
Snow White In Seventy Seconds (1:12) – I don't know what to say about this. I really don't.
Alternate Sequence: The Prince Meets Snow White (3:39) – Never-before-seen alternate versions of Snow White and Prince Charming's first meeting. Fascinating.
Disney's First Feature: The Making of Snow White and the Seven Dwarfs (33:15) – This one isn't exactly new as it's an elongated version of the "The One that Started It All" featurette found on the 2009 three-disc Blu-ray collection.
The majority – but not all – of the remaining extras are ported over from the 2009 Blu-ray, including the outstanding Commentary Track featuring Roy Disney, historian John Canemaker and archival audio from Walt Disney himself. This time around, all the special features are included on the same disc as the film and not a separate Blu-ray.
A Digital HD Copy of the film along with a DVD version are both included with this release. 
FINAL THOUGHTS
Unless you're a diehard Disney fanatic/collector who just must have every single item released by the studio, there isn't a great reason to double-dip on Snow White and the Seven Dwarfs. Audio and video are the same, but as they were close to perfect that's not such a big deal. But the fact the set excludes bonus material from the previous edition is a minor letdown, making this initial release in Disney's "Signature Collection" a bit of a letdown. Still recommended, highly, even, but only to those who do not already own the 2009 release which, if you can find it, is still the way to go.