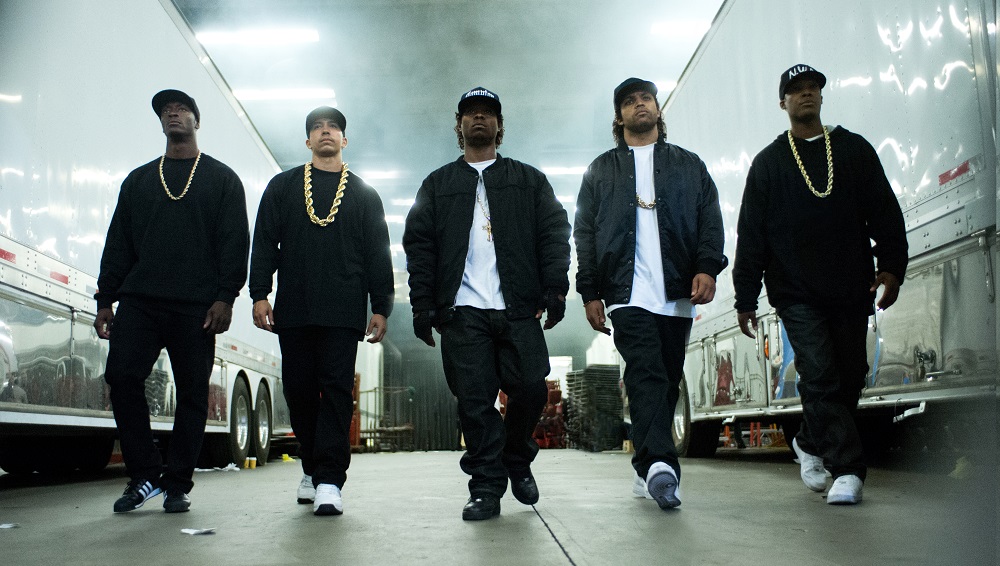 N.W.A. Still Has Something to Say in Biopic Straight Outta Compton
I can't help but admit I'm at a loss as to what, let alone how much, to say about director F. Gary Gray's (Set It Off, The Italian Job) biopic of legendary rap/hip-hop supergroup N.W.A. Straight Outta Compton. When O'Shea 'Ice Cube' Jackson (O'Shea Jackson Jr.), Eric 'Eazy-E' Wright (Jason Mitchell), Andre 'Dr. Dre' Young (Corey Hawkins), Lorenzo 'MC Ren' Patterson (Aldis Hodge) and Antoine 'DJ Yella' Carraby (Neil Brown Jr.) were making their play for stardom I wasn't even in Middle School, and as multicultural as my Spokane, WA neighborhood might have been it's not like I could relate in any single way whatsoever to anything this set of California teenagers was going through.
The genius of the film, a labor of love for all involved and a passion project for Ice Cube, Dr. Dre and Eazy-E's wife Tomica Woods-Wright for over a decade, is that I don't have to relate, I just have to understand. Gray, along with screenwriters Jonathan Herman and Andrea Berloff (World Trade Center), plop the viewer into the center of things, ask us to listen to what it is these masterful musicians and lyricists are saying, to stop focusing on the posturing and the four-letter words in order to look beyond the obvious and see what's happening underneath the surface. It is total absorption in a way these types of flicks don't always want to embrace, the film becoming one of 2015's most important must-see endeavors released so far this year in large part because of this.
It goes without saying 'gangsta rap' was never my thing. Same time, each time Eazy, Dre, Cube or any of the rest decided to compose their thoughts into words and music I couldn't help but push forward in my seat excited to hear what it was they were about to say. The first time the five took the stage together as one, their excitable manager Jerry Heller (Paul Giamatti) looking on in gleeful awe, I was captivated in a way I couldn't quite comprehend, the energy emanating from the screen so palpable I could feel it permeate the entire theatre. By the time N.W.A. was approaching full strength, as they took the stage for their iconic Detroit performance, I could absolutely understand how a group that only put out one album could be considered one of the most influential and important of the 1990s, Gray and company staging these moments with superlative exactitude that was both impressive and mesmerizing.
But this film is more than about a myth-making enterprise, has more on its mind than just simple hero worshiping (although, admittedly, both of those things do take place); instead it longs to show things as close to the way they really were as it can in the confines of a 150-minute motion picture. Even with so many of the actual participants on board as producers, flaws, mistakes, human failings and errors in judgment are as key to the proceedings as introspective lyrics and great music. These are young men thrust into the middle of a spotlight they are in most respects ill-prepared to stand in the middle of, taken advantage of by those they surround themselves with more often than not, unable to realize it until it's much, much too late.
This is no more apparent than in the depiction of the relationship between Eazy-E and Jerry Heller. The latter might be a villain, but he's also the first real father figure the former likely had in his life, one of the first who believed absolutely in his talents and abilities in ways no one else had up to that point. Eazy's inability to see what is happening is a product of many things, to be certain, but that doesn't make the pair's relationship any less complex or tragic, the dissolution of their partnership heartbreaking in more ways than one.
If anything, it's his story that the film is most focused on. His climactic battle against AIDS is poignantly honest in its portrayal, his early death to the disease a striking reminder of just what was going on societally during that era and that the reach of the viral epidemic was far more expansive and invasive than most wanted to realize. How Eazy affected his bandmates, what his decisions meant to all of them, how his understanding of his own mistakes and missteps influenced their respective paths going forward, all of that is here, giving Straight Outta Compton a breadth and a depth that's staggering.
The rampant misogyny and homophobia of the period isn't so much not dealt with as it is barely acknowledged, and for a movie so intent on wearing its heart on its sleeve and baring its soul for all to see this is an egregious misstep. Additionally, as complex and fully realized as Jerry Heller might be (which, admittedly, is due in large part to the presence of Giamatti), Suge Knight (R. Marcos Taylor) is a monstrously one dimensional villain whose thuggery and malevolence is clear even when he's trying to make nice with Dr. Dre in a sunny California parking lot. Finally, neither DJ Ren nor MC Yella are given near the same amount of attention or love as their three compatriots, leaving them as thinly nondescript at the end of the film as they were at the start. (Granted, even with this epic running time, fitting a lot of that in probably would have required, if not a whole extra movie, probably at the very least half of one.)
For a group that came and went rather quickly, the mark N.W.A. made on the cultural, musical and political spectrum cannot be denied. Right now, with all that they affectingly put voice to suddenly back into the zeitgeist once again, with police violence against minorities being documented in a way it never has been before, it feels like this couldn't have been released at a more appropriate moment. Straight Outta Compton isn't just a great musical biopic, it's a great movie, period, and as such seeing it should be at the top of everyone's list no matter what their racial, social, political or gender background might be the entire world over.
Review reprinted courtesy of the SGN in Seattle
Film Rating: 3½ (out of 4)