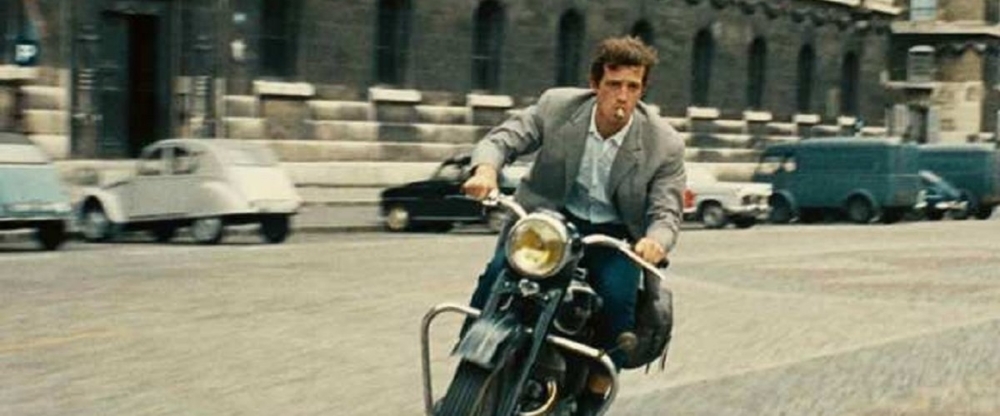 How does the Blu-ray/DVD Disc stack up? (all ratings out of 10.)
Movie
Video
Audio
Extras
Overall
SYNOPSIS 
That Man from Rio
While on leave from his military duties, Pvt. Adrien Dufourquet (Jean-Paul Belmondo) witnesses his longtime girlfriend Agnès Villermosa (Françoise Dorléac) being abducted. Following them from Paris to Rio, he frees her only to find they've become embroiled in an international adventure looking for a lost Maltec treasure whose worth is beyond incalculable. (8/10)
Up to His Ears
Unhappy billionaire Arthur Lempereur (Jean-Paul Belmondo) enters into a contract to have himself killed at some point during the next 30 days. But when he meets free-spirited burlesque artist Alexandrine Pinardel (Ursula Andress) he begins to have second thoughts, thinking life might not be so bad after all as long as he and she can be living it together. (7/10) 
CRITIQUE
My chief suggestion here is to experience both That Man from Rio and Up to His Ears blind, with little to no information about either before doing so as the only thing a person truly needs is knowledge that these two Philippe de Broca directed stunners – both featuring a charismatically sexy Belmondo – are fairly close to perfect pieces of escapist entertainment. Billed as "spy spoofs," neither is actually even close to that, instead owing more to Alfred Hitchcock and Buster Keaton than they do anything else.
That Man from Rio is without a doubt the best film of the duo start to finish. For those who adore Raiders of the Lost Ark or Romancing the Stone, this action-comedy-romance hybrid is almost essential viewing, Belmondo and Dorléac forced to race around the globe looking for ancient artifacts while deciphering clues leading to a long-lost treasure. Featuring whip-smart dialogue, blissful bits of absurdist humor and action set pieces that are as extraordinary as they are eye-popping, this is a one-of-a-kind lark that held me spellbound first moment to last. It comes remarkably close to perfection, and I have a feeling on subsequent viewing my opinion of this will only continue to rise.
Up to His Ears is a lot more nonsensical, and I couldn't help but get the feeling Hollywood directors like Black Edwards had to have found tons of inspiration from this de Broca / Belmondo follow-up. The narrative seems to be making itself up as it goes along, the adventures Arthur finds himself trying to survive increasingly insane as things get closer to the end. But the action moments are out of this world, the actor – who had to have done a great deal of the stunt work himself –  heading to glorious heights as he battles a series of assailants all looking to due him in and earn a gigantic bounty for doing so.
Both films are sensationally directed by de Broca, Belmondo anchoring the proceedings with a sexy simplicity that oozes masculinity and charm. But, other than that, I'm not going to say a heck of a lot more, as going into these two as blind as possible will allow the viewer to experience a delectable, high-flying, extremely funny, action-heavy romantic treat as if they were brand new and not in fact made over 50 years ago.
THE VIDEO 
That Man from Rio and Up to His Ears are presented on two dual-layer 50GB Blu-rays with dueling 1.66:1/1080p MPEG-4 AVC Video transfers.
THE AUDIO 
Each film sprints onto Blu-ray with French LPCM 2.0 soundtracks and includes optional English subtitles.
THE EXTRAS
Extras here include:
That Man from Rio
The Adventures of Adrien: The Catalan Affair (1:05:46)
Silly and Serious: The Collaboration between Georges Delerue and Philippe de Broca (13:48)
Brothers of Cinema: The Collaboration of Jean-Paul Rappeneau and Philippe de Broca (9:52)
Original Theatrical Trailer (2:57)
2014 Re-Release Trailer (2:01) 
Up to His Ears
That Man from Hong Kong (28:47)
From Cartouche to Cavaleur: The Collaboration of Jean Rochefort and Philippe de Broca (9:18)
Original Theatrical Trailer (3:07)
2014 Re-Release Trailer (1:34) 
It's a glorious collection of extras, each disc overflowing with information and insight. Cohen Media has outdone themselves with this release, the love and care they've given to these two films readily apparent. 
FINAL THOUGHTS
I'd never even heard of these two films, let alone knew of how they were linked to some of my favorite adventures of all-time (including Romancing the Stone and Raiders of the Lost Ark), so watching That Man from Rio and Up to His Ears were fantastic treats I couldn't help but savor. Each is wonderful, while Cohen Media's 2K restoration of these Philippe de Broca classics is extraordinary. For my part, this release is without question an early contender for being one of 2015's absolute best. Glorious.