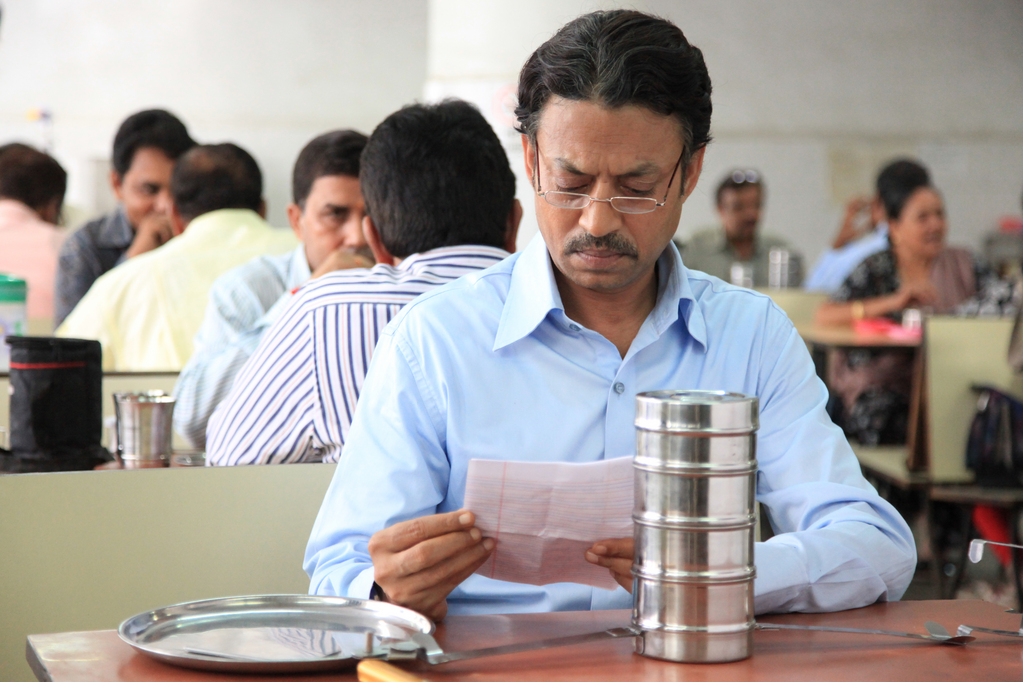 Emotionally Inspiring Lunchbox a Tasty Delight
Ila (Nimrat Kaur) is looking to spice up her life with inattentive husband Rajeev (Nakul Vaid). With the help of upstairs Auntie (Bharati Achrekar) she begins putting together complicated, obsessively composed lunchtime meals for him, throwing in as much attention, care and, yes, love into them as she can possibly muster.
Funny thing is, Rajeev isn't the one who receives them. The lunchtime messenger service has accidentally started delivering his meal to the wrong person. Saajan Fernandes (Irrfan Khan), a quiet government drone on the verge of retirement, has been getting them instead. Worse, her husband hasn't even noticed the mistake, thinking the bland cauliflower-based meal is the one Ila has been sending him each and every day and not caring it isn't.
What follows is one of the most sensitive, blissful and emotionally effervescent unrequited romances I've had the pleasure to see since John Carney's Once graced the screen back in 2007. While not perfect, while not quite as successful as I'm sure writer/director Ritesh Batra intends it to be, this movie is a beautiful foray into the city of Mumbai, it two main characters crafting an 84 Charing Cross Road meets The Shop Around the Corner relationship that's as intimate and authentic as it is emotional and honest.
The basic crux revolves around the food-slash-pen pal friendship that develops between Ila and Saajan, the former granting an unanticipated spark back into the latter's life while he in turn allows her to find the strength to do what's best for both herself and her child clueless and insecure husband be damned. The two give one another a reason to keep going, to evolve, to see things in the world around them and in others they otherwise would never have noticed, in the process gifting an introspective insight that never would have existed otherwise.
Batra doesn't push, doesn't overdo it, allowing the movie to evolve gracefully at its own leisured pace yet still maintaining a magnetic urgency that continually propels things towards their inevitable, yet still hopeful, conclusion. The director also does a grand job of making Mumbai its own, highly distinctive character, the city coming to life in a way that breathes and moves in much the same way the central characters themselves do.
Khan, as great an actor as there is, most recently invigorating films as diverse as Slumdog Millionaire, Life of Pi and The Amazing Spider-Man with his presence, is wonderful, acres of pain and rivers of regret swimming within the recesses of his face. His interactions with both Kaur – strictly by narrative voiceover, mind you – and Nawazuddin Siddiqui, playing the energetic newcomer assigned to take Saajan's place when he retires, are splendid, everything he does having purpose building up his character's layers while also propelling the story itself forward.
Kaur, by all accounts a newcomer to the cinematic landscape, is equally wonderful, and I loved how she so effortlessly portrays all of what Ila is thinking and feeling at any given moment no matter what the complexities roiling underneath the surface might be. She has a couple of moments with Vaid that split my heart clean in two, while the shouted conversations between her and Achrekar build in meaning and intimacy in transcendent lockstep with the dramatic machinations of the storyline itself.
The Lunchbox isn't loud. It isn't obnoxious. It doesn't try to do too much or say anything more than what it wants, no, needs to. Batra's debut looks a little on the slight side of the equation but in reality is anything but, the way it sheds light on so many different facets of the human condition shockingly personal. This is a movie to be treasured and adored, it's ultimately uplifting and life-affirming charms deserving of being savored again and again by viewers of all types, kinds, ethnicities and palates.
– Review reprinted courtesy of the SGN in Seattle
Film Rating: 3½ (out of 4)