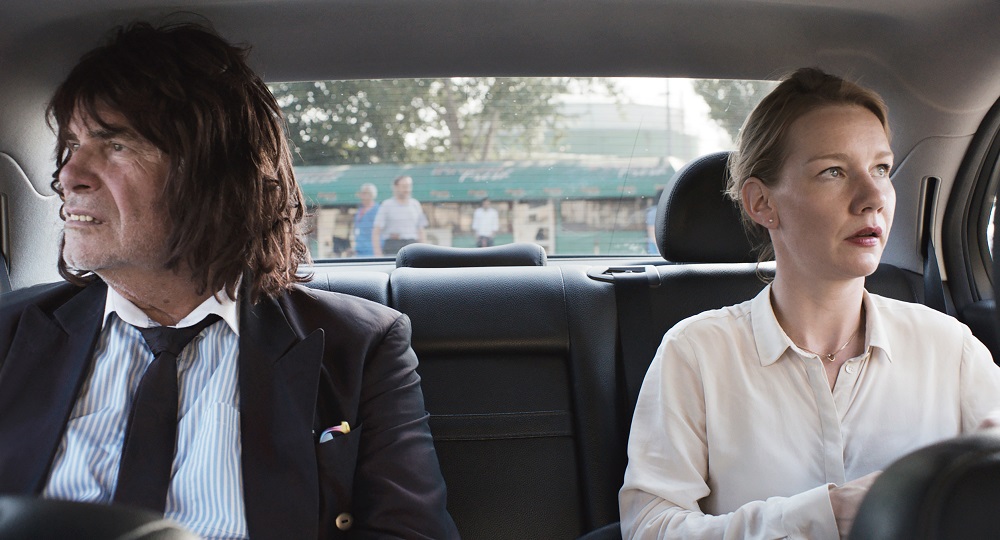 Toni Erdmann a Humanistic Comedy of Heartbreak and Forgiveness
German music teacher Winfried Conradi (Peter Simonischek) doesn't see a lot of his daughter Ines (Sandra Hüller). She's a corporate strategist assisting in a major restructuring plan for a multinational company based in Bucharest, and as such it isn't like she's able to head home to see her eccentric father anytime she wants. But when a break in his teaching duties is coupled with the tragic natural death of his beloved dog, on a whim Winfried decides to head to Romania for an unannounced visit, surprising his daughter at her place of work.
Ines does her best to bear the burden of having her father around for a couple of days, withstanding his cracks about her workaholic lifestyle and his constant practical joking as best she can. What she never could have predicted is that, after his visit had apparently come to an end, Winfried would return in disguise, pretending to be her firm's CEO's idiosyncratic life coach "Toni Erdmann." Ines doesn't know what to make of this, especially after she realizes this isn't some brief gag but a long term ploy her dad intends to maintain until she learns some mysterious life lesson; what that is supposed to be she hasn't the first clue.
Writer/director Maren Ade's Toni Erdmann is considered by many to be the frontrunner to win the Academy Award for Best Foreign Language Film. After its debut at the 2016 Cannes Film Festival it was immediately hailed as an instant classic, even landing on Sight & Sound magazine's list of the 100 best motion pictures of the 21st century even though it still hadn't even seen a theatrical release in its home country of Germany at the time of publication. By all accounts, this is one of the most critically acclaimed cinematic achievements in recent memory, and as such my excitement to give it a look was understandably high.
All of which can't help me feel slightly disappointed in the fact that, while I enjoyed and admired Ade's latest endeavor a great deal, I was not nearly as bowled over by the 162-minute comedy-drama hybrid near as much as many of my fellow critics appear to be. Do not misunderstand, this is a good movie, at times even a great one, I just don't think it's a masterpiece, at least not on the first watch, and while I'll be happy to reassess those feelings with a second viewing as of right now I'm hard-pressed to understand what all the euphoric fuss has been about.
What I will say is that there isn't near enough praise being thrown in Hüller's direction, and pretty much everyone, everywhere is calling her performance a work of unadulterated brilliance. It's even better than that, the talented actress extraordinary, her fearless emotional dexterity as she traverses through Ade's complex dramatic minefield mind-blowing. Raw and unvarnished, subtle yet full of explosive, unexpected rejoinders, Hüller goes for broke, and much of what we learn about Ines and her relationship with Winfried having everything to do with how she wordlessly reacts, or chooses not to react, to any of his increasingly absurdist antics. This is a marvelous performance, and it is something of a pity the actress didn't receive Oscar recognition for her stunning virtuosity.
The movie, however, tends to move in fits and starts, Ade juggling a multitude of themes, concepts and ideas without always knowing exactly what she wants to do with them. While the core of the story is the relationship between father and daughter, that's only the tip of the iceberg as the filmmaker is also looking at current European dynamics revolving around everything from politics to currency to corporatization to cultural homogenization. It's a lot of stuff to try and absorb, and not all of its struck a chord with me, Winfried/Toni's comedic antics sometimes undercutting the points I found myself believing Ade was trying to make.
Nonetheless, this is a compelling film, one filled with intriguing insights. There's so much to comprehend and mull over I tend to think it's flat-out impossible to understand all of the various ins and outs in a single viewing. More, when it is funny, and as Toni Erdmann is billed as a comedy the laughs are intentional, it is exceedingly so, a couple sequences in particular so hysterical I almost couldn't believe what it was I was witnessing. Better, Ade has a fantastic ability to meld humor and melodrama in ways that are natural and intimate, a late act meltdown resulting in an extended showcase of naked frustration blossoming into a naturalistic embrace of forgiveness and understanding that had me choking back tears while I giggled uncontrollably.
All of which obviously makes Toni Erdmann good movie, I'm just not ready to proclaim it a masterpiece. Not to say Ade's third feature isn't one, it might in time prove to be an all-time classic piece of cinema, I just don't think an initial glance is enough for me to state anything that leads in that particular direction. While much of this film is glorious there are also some lumpy segments that don't appear to go anyplace substantive, making the extreme length something of a minor problem. But when Ade's opus works it admittedly does so with a level of precision and genius that's mesmerizing, making this a modern comedy of heartbreak, forgiveness and family deserving of multiple looks.
– Review reprinted courtesy of the SGN in Seattle
Film Rating: 3 (out of 4)