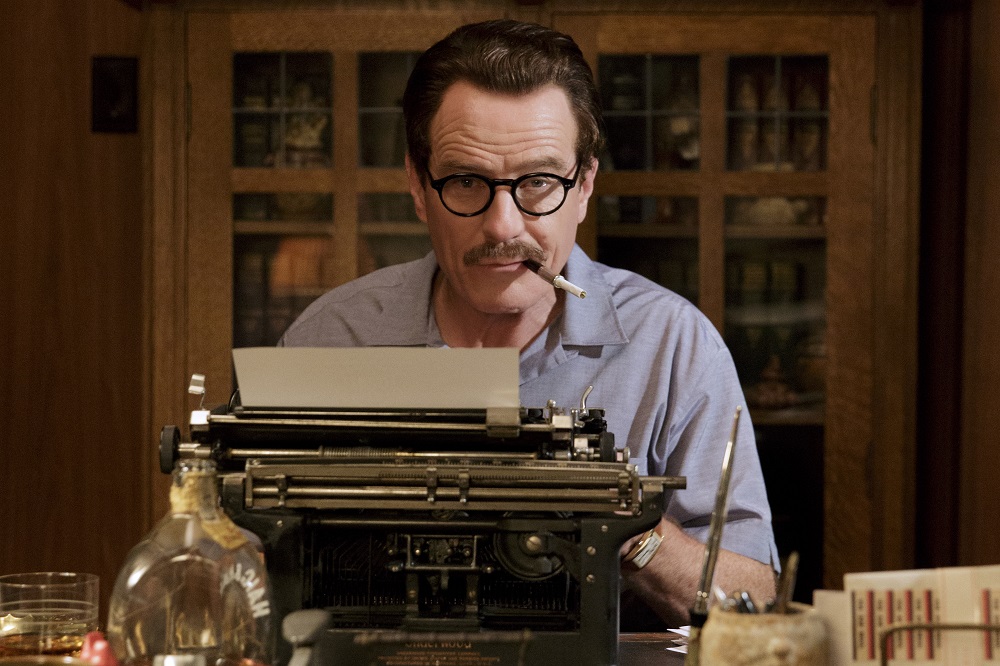 Cranston's Magnificence Allows Trumbo to Soar
In many ways, director Jay Roach (Meet the Parents) and writer John McNamara have followed a fairly standard biopic path as it pertains to Trumbo. Using Bruce Cook's biography of the Academy Award-winning screenwriter as their inspiration, the film chronicles the outspoken Hollywood communist's life and times in relatively straightforward fashion. From his time standing up to the House Un-American Activities Committee (HUAC), to his eventual imprisonment for refusing to name names to the Senators chairing it, to his blacklisting by the major Hollywood studios who once beat down his door to work with him, to his eventual victory over his oppressors winning two Oscars via subterfuge in the process, all of it is here.
Yet two things allow the film to standout in ways that matter, the first being Bryan Cranston's sensational performance as Dalton Trumbo. He's fantastic, taking charge in ways that are complex, intimate and electrifyingly irresistible. He refuses to depict the man as a saint, playing up his flaws, showing how his obsession to prove just how monumentally he and the remainder of his blacklisted compatriots have been wronged affects his relationship with his wife Cleo (Diane Lane) and their three children. Yet Trumbo's charismatic disposition is never in doubt, Cranston rampaging through the picture with a cagy, intelligently acerbic ferocity that's sublime.
The other is the motion picture's structure. What I mean by this is that, unlike so many other biopics that choose such a linear, by-the-numbers route, this one actually gets better, more fascinating, as it goes along. Roach and McNamara dispense with the obvious stuff quickly, most of the sequences detailing Trumbo's dealing with opportunistic Hollywood gossip monger Hedda Hopper (Helen Mirren) as well as the HUAC Senators rather perfunctory in both tone and execution.
But once he gets out of prison? How he manages to rope many of his fellow blacklisted screenwriters into a conspiracy working for underground film studios like the ones run by Frank (John Goodman) and Hymie King (Stephen Root)? The way he finds himself so clueless when his eldest daughter Niki (Elle Fanning) begins to standup to him with the same principled savagery he's always utilized himself? That stuff isn't just good, it's terrific, giving the film a second half kick in the butt that doesn't subside until the screen finally fades to black.
There's one other aspect that's fairly wonderful, and that's a subplot involving iconic cinematic great Edward G. Robinson, beautifully portrayed by underrated character actor Michael Stuhlbarg. There is a touching pathos to his journey that affected me deeply, the choices he ends up making given a coloring I cannot say I expected. I didn't know how close he and Trumbo were, didn't understand just how cruel the road he found himself traveling down was, and while that doesn't excuse what happens as far as Robinson and the HUAC were concerned it at least puts events in the type of perspective that shattered my heart into tiny little pieces. It builds to a poignant, subtly heartfelt look of understanding between the two Hollywood giants that brought tears to my eyes, Roach staging this moment with rapturous understatement.
Considering the subject matter and the time being depicted, I did find myself taken out of events whenever someone like John Wayne or Kirk Douglas sauntered into the center of things. Not that actors David James Elliott (as Wayne) or Dean O'Gorman (Douglas) don't do a good job, it's just that the people they're portraying are so well-known it's impossible for them to disappear into their characters same way as Cranston, Lane and a fair number of others do. If anything, this makes Stuhlbarg's performance even more impressive, and while he doesn't actually look a thing like Robinson he manages to craft a full-bodied, vigorously personal sketch of the actor all the same.
It's impossible not to imagine what the man being chronicled here would have thought of this. The writer behind classics as diverse and as long-lasting as The Brave One, Roman Holiday, Thirty Seconds Over Tokyo, Gun Crazy, Lonely Are the Brave and Spartacus probably would have delivered a more idiosyncratically incisive portrait than what Roach and McNamara have manufactured, looked at things from a cockeyed lens unique in and of itself. Nonetheless, Trumbo is a solid effort made close to unmissable thanks in large part to Cranston's magnificence, the resulting biopic a gripping return to a Hollywood of yesteryear where the themes being examined couldn't be more appropriately timely.
Film Rating: 3 (out of 4)
Additional Link:
Interview with Niki Trumbo by Sara Michelle Fetters