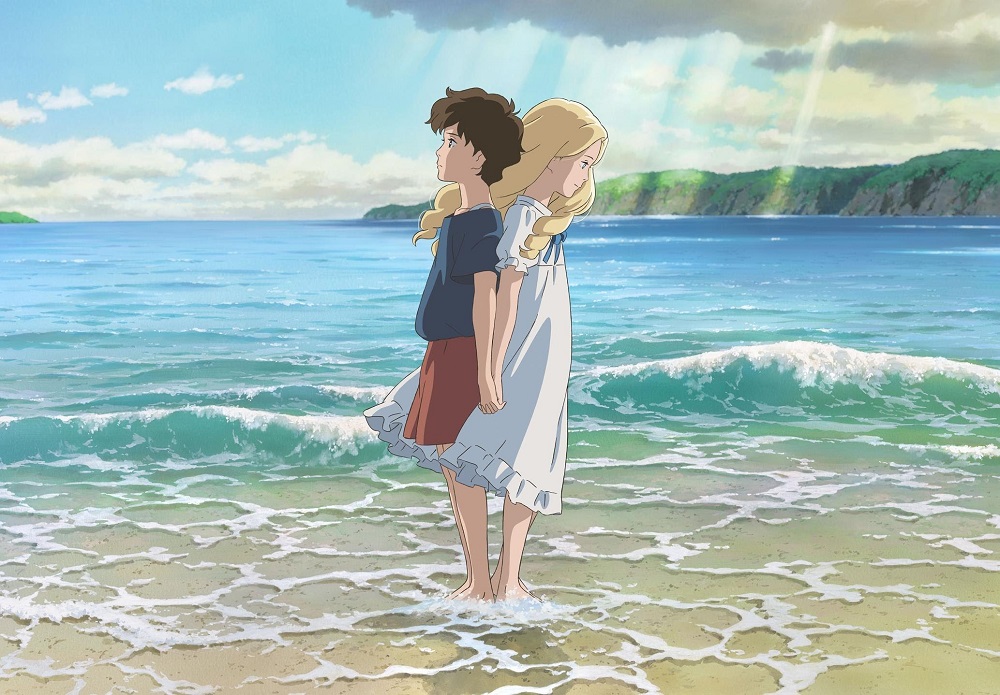 a SIFF 2015 review
Beautiful, Movingly Intimate Marnie an Animated Masterpiece
Anna (voiced by Sara Takatsuki) has moved for the summer to the seaside home of her aunt Setsu (Toshie Negishi) and uncle Kiyomasa (Susumu Terajima) for health reasons. Shy, introspective and not one to make friends easily, the youngster is still a talented artist with an uncommon skill to bring portraits of those that captivate her to life. She is fascinated by a secluded mansion surrounded by marshes and made virtually inaccessible during the night thanks to the incoming tides. It's almost as if she's seen the house before, and for reasons she can't quite fathom she's drawn to it in a personal, decidedly intimate way.
After a series of highly unusual events, Anna comes into contact with the doll-like Marnie (Kasumi Arimura), the beautiful blonde, blue-eyed daughter of affluent mixed-race parents. There is an instant connection between the two girls, the pair developing an unbreakable bond in what feels like seconds. But who Marnie is and the secrets she is concealing are mysteries Anna feels compelled to learn the answers to, the pursuit of doing so potentially fixing her relationship with her stressed-out mother Yorkiko (Nanako Matsushima) while also allowing her to find an inner confidence she didn't know was there.
Based on the popular novel by Joan G. Robinson, if When Marnie Was There truly is the last production for revered animation pioneers Studio Ghibli than the house that Hayao Miyazaki built is going out on top. Directed by Hiromasa Yonebayashi (The Secret World of Arrietty), the movie is a hypnotically transfixing puzzle box overflowing in emotion, everything building to a powerhouse of a climax that had me drowning in joyful tears. It is a movie that revels in the minutia of the human experience, mixing reality and fantasy with deft, unhurried grace.
The sense of time, the knowledge of place, all of it permeates every frame. Yonebayashi, his fellow screenwriters and his crackerjack team of animators allow character and circumstance to feed one into the other, the story coming together in ways that are honest, true and consistently pure. Anna's journey is as internal as it is external, her growing connection to Marnie transcending death, life and the otherworldly realities lying between them.
Stunningly animated, filled with eye-popping mixtures of color and texture that amaze, I love how light the film feels, how it almost seems to float upon the clouds or wash up to shore with the tide as things methodically progress to their conclusion. I am captivated by the way Anna interacts with those she knows are flesh and blood while at the same time understanding without reservation something surreal and inhuman is happening between her and Marnie. The internal complexities that help manufacture a sense of self, assist in making us who we are and set us on the path to adulthood, all of that is here, the connection to our family histories sometimes key in figuring out which steps are the best ones to take.
Having never read the book I still had my own ideas how all of this was going to come to an end. What's impressive about Yonebayashi's adaptation is that, while not entirely unexpected, the bond between Anna and Marnie isn't quite what I thought it was going to be, their relationship far more complex, yet no less personal, than I'd let myself imagine. The purity of it caught me almost entirely off guard, as did the reactions it garnered from the young heroine as she finally comprehends and embraces the truth. The way this affects her relationship with her mother Yorkiko is astonishing, the two getting a chance to embrace and commit themselves one to the other as they never had before.
If Studio Ghibli is indeed closed, if they are done making movies under their own banner, their loss is going to be felt for years, if not decades, to come. From Castle in the Sky to Spirited Away, from Princess Mononoke to My Neighbor Totoro, from The Wind Rises to Kiki's Delivery Service, the studio has left an imprint on both popular and cinematic culture that is undeniable. When Marnie Was There doesn't just live up to the high standards of the countless classics that proceeded it, in many ways it brings all of the themes and the ideas Ghibli has been interested in dissecting throughout their storied history to brilliant summation. It's a masterpiece, and as final efforts go I cannot think of anything better than that.
(Please note: I watched "When Marnie Was There" during the 2015 Seattle International Film Festival. It was presented with its original Japanese soundtrack. GKids is releasing an English language version of the film to domestic theaters featuring the voice talents of Hailee Steinfeld, Kiernan Shipka, Geena Davis, John C. Reilly and Vanessa Williams with a screenplay adapted by David Freedman. By all accounts, it is every bit as marvelous as this version is.)
Film Rating: 4 (out of 4)