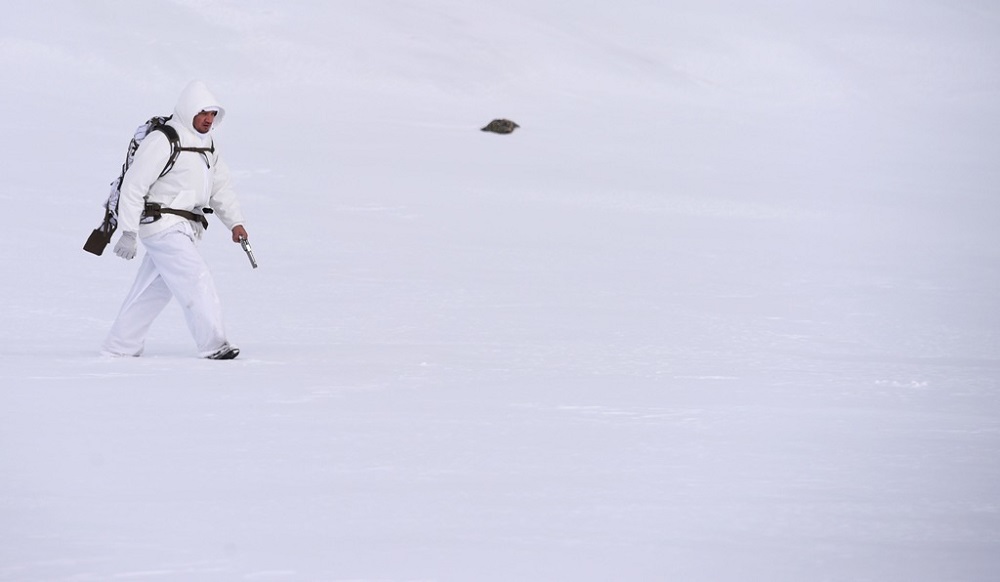 a SIFF 2017 review
Sparse Wind River Haunting in its Agonizing Sincerity
Out tracking a mountain lion and her cubs in the forbidding snowy mountains of the Wind River Indian Reservation in Wyoming, Department of Fish & Wildlife hunter Cory Lambert (Jeremy Renner) discovers the frozen body of Natalie Hanson (Kelsey Asbille). After alerting the Tribal Police Chief, Ben (Graham Greene), Cory waits for the F.B.I. to send an investigator back at his s ex-wife Wilma's (Julia Jones) parent's house. He'd dropped their son Casey (Teo Briones) off there to visit his grandparents while he went off to hunt the lion, never expecting he'd stumble upon a killing far more brutal, and much closer to home, while out in the deadly cold performing his duty to the community.
When the F.B.I. agent finally arrives, it's rookie Jane Banner (Elizabeth Olsen) the bureau has sent to investigate, the young woman ill-prepared for the case and the environment that will surround her investigation. Thankfully, she's well aware that she's out of her element, and Jane makes sure to stay on Ben's good side while also enlisting Cory's help as a tracker and as someone who knows the Native American community. Together, this trio puts the pieces together that determine who sent young Natalie to an icy grave, the truths they uncover as chilly and as barren as the desolate environment itself proves to be.
After turning out nearly perfect scripts for Denis Villeneuve's Sicario and David Mackenzie's Hell or High Water, picking up a well-deserved Academy Award nomination for the latter effort, vaunted screenwriter Taylor Sheridan steps behind the camera for the icy thriller Wind River. While the film isn't quite as masterfully constructed or as unnervingly satisfying as those prior motion pictures, that does not make this feature any less impressive. Sheridan takes a rather simple story and spins it right on its head, crafting a saga about fatherhood, family, race, poverty, isolation, determination and life in America today that's as haunting as anything I've seen this year.
The film's setup is undeniably impressive. The introduction to Cory's character, which includes his relationship with his ex-wife, his resolve to maintain a close relationship with his son and the brutal tragedy that haunts every interaction they all have with one another, is superb, the magnetic simplicity of this presentation striking. His reaction as he sets out after the lion only to find a trail of ragged tracks and random splotches of blood shattering the pristine white of the freshly fallen snow is palpably disquieting, while his attempts to maintain composure as he calls in the body's location after he realizes he knows the victim is emotionally haunting in its straightforward minimalism.
Sheridan's directorial debut is littered with a number of scenes just like this, ones where the characters and their reactions to all they are witnessing, learning and experiencing are the focal point of the drama, each clue revealing as much about Cory, Jane and Ben as it adds an additional insight into the mystery itself. Each snippet of dialogue is a window into a world where survival isn't a given, respect must be earned and fairness has nothing to do with whether or not a person lives or dies, each choice a potential landmine waiting to be tripped, obliterating everything and everyone unlucky enough to step into its blast zone.
Renner is magnificent. This is his best performance since The Town, maybe since The Hurt Locker, the actor's washed-out, grizzled facial features masking a knowing internal concentration that will not dissipate or be put to rest until Natalie's killer is dealt with. Revealing so much when saying very little, I felt like there was never a second where I didn't know what was going on with Cory or why it was he was taking the actions he felt were necessary. Yet Renner doesn't make this hunter all iron, all fortitude. It's never a question that the experiences that lead to the dissolution of his marriage and that have turned him into a loner more at home hiding in the snow on the side of a mountain than in the company of friends and family are helping fuel his quest. Renner goes deep, the catharsis he does finally achieve still unable to quell the pain Cory will continue to feel for the remainder of his days.
At a certain point, the identity of Natalie's murderer must be revealed, and it is here where Sheridan stumbles. While these revelations do not feel forced or false, they are still much more contrived and coincidental than anything in either Sicario or Hell or High Water proved to be. It's almost as if the filmmaker wanted to show that he could film a crackerjack shootout as masterfully as the ones orchestrated by Villeneuve or Mackenzie in their respective features were. But he seems to forget these powerful jolts of violence in those films were born from the characters and their journeys and not because it was needed in order to add a visceral kick into the proceedings, and as such my emotional attachment to all that transpired was significantly diluted.
Still, Sheridan stages this moment magnificently, mixing in a key flashback that left me bruised and battered as the extent of all that Natalie had endured before she escaped into the frozen wasteland alone was finally revealed. It's a bravura sequence, magnificently edited by Gary D. Roach (American Sniper) and stunningly shot by Ben Richardson (Table 19). The intensity of it all is almost too much to take, the aridity left by the violence as the last shot echoed into the mountainous expanse encircling hero and villain alike jaw-dropping in its mesmeric scale.
Best of all, Sheridan ends his story brilliantly, the last ten minutes a startling display of emotional elasticity that left me flabbergasted. It all boils down to a conversation between Cory and Martin Hanson (a beautifully understated Gil Birmingham), two fathers sharing a painful bond that will never heal, their connection now going well beyond friendship in a way no parent anywhere should have to endure. It's an ethereal denouement that speaks volumes way beyond the solving of a murder mystery or the catching of a killer, Wind River achieving an agonizing sincerity I'll be thinking about for some time to come.
Film Rating: 3 (out of 4)