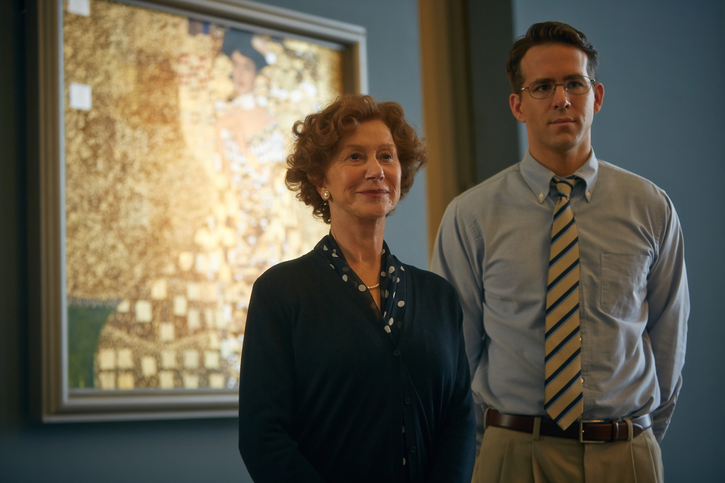 Woman in Gold a Beautiful if Aloof History Lesson
Randol Schoenberg (Ryan Reynolds) is a struggling attorney who has just scrapped his own small practice and taken a prestigious, if minor, position working at a major Los Angeles firm. Happily married to the plucky Pam (Katie Holmes), with one young child and another on the way, the son of Austrian immigrants who fled the country during WWII the last thing he needs is an extracurricular case sprung from that unseemly and tragic history. Thanks to his doting mother (Frances Fisher), one has fallen into his lap all the same.
Maria Altmann (Helen Mirren) has just buried her sister. The pair escaped Austria six decades ago, and the happily contented widow and dress shop proprietor has vowed never to return to her country of birth thanks to how she, her family and her fellow Jewish compatriots were treated once the Germans came calling. But the country has made a recent proclamation that they're willing to consider restitution towards those who saw their possessions, most notably artworks of considerable prestige and value, stolen from them during the war, Maria and her family one of those who was so repulsively wronged.
Woman in Gold is a docudrama based on the memoir written by Altmann and Schoenberg chronicling their unbelievable journey to see Austria taken to task for its crimes committed before, during and after the events of WWII. Most notably, the theft of a collection of paintings by the artist Gustav Klimt, including the dazzling 'Portrait of Adele Bloch-Bauer I,' a portrait of Maria's own beloved Aunt Adele (Antje Traue) and over the years since the end of the war had become known as Austria's very own cultural 'Mona Lisa.' As such, it and the rest of the works the pair found themselves fighting for possession of were –are – considered national treasures, and as such Austria wasn't exactly eager to let go of them even if their initial taking of the paintings was nothing short of theft.
With a screenplay by first-timer Alexi Kaye Campbell, directed by Simon Curtis (My Week with Marilyn), the first half of Woman in Gold is a wondrous, if still not altogether unfamiliar, stunner. Randol and Maria get to know one another, each learning how to deal with the other's idiosyncrasies and quirks. They dig through the evidence, learn what the stakes are and face down fears and anxieties each have held within as if their very lives depended on never doing a single thing to overcome them. It's all intelligently crafted, a cultural and political procedural flowing between past and present with a subtle gracefulness that amplifies the emotional power of central scenes in ways that are oftentimes breathtaking.
Throughout this portion, Curtis and Campbell deftly weave in flashbacks to a young Maria (Tatiana Maslany) and her life in Austria. Interacting with her Aunt. Sharing quiet moments with her father, mother and Uncle. Getting married to renowned opera singer Fritz (Max Irons). Seeing her country overcome with Nazi propaganda and enthusiasm. Escaping to freedom even though doing so means leaving part of herself behind. It's all looked at in the briefest, most fascinating of brushstrokes, Curtis finding a way to make all of this work in ways that are organic, full of life, never layering on saccharine and sentiment allowing the emotion of the moment to speak for itself.
But there are little annoyance during this initial hour that made me wonder if all was going to keep going along at such a satisfying clip. Charles Dance pops up in a throwaway role as the head of Randol's new firm who only seems to be around to look sternly at who he thinks will be his new protégé while spouting a collection of mundane platitudes. Daniel Brühl also enters into the proceedings as a surprisingly knowledgeable investigative journalist eager to see Maria find success with her claim, his ultimately reasons for doing so hardly a surprise. As for the Austrian officials setting up the obstacles the dogged Altmann and Schoenberg are forced to overcome, they're like something out of a bad B-movie, so hissably nasty and one-dimensional they're more caricatures then characters thus diluting the passions driving the story forward in ways that are almost unforgivable.
None of which would matter if the film itself had continued forward in the same magnetic fashion start to finish. Unfortunately, this just isn't the case, the complexities of the scenario in the end more than a 110 minute motion picture can easily contain. Once Randol jumps feet-first into fighting for Maria's claim, once he decides to go all the way, the film becomes a mishmash of four months later, six months later, insert-number-here months later jumps in time and place that become increasingly dissociative. We're in and out of a variety of courtrooms, all if it building to showdown at the U.S. Supreme Court, a moment that should have been a rousing cathartic crescendo of courage and perseverance but instead just feels like another stop on a road seemingly without an end.
Granted, that's part of the point. The hoops Randol and Maria are jumping through are without question an important facet of the story. But these courtroom sequences, no matter how handsomely staged and performed they might be, are so perfunctory, so rushed, it's almost as if they don't matter, meaning that the last time the pair look upon their Austrian counterparts during a climactic arbitration hearing the inherent power of the moment is sadly lost. There is no euphoria once the verdict is announced, I felt no desire to shed a tear or rise to my feet in joy, instead just mildly contented and satisfied when in reality I wanted to feel so much more.
I loved the last scene, so much so I feel a little bad about nitpicking as much as I have. Curtis manages a few surrealistic and ethereal touches that flow through time and space with a melodic intensity I found rapturous. But as strong as all of this might be, and as terrific as the performances from both Mirren and Reynolds are, I just can't embrace Woman in Gold as fully as I'd honestly like to. Certainly not without its merits, the movie isn't near as fulfilling or as captivating as I wanted it to be, and in the end is nothing more than an aloof, if still beautiful, history lesson when in the end it could have been, should have been, so much more.
Review reprinted courtesy of the SGN in Seattle
Film Rating: 2.5 out of 4