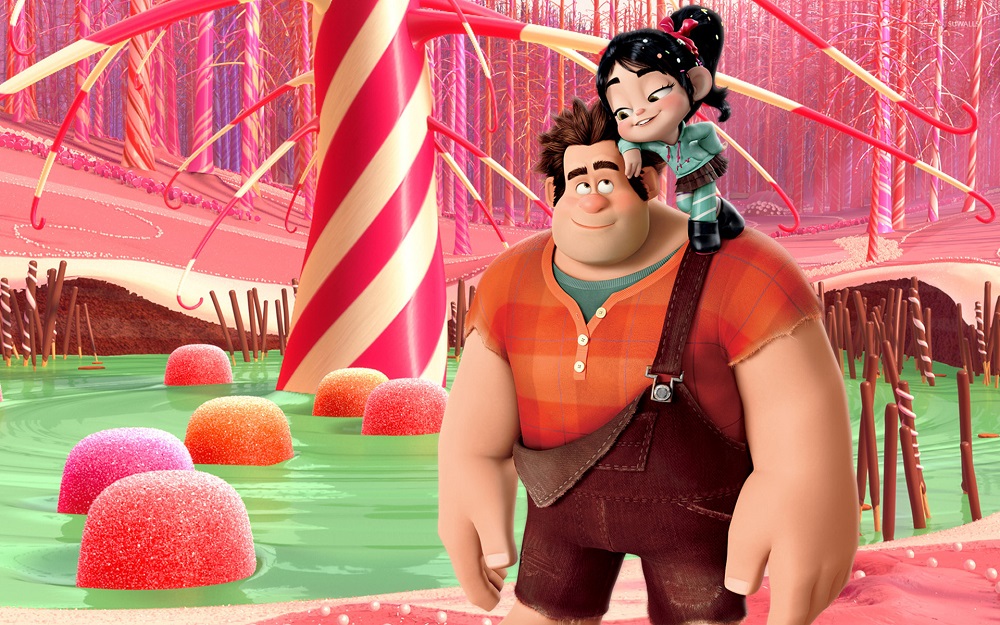 Inspired Wreck-It Ralph a Game Adventure
Wreck-It Ralph (voiced by John C. Reilly) is tired of being the bad guy. He's the thug in the "Fix-It Felix, Jr." video game, the guy responsible for all the smashing and mashing and bashing that causes so much havoc for the residents of Niceland. He's envious of Felix (Jack McBrayer) and his magic hammer, longing to earn a shiny gold medal of appreciation like his nemesis does every day. Ralph wants to be the good guy, and being eternally bad has him on the edge of depression.
So he 'Turbos,' otherwise known as game-jumping, leaping out of his old-school 30-year-old favorite into the brand new CGI first-person shooter "Hero's Duty." Using brute strength over intellect, Ralph wins the game and secures a medal.
But one calamity leads to another, and the next thing he knows, Ralph's in the middle of the candy-colored racing game "Sugar Rush" arguing with pintsized wannabe racer Vanellope von Schweetz (Sarah Silverman). She steals his medal to enter a race establishing the next day's combatants back in the real world, Vanellope's glitchy personality causing omnipotent King Candy (Alan Tudyk) to fear she'll get their game unplugged if she's victorious and kids see her name in the selection panel.
Wreck-It Ralph is a ton of fun. It is a total delight, immersing me right into the center of its inspired video game world with confident ease. The screenplay by newcomer Jennifer Lee and veteran Phil Johnston (Cedar Rapids) is an invigorating story of resilience and friendship fitting perfectly within the Disney canon, and I cannot wait to watch it again.
Keeping up with all of the video games gags and inside shenanigans is virtually impossible. From the Bad-Anon Support Group, to appearances by Q-Bert, Princess Daisy and Chun-Li, to several visual references die-hard gamers will be eager to point out to their clueless friends, the filmmakers have undeniably done their homework. This is a fully-realized interactive world where new and old schools come together beautifully, allowing the fascination with games and gaming culture to take on a life of its own in much the same way Toy Story tackled the collective enchantment with childhood toys with such imaginative zeal.
More importantly, Lee and Johnston have constructed a scenario of self-realization that's so three-dimensional and character-driven it gives the stylistic gaming idiosyncrasies far more vitality and heart than they'd ever have had otherwise. They make Ralph a true hero, Vanellope the type of spunky best friend impossible not to love and Felix the good-hearted everyman audiences all wish they could emulate and be. They make King Candy, a colorful combination of the Mad Hatter and Humpty Dumpty, a hissable villain, but one with a tragic backstory that gives the viewer pause, thus allowing his actions to be relatable and risible at the exact same time.
It gets a little overly chaotic near the end, and it never quite achieves the same sort of start-to-finish brilliance Pixar seems to manage far more often than not (those three Toy Story adventures being the most obvious examples of that). The final act is noticeably frenetic, and while that fits the video game aesthetic, it also didn't leave me entirely satisfied.
Yet Wreck-It Ralph remains an absolute joy, delivering sights, sounds and, most importantly, a family-friendly story just about everyone is certain to adore. Ralph and Vanellope's mutual narratives mingle together like exquisite clockwork, their evolution from rivals to uneasy partners to friends a rapturous journey viewers of all ages will relate to. There is no game over, no need to plug in extra quarters, the film a spellbinding game of friendship that proves heroism comes from within and family, whether chosen or genetic, is the most important lifeline there is.
– Review reprinted courtesy of the SGN in Seattle
Film Rating: 3½ (out of 4)