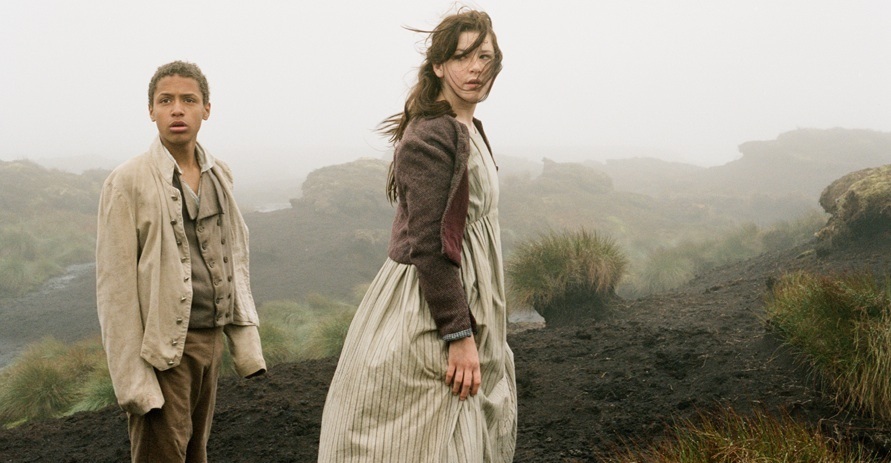 Sparse Wuthering Heights Brings Brontë Into the Present
Like all adaptations of classic literature brought to the big screen, I'm not exactly sure the world needed a new take on Emily Brontë's Wuthering Heights. The 1939 version starring Laurence Olivier and Merle Oberon and directed by William Wyler is universally thought of as a classic, one of the best films of its year, and considering said year is widely considered the greatest of all-time that's high praise indeed. But it's only one of many adaptations, and from cinema to television to theatre, the last seven-plus decades have seen numerous versions come and go, seemingly mining every last ounce of Brontë's text and leaving little for newcomers to potentially uncover.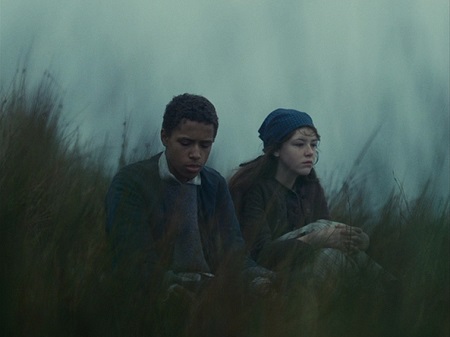 Or so it would seem. Enter Andrea Arnold, an Academy Award-winner for her 2003 short film Wasp and the acclaimed auteur behind the 2009 triumph Fish Tank. Co-writing the screenplay with Olivia Hetreed (Girl with a Pearl Earring), her take on the treasured literary classic is barren, bleak and stripped to its emotional bone. Displaying a subtle touch Arnold is intent on letting the images and themes of Brontë's book speak for themselves. For long stretches the film is close to dialogue free, the haunting stares of its protagonist Heathcliff (Solomon Glave as a boy, James Howson as a young man) and the surreal sounds of the wind sweeping through the Yorkshire highlands the hypnotic focal point around which everything else revolves.
The early passages looking at Heathcliff as that boy is where the movie becomes something instantly extraordinary. Taking up just over half of the film's 128-minute running time, this bit with the youngster being taken in out of the rain by devout farmer Mr. Earnshaw (Paul Hilton) and introduced to his family, including the man's kindhearted daughter Catherine (Shannon Beer), is nothing less than magnificent. Facing the brutal indifference of her brother Hindley (Lee Shaw) and the suspicion of a town's folk upset by his darkened skin and belligerent demeanor, the connection that develops between Heathcliff and Catherine is pure and genuine. There is fiery ember fueling their friendship, the pain caused by exterior factors intent on keeping them apart all the more heartbreaking because of it.
I suppose I have a few issues with the last third or so when Heathcliff is grown and Catherine (now played by Kaya Scodelario) finds herself now wed but wondering if her teenage crush will ever return to be a part of her life. These sequences, dripping with tragedy, are moderately disconnected from the events that preceded them. Things transpire as expected, and I can't say Arnold's handling of the material is near as astonishing later in the picture as it was during the first couple of acts.
So what. I really liked this new version of Wuthering Heights. The movie is stupendously shot by Robbie Ryan (Brick Lane), the acclaimed director of photography creating a minimalist authenticity that's as intimate as it is shocking. From the vast landscapes to the creases lurking at the corner of a person's smile, all of it matters, the internal intricacies of the human condition revealed in visual layers that continually caught me by surprise.
Then there is that sound design. In Arnold's vision, there is no music (other than a bizarrely placed Mumford & Sons tune song over the end credits), no audio interference from a world outside of the one depicted here. There are only the aural symphonies of the wind, rain, rippling grass, barking dogs and footsteps tromping through muddy terrain. This is the score that gives the drama its electricity, the music that brings Brontë's story to life. Arnold crafts a spell of rapture and regret so melodious there were times I felt I was walking across the rolling Yorkshire hills right along with Heathcliff and Catherine, becoming entirely lost in their tragic romance in the process.
Is this new Wuthering Heights essential? It is to me, and even if I'm not sure romantics who have read every page of the book a thousand times are going to be as pleased with Arnold's unflinching, at times modernized (four-letter words included) take on the material. But she gets right to the heart of Brontë's world in a way few other filmmakers have, allowing for a connection to the characters that held me spellbound. I loved it, and I have this sneaky suspicion my affinity for Arnold's breathlessly austere adaptation will only grow as the years go by.
Film Rating: 4 (out of 4)
Additional Link: Interview with Andrea Arnold