a SIFF 2012 review
Fascinating Weiwei Nothing to Be Sorry About
Director Alison Klayman was working as a journalist in Beijing when she met Chinese artist and dissident Ai Weiwei. Over time she managed to gain something close to his trust, the reclusive and charismatic artist allowing her to film him and his endeavors over the course of a few years.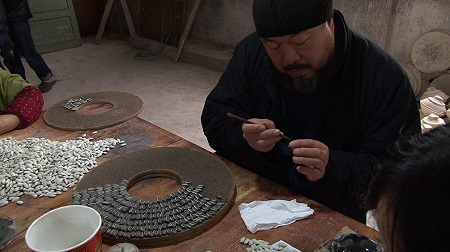 That's the basics behind her documentary Ai Weiwei: Never Sorry, but seeing as it concerns a figure as internationally lauded as Weiwei there's far more to it than that. But as big as the story is, as massive as the themes are, I can't say I know any more about the artist now than I did beforehand. While I can't help but be impressed, while what Weiwei is fighting for stirred me to my core, while his fight is one I wholeheartedly endorse, as a human being he still remains an enigma, and on that front I can't help but be a tiny bit frustrated.
Still, a lot of what Klayman was able to document is stunning. Weiwei, the man behind the magnificent Bird's Nest Olympic Stadium that was the focal point of the 2008 summer games, is a fascinating figure, and the lengths he goes to in order to speak his mind and make his opinions known is staggering. His work crafting a memorial for over 5,000 lost children in the wake of the 2008 Sichuan earthquake is mind-blowing, while his aggressively passive attempts to document police intimidation and corruption are nothing short of incredible.
Klayman shows all of this and more with subtle restraint, allowing all of the footage, whether captured by her own cameras, by Weiwei himself or by one of his devoted pupils, to speak for itself. She does not comment, does not give an opinion, each moment sparkling with a viscerally intimate clarity that's fascinating. As an activist this man is devoted to getting truth into the world (his Twitter following is massive), the lengths he is forced to go to in order to do so frequently unfathomable to American eyes.
But Weiwei himself? His human failings? The things that make him such an extraordinary, world-renowned artist? Those questions aren't ever answered. Klayman shows some of his failings, at least as a husband, but does so in a way that makes them seem like inconsequential asides not worthy of digging into, all of them nothing more than minor speed bumps that only hinder the portrait of the artist as a lofty figure worthy of adulation.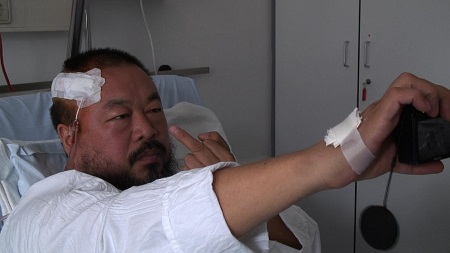 Most of the great human beings we have celebrated over the centuries had personal failings of one sort of another, and it was in those faults that we are able to grasp a greater understanding of the person as a whole and what it was that made them great in the first place. No one is perfect, and while Klayman's film doesn't suggest Weiwei is, it also doesn't exactly spend a ton of time analyzing any of his shades of grey, either.
None of this makes the documentary any less compelling. Once the artist starts digging in his heels and makes his opinions known all while still residing in the country he both loves and admonishes it's hard not to walk away from the film impressed. Ai Weiwei: Never Sorry isn't perfect, but I'm not sure it needed to be, a man as complicated and as intriguing as Weiwei a fascinating enigma whom a complete picture of might never be developed.
– Review reprinted courtesy of the SGN in Seattle
Film Rating: 3 (out of 4)