Farrell's Casa Built on a Silly Foundation
Give Will Ferrell credit, the guy doesn't sit on his laurels. After earning major money with comedies like The Other Guys, Step Brothers, Blades of Glory and, of course, Elf, he takes time out to appear in movies as challenging and as diverse as Woody Allen's Melinda and Melinda, Marc Forster's Strange than Fiction and Dan Rush's Everything Must Go. He does uncredited cameos for friends in flicks as small as Tim and Eric's Billion Dollar Movie and as gigantic as Wedding Crashers. He appears in countless videos on the Funny or Die website, while also resurrecting his famed "Saturday Night Live" impersonation of former President George W. Bush at the drop of a hat.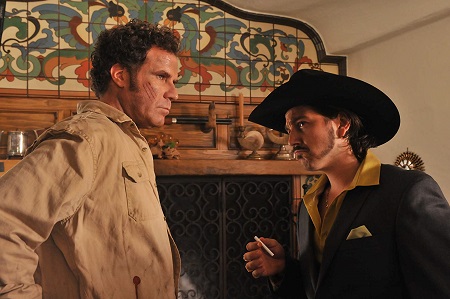 Now comes Casa de mi Padre, arguably Ferrell's riskiest venture yet. Delayed for over a year because the studio hadn't the first clue what to do with it (romantic lead Genesis Rodriguez gets an 'introducing' credit even though she already stole the show in Man on a Ledge earlier this year), the movie is a Spanish-language comedy made in the classic Mexican telenovela style and fueled with enough homages to Spaghetti Westerns, Sam Peckinpah, Sergio Leone, Howard Hawks, John Ford, Robert Rodriguez and Quentin Tarantino to fill an entire hacienda. It's Black Dynamite meets James Bond meets Walter Hill meets "SNL" all with an absurdist musical twist, and to say it doesn't supply more than a few belly laughs would be nothing less than an outright lie.
But, like a lot of satires this one is noticeably trying to be funny, the entire cast so in on the joke they can't help but call attention to all of the behind-the-scenes machinations required to bring all of this of. If everyone had just played it straight, if they would have taken it all bit more seriously, I think I would have been extremely fond of this one instead of only being mildly amused. I felt detached from the film, and even at a scant 84 minutes I was still noticeably squirming in my seat for much of the running time.
Bit it's not like Farrell isn't giving this his every effort. He plays Armando Alvarez, the dopey and kindhearted son of a respected Mexican landowner (the late Pedro Armendáriz Jr.) whose farm has had some financial hardships. The hope is that respected son Raul (Diego Luna) will save them, and when he returns home with his beautiful new fiancée Sonia (Rodriguez) it appears he is going to do just that. But Raul isn't what he appears to be, the majority of his fortune earned via the drug trade, a fact that doesn't sit well with a ruthless drug lord known as The Onza (Gael García Bernal), who also just happens to be Sonia's incestuous uncle.
You can figure out the rest Armando is suddenly required to leave his simple man of the earth philosophy aside and pick up arms to save his family's farm as well as the woman he slowly realizes he loves. It's as silly as it sounds, and that's just fine, Andrew Steele's (The Ladies Man) script hitting all the required beats as it builds up to its suitably absurd (and yet kind of romantic) climax.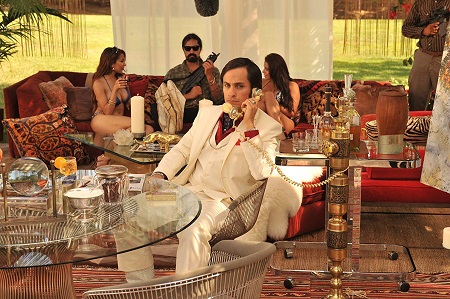 There's some great stuff, not the least of which are the musical numbers (Christina Aguilera's title track a delightfully perfect fit to the Maurice Binder-inspired, Bond-like opening titles), while a gigantic White Panther courtesy of the Jim Henson Creature Shop, comes close to making the picture's most indelible imprint. Farrell underplays things nicely most of the time, while both Luna and Bernal are having a blast inhabiting their chain-smoking caricatures of Mexican baddies from assorted telenovelas or B-grade Hollywood Westerns.
Ferrell deserves credit for finding a way to get this risky endeavor both financed and released. All the same, I respected Casa de mi Padre far more than I enjoyed it, director and "SNL" veteran Matt Piedmont never striking the right balance between playing things straight while still wink-winking at the audience as if everyone knows just how absurd all of this is. Much of the farce feels forced and out of balance, and while there are laughs there are frustratingly not enough of them to make attending this rodeo worthy of paying full price for a ticket.
Film Rating: 2½ (out of 4)