a SIFF 2012 review
Stellar Gerwig Elevates Otherwise Frustrating Lola Versus
Only three weeks before her wedding, Lola's (Greta Gerwig) world is shattered when fiancé Luke (Joel Kinnaman), for no reason that she can surmise, suddenly breaks things off. Devastated, approaching her thirtieth birthday, the still-young NYU graduate student finds her life spiraling out of control. She confides in best friend Alice (Zoe Lister-Jones). She begins a relationship with Henry (Hamish Linklater), her most important male confidant who also happens to be Luke's best bud. She has a brief fling with needy prison architect Nick (Ebon Moss-Bachrach), engaging in a superfluous one-night stand that has unforeseen consequences on her emotional stability.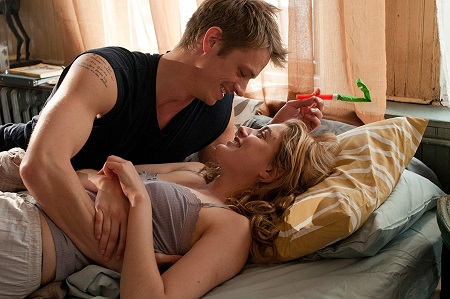 Lola is a bona fide mess, which isn't a surprise considering how the events depicted in director Daryl Wein's romantic melodrama Lola Versus play themselves out. Co-writing the script with actress Lister-Jones, the pair previously collaborating on the independent romance Breaking Upwards, the movie doesn't exactly break any new ground. It follows a moderately cliché path as it winds its way towards conclusions, safely, and admittedly oftentimes pleasantly, maintaining the cinematic status quo as far this particular genre is concerned.
All of that being so, Gerwig does everything she can to elevate the material to a place it likely never could have dreamt ascending to without her dynamically determined performance. After stealing scenes left and right in films as refreshingly diverse as Baghead, The House of the Devil and Greenberg, after making the most of her moments in straightforward Hollywood hokum like Arthur and No Strings Attached, after making Whit Stillman's somewhat uneven Damsels in Distress an idiosyncratic dance worth participating in, the idiosyncratic character actress is dynamite as Lola. The actress finds levels and goes to depths the script barely hints at, her energetic bravado leading to scenes of striking power or unforeseen whimsy that had me bursting with joy.
Gerwig is that good and then some. Whether falling in and out of Kinnaman's arms, trading one-liners with Lister-Jones or engaging in '60s era debates with Bill Pullman and Debra Winger (both of whom light up the screen playing her parents), this is a performance worth savoring. The actress refuses to color any of her character's more loathsome tendencies or outbursts, producing a three-dimensional portrait that is instantly recognizable no matter a viewer's background or gender might be.
It's almost enough, Gerwig keeping things interesting even when the script feels like its laboriously going through the motions. But the film has trouble rising out of sitcom level platitudes, and while some of the dialogue can crackle with blisteringly relatable intensity, the majority come off like a stale monosyllabic retread recycled from similar dramas made at any point since the mid-1960s or so. Much of what happens had me wanting to shake my fist at the screen, a character overflowing with as much rich potential as Lola is deserving of so much more.
For all my animosity, for all my vitriol, I'd be lying if I didn't admit to laughing out loud numerous times during the picture or feeling my eye sockets start to fill with tears during a couple of the more intimately dramatic moments. I'd be equally remiss for not restating my appreciation for Gerwig's stellar performance. But Lola Versus comes up frustratingly short, making my recommending it as a worthwhile option for a night out at the local cinema a virtual impossibility.
Film Rating: 2½ (out of 4)